Chaos Clinic Recap
---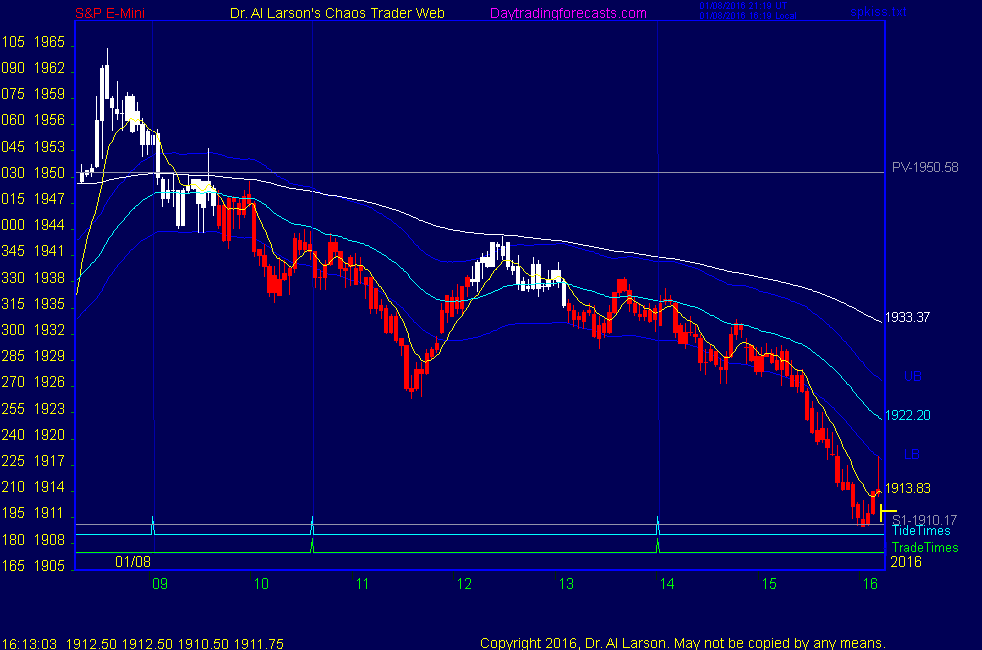 ---
Here are Al's comments
---
2:24 stopped out; I'm done-was too aggressive today; thanks for coming-see you next week
2:16 stop Ok by a tick I have placed that Fractal of Pi chart in the Certified Chaos Trader's Room. That room is open
to graduates of my 4 main courses. See http://moneytide.com -> Courses for details.
eMylar Fractal of Pi overlays help you be patient, since they show you future potential moves.
The best bargain in my courses is to take the Cash In On Chaos and Fractal of Pi courses and
learn to use the FOP overlay. Then take Chaos Trading Made Easy, and finish with Face Of God.
2:02 I have a Fractal of Pi Pattern fitting prices since the low that suggests a rally to about 1950; the pivot price
1:54 after 2:30 Eastern, may see a short covering rally as larger traders take profits
1:43 pressing a bit-bought 1937 stop 1930 for now
1:38 SPKiss and Chaos Clinic charts looking bullish
1:37 higher low-watching for a buy setup
1:25 stopped out-darn
1:18 stop still Ok-just have to be patient
1:12 testing yesterday's close
1:07 nope-now on red -Tide
1:02 looks like it is about to go
12:48 looking good
12:44 pushed back up to the 440 EXMA-needs to get above it
12:35 I'm using a wide stop right now-1932
12:30 so far looking good
12:22 I decided not to wait-bought at 1937.5 based on Face of God pattern and 3 drives
Showed why I did not wait to my TeamViewer watchers
12:14 multiday chart shows a "Three drives to a bottom" pattern, so may get a rally from here
-trick is to get into a good day trade
12:10 OK, I'm back-getting a pretty good recovery
11:40 I'm going to take a break fro breakfast-will come back late to see if there is anything to do
11:30 trend is now down-I missed a good sell entry , but I will not chase it
11:25 I'm back-see market has headed lower-missed a sell opportunity-that happens-now tracking red -Tide
10:41 I'm going to pass on this trade and take a break
10:38 this looks like a green +Tide low, but there is not a good EXMA setup
10:32 today have a Moon flux crossover-it timed the low-no safe trade entry here-EXMAs are tangled
10:26 getting some buying-decline may be done; EXMA's are not showing a good setup yet
10:37 probing for a bottom-so far this is an inside day compared to yesterday
10:11 I'm not doing anything yet-want to see what happens after the Tide time
10:05 looks like tracking green +Tide
9:58 coming into the trade time the 110 EXMA has a slight up curl and the 20 has turned up-possible buy setup
9:53 holding above yesterday's low, and this morning's early low-slightly bullish
9:50 0n the MTRainbow chart trade is relatively flat
9:46 fade after the jobs report-normal after the Flash Boys leave-not a decline to sell
9:35 Outcry session open; bias for the day is up, given the favorable jobs report
Trading at the pivot price of 1950.5
9:18 the better than expected jobs report produced a sharp rally, which has now faded. Trade times are 10:37 and 14:01
TeamViewer ID m68-706-174
9:00 Good Morning. Welcome to the Chaos Clinic. This site has a lot of charts,
so you may find it useful to have several of them available within your
browser. If you have a tabbed browser, you can open separate charts
in separate tabs by right clicking on any link, and selecting "open in new tab"
from the menu. The main list of site pages is at
http://daytradingforecasts.com/chartlistsec.asp
Recommended pages to watch are SPKISS, MTRainbow, and Chat.
For astro stuff, add SPSunMoonMer, Wheel, and Chaos Clinic.
Chaos clinic comments appear at the bottom of the SPKISS, MTRainbow,
and ChaosClinic pages. Comments in the chat room are announced by a
"duck call" noise. This noise also occurs when the sofware detects a
resonant hex pattern on the Wheel page. Trading tutorials
are on the right side of the ListOfCharts page. One should
read Trading the MoonTide Tutorial and Keep it Simple as a minimum.

---
Besides the comments made by Al, the chat room is has live
comments from other traders who sometimes share their views,
trades and tips. Below are the chat room comments from this clinic
---


1/8/2016 1:05:37 PM MT BBB****:: Really loving the Austin area.
1/8/2016 9:58:59 AM MT Tg****:: BBB things are going well. Miss our morning chats but I know your a busy camper. Hope the new digs are working out for you.
1/8/2016 9:34:38 AM MT BBB****:: TG! How is it going senor? HOpe all is well with everyone. Stopped in to see what was happening here today - ugly market for sure!
1/8/2016 8:36:03 AM MT Tg:: GM AL, MM, BBB & Everyone. Hope you all had a great holiday season.
1/8/2016 7:03:10 AM MT srj****:: GM Al, mm
1/8/2016 6:57:27 AM MT mm****:: gm all - have a great day
1/8/2016 6:28:52 AM MT Al****:: GM all-good luck today

9:00 Eastern-System: No comments

---