Chaos Clinic Recap
---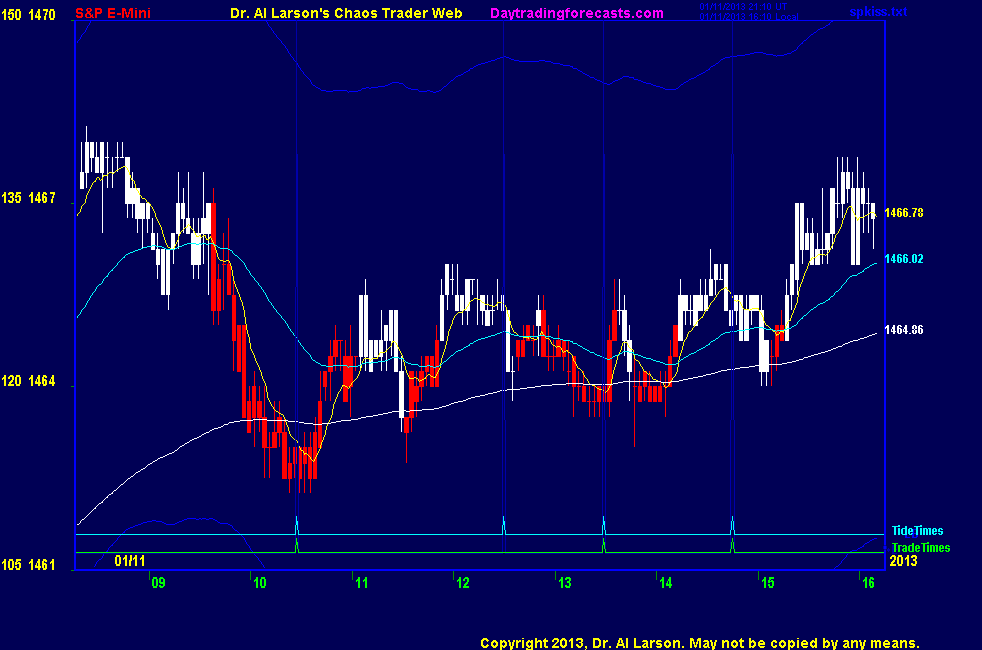 ---
Here are Al's comments
---
3:20 OK -aborted for -1 ; done for day; see you in 2 weeks-next Friday is my birthday
3:08 I sure hope the Broncos game is more interesing tomorrow.
3:01 last hour could be interesting - when the big guys are done distributing we can get a sharp drop
2:50 today looks like a distribution day after the big rally up from the 31st
2:43 coming to last Tide time- I think it is a high
2:33 blip missed by stop by a tick
2:24 totally boring, but I'm sticking it out
2:01 moving stop to 1466.5
1:48 I may be hallucinating, but I think we are moving
1:44 big top wick on the last 15 minute candlestick -bearish
1:40 one cannot react to these little price pops-they are "shotgun noise", as found in vacuum tubes
1:38 ok, hold the horses
1:30 slowly heading south
1:21 The 440 EXMA has been flat, now showing a downward curl
1:17 we are almost to the second trade time-I'm just holding what I have
1:12 one has to remember: "Chaos follows dullness."
1:05 this is how the Grand Canyon was formed - and about the same speed
12:57 the Velcro may be starting to rip
12:53 if you have your sound on, you heard the notice of a hex pattern-see Hex Wheels and HexWheels today, right side of ListOfCharts page
12:31 the pattern so far is a thrust, followed by a correction-I expect another thrust
12:23 I normally don't sit on a trade this long, but there is not enough juice one way or the other to make me get out or cover
12:18 updated my FOG chart in the CCT Room
12:13 looks like a subtle 2 hour down 2 hour up cycle
12:00 passing solar noon with very narrow range
11:56 this looks like an "MM stinker" day
11:52 stuck in the mud
11:34 stop to 1466
11:32 I have placed a Face of God chart in the Certified Chaos Trader's Room. That room is open
to graduates of my 4 main courses. See http://moneytide.com -> Courses for details.
eMylar Fractal of Pi overlays help you be patient, since they show you future potential moves.
The best bargain in my courses is to take the Cash In On Chaos and Fractal of Pi courses and
learn to use the FOP overlay
11:12 resold 64.5 stop 67.5
11:03 aborting for 0 -not moving
10:57 6 point range on my 8 hour charts at this point is not great
10:53 stop not hit yet
10:35 need to be patient here
10:24 stop to 1465.5-limit loss to one point
10:12 on the MTRainbow chart, the white 440 EXMA is curling down
10:11 stop to 1466.5 limit loss to 2 points
10:08 so far so good-on my daily chart I see the possible end of a fractal up from 11/16, so larger cycles may fuel this decline
9:58 stop to 1467.5 - limit loss to 3 points
9:56 this could turn into a rout
9:53 have a 20/110 sell and the 110 is curling down
9:50 elected short 1464.5 - stop at 1468.5 for now
9:47 nothing yet - just watching
9:38 putting a sell stop at 1464.5
9:32 110 and 20 flat and together
9:29 looking weak
9:22 Today's trades are at 10:28, 13:29, and 14:45
9:00 Good Morning. Welcome to the Chaos Clinic. This site has a lot of charts,
so you may find it useful to have several of them available within your
browser. If you have a tabbed browser, you can open separate charts
in separate tabs by right clicking on any link, and selecting "open in new tab"
from the menu. The main list of site pages is at
http://daytradingforecasts.com/chartlistsec.asp
Recommended pages to watch are SPKISS, MTRainbow, and Chat.
For astro stuff, add SPSunMoonMer, Wheel, and Chaos Clinic.
Chaos clinic comments appear at the bottom of the SPKISS, MTRainbow,
and ChaosClinic pages. Comments in the chat room are announced by a
"duck call" noise. This noise also occurs when the sofware detects a
resonant hex pattern on the Wheel page. Trading tutorials
are on the right side of the ListOfCharts page. One should
read Trading the MoonTide Tutorial and Keep it Simple as a minimum.

---
Besides the comments made by Al, the chat room is has live
comments from other traders who sometimes share their views,
trades and tips. Below are the chat room comments from this clinic
---


1/11/2013 1:28:01 PM MT Tg****:: Have a good weekend Al, hopefully your Broncos do well.
1/11/2013 1:24:00 PM MT EOE:: well then happy birthday Al. :)
1/11/2013 1:16:06 PM MT Tg****:: I think the pregame chatter would have to be considered more interesting than this.
1/11/2013 8:13:40 AM MT JMV****:: Morning all, GL!
1/11/2013 6:29:22 AM MT mm****:: gm all - have a great day
1/11/2013 5:00:30 AM MT Al****:: GM all - good luck today

9:00 Eastern-System: No comments

---