Chaos Clinic Recap
---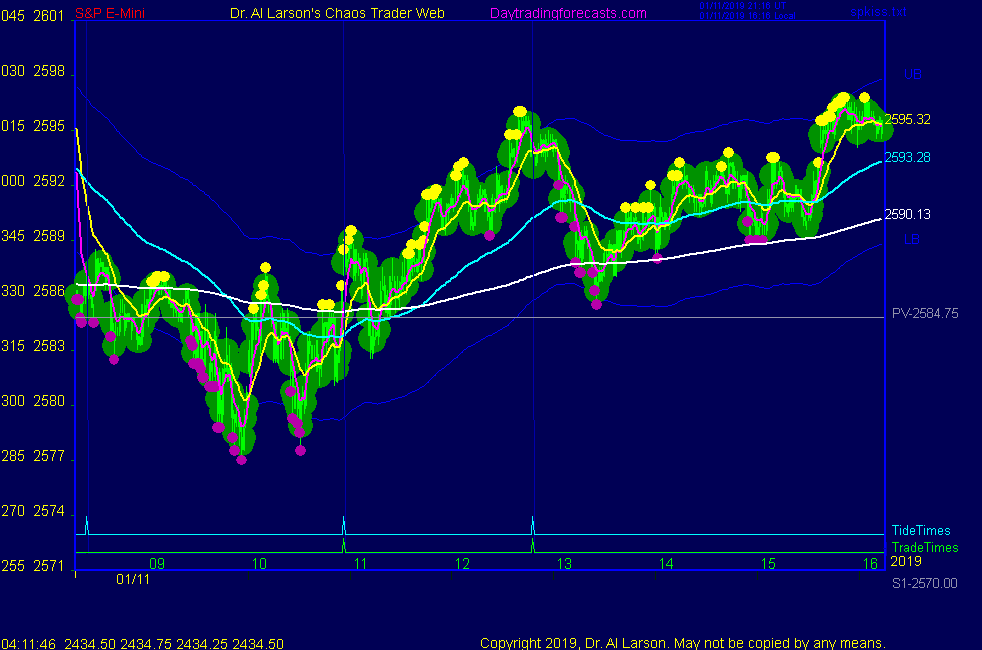 ---
Here are Al's comments
---

************************************************************
     Santa's Lump Of Coal For The S&P
    Chaos Clinic for 1/11/2019
************************************************************

It was the day before Christmas, and all through the house,
traders were shouting, "Sell! Sell! Get me out! We are going to hell!"

It was the day after Christmas, and all through the house,
traders were yelling, "Buy! Buy! Buy! All is well!"

Fifteen calendar days later, the Santa Claus Rally has sent the S&P
up a harmonic 270 points. It now is vulnerable for a sell off.

This chart shows the longer term view from the Fireball top in late
September, early October. Since then, the S&P has declined in a
clear six moves, the last being the Santa Claus rally.

In a normal Chaos Clamshell, a move 7 would test the December lows.
This is not a hard, fast requirement. Most fractals have one "runt"
move. So the move 7 may be a runt move.

The chart shows a rainbow of exponential moving averages. Their
lengths are 1.5, 3, 6, 12, and 24 days(heavy red). Just like in
moves 2 and 4, move 6 has risen above the 24 day EXMA. For a
clear move 7, the rainbow of EXMAs must converge, turn down,
and diverge into the move 7 low.

Overall. the market remains in a bear market. Nearly all of
the popular bull market stocks have suffered serious declines.
Yet even in bear markets, there can be spectacular rallies.
So it helps to understand how chaos works in markets.
For more, see my courses at Moneytide.com.

---
Besides the comments made by Al, the chat room has live
comments from other traders who sometimes share their views,
trades and tips. Below are the chat room comments from this clinic
---


1/11/2019 1:28:35 PM MT Al****:: I'm done. Thanks for coming. No clinic next week. Have a good weekend.
1/11/2019 1:01:52 PM MT Al****:: today is actually a "two Moon day" with Moon timelines early and late - last timeline is about 2:10 Eastern
1/11/2019 12:59:45 PM MT Al****:: not a MoonTide trade, but could get a late drop
1/11/2019 12:42:35 PM MT kwc:: Hello Al, might there be another trade time near 15:10 or so? Thanks
1/11/2019 12:24:13 PM MT Al****:: GON: interesting that you should mention Jupiter and Neptune. Today Mercury is squaring Neptune and Venus is squaring Jupiter, both helio.
1/11/2019 11:25:20 AM MT Al****:: I ran into a bit of wisdom this week. It comes from a professional dowser who has dealt with energy fields for a long time, helping people navigate various problems. He points out that a lot of people have a lack of prosperity, so in their own way they ask for it.

He says that is really saying "I am not prosperous." So you reinforce that belief. Instead, he says to simply thank the Spirit Of Prosperity daily.
1/11/2019 11:16:52 AM MT Al****:: up dated my chart in the CCT Room
1/11/2019 11:13:32 AM MT Al****:: green tide is down rest of day
1/11/2019 11:11:11 AM MT Al****:: note on Secret->esNAt72 chart rally went up two white vibration levels; and there are 3 drives to the top level
1/11/2019 11:04:35 AM MT Al****:: high on green +Tide
1/11/2019 10:26:14 AM MT Al****:: I have placed a Face of God chart in the Certified Chaos Trader's Room. That room is open
to graduates of my 4 main courses. See http://moneytide.com -> Courses for details.

eMylar Fractal of Pi overlays help you be patient, since they show you future potential moves.
The best bargain in my courses is to take the Cash In On Chaos and Fractal of Pi courses and
learn to use the FOP overlay. Then take Chaos Trading Made Easy, and finish with Face Of God.
1/11/2019 9:17:09 AM MT Al****:: Yes, plus the fact that sometimes fractals have more than 7 moves. On occasion, they have 13. This comes from two interlaced 7 move fractals.
1/11/2019 8:49:08 AM MT gon:: There is this Jupiter/Neptune square forming this month, it could lead to optimism once again, but it could also go the other way where maket participants realise they have been acting on ilusions..In this case, the 7th wave could be something more than a runt move.
1/11/2019 8:44:25 AM MT Al****:: GON: thanks for the post
I don't think the 2018 top will fall anytime soon. I do have a ZD36 forecast showing a possible rally up int0 Feb 21, followed by a decline. I have seen some buying of tech stocks by bargain hunters, Most of those charts have a up power curve, followed by a sharp drop. Usually that pattern only gets a dead cat bounce.
1/11/2019 8:04:28 AM MT gon:: Al, I have a long-term position entered at the very top on the Dow, above 26,000. My view, supported by your analysis, is that top will hold for a while. Do you see any upside risk threatening that Fireball top for the next months?
1/11/2019 8:00:51 AM MT gon:: Thanks Al! https://www.fxstreet.com/analysis/santas-lump-of-coal-for-the-sp-201901111500
1/11/2019 7:41:52 AM MT jvj****:: Good morning everyone
1/11/2019 7:21:33 AM MT Pyc:: Dr al I sent you an email from pb*****n@gmail.com about your course CTME. Awaiting a response.
1/11/2019 7:00:03 AM MT Al****:: GM all-good luck today. Chaos clinic is posted on AUX page.

Note on the SPKiss page on the last chart,the little Fireball top formed overnight

9:00 Eastern-System: No comments

---