---
CHAOS CLINIC RECAP
---
---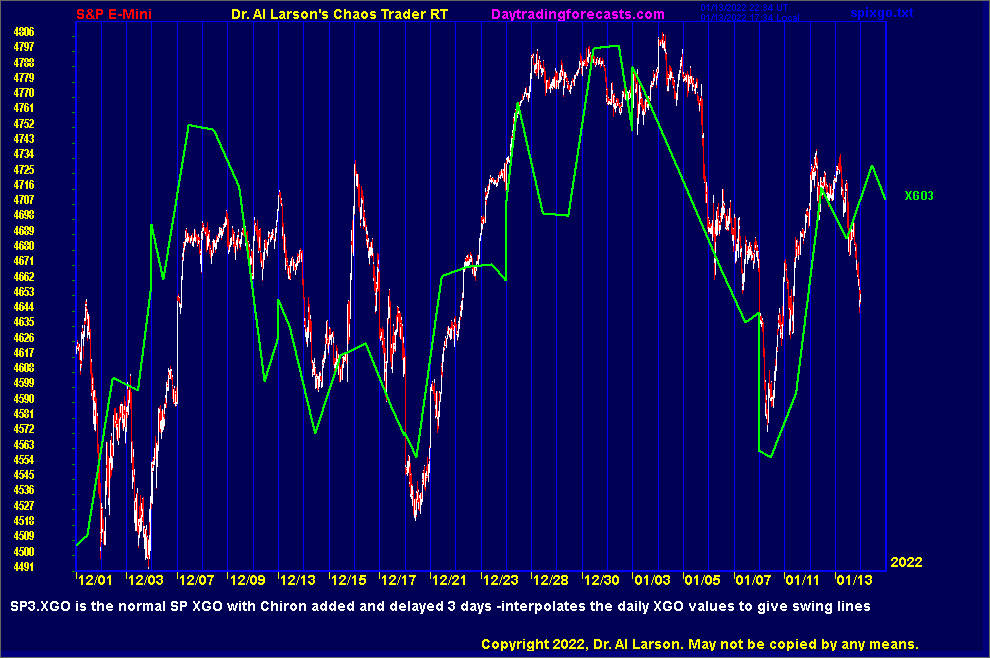 ********************************************************************************
The S&P and XGO
Chaos Clinic for 1/14/2022

********************************************************************************

This chart shows the S&P futures and the XGO forecast for the S&P over the
past 6 weeks. Very clearly, the forecast has worked well over this timeframe.
This particular chart is available daily to subscribers of
DaytradingForecasts.com

XGO only computes one point per day, so is not detailed enough for intra day trading,
although it can provide context for it . It is useful for swing trading and option trading.


The XGO forecast is unique in that it DOES NOT use any market data to compute the
forecast for that data in the future. Rather it computes the interaction of the
current electromagnetic field with the S&P's "natal antenna". Both of these
use planetary positions in the calculations, but no rules from classic astrology
are used. The XGO forecast is imply a series of numbers of relative energy levels.

These levels do not directly forecast price levels. On the chart, both price and
XGO are plotted to be 90 percent of the chart range. So the scale between the computed
energy and price is variable and relative, yet over a chart, pretty consistent.

XGO can be computed for any market or person. The only input required is the natal date.
For a market, the first trade date is the natal date. To learn more, see the
WINXGO Software and the Individual XGO Charts items in my
Moneytide.com Catalog

For more on my work and to subscribe to Tomorrow's Market Email Hotline and access to daytradingforecasts.com see
Moneytide.com
Software to plot electric field flux lines in NinjaTrader is available at
energyfieldtrading.com
---

Below is one of the SPKISS charts from daytradingforecasts.com
and the chat room comments from this Chaos Clinic. Most recent comment is on top.
---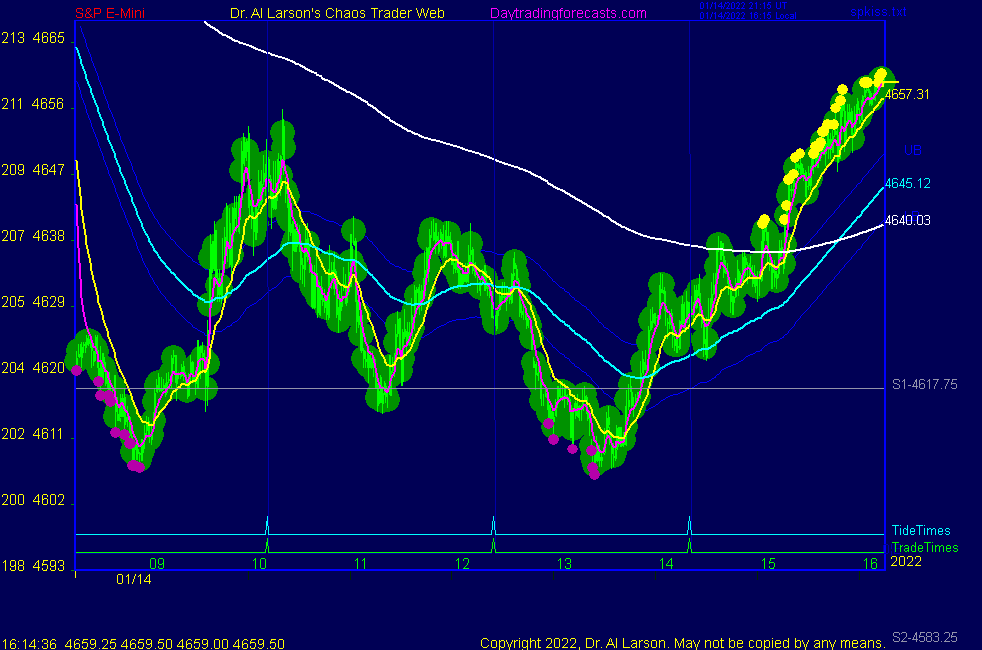 1/14/2022 2:06:35 PM MT Al****:: covered for +36
1/14/2022 1:51:33 PM MT Al****:: Moon juice from T270 time line
1/14/2022 1:46:25 PM MT Al****:: I got back from my errand just in time to buy the double bottom on the white vibe on Secret->esnat7
also a green swan up
1/14/2022 1:22:50 PM MT pab:: short squeeze the last hour---I'm so shocked ---NOT
1/14/2022 10:39:06 AM MT WTL:: Thank You Sir enjoy the holiday
1/14/2022 9:48:14 AM MT Al****:: I need to leave now, so thanks for coming. Enjoy the long weekend. Higher low here suggests hold up into close.
1/14/2022 9:44:06 AM MT Al****:: on first MoonTide trade I bought 4829 got stopped for +9
1/14/2022 7:12:54 AM MT Al****:: also note on the SPSunMoon chart the T180 timeline near 9:30 Eastern and the T270 near 15:40
this makes for a "Two Moon" day, which can be volatile and one way or go Moon-Noon-Moon
1/14/2022 7:08:25 AM MT Al****:: note on the Secret->esnat72 chart the support on the white vibration line. and the early failed support of the one 45 point higher Good Morning visitors. Welcome to the Chaos Clinic. The written Chaos Clinic is on the AUX page.
This site has a lot of charts,
so you may find it useful to have several of them available within your
browser. If you have a tabbed browser, you can open separate charts
in separate tabs by right clicking on any link, and selecting "open in new tab"
from the menu. The main list of site pages is at
http://daytradingforecasts.com/chartlistsec.asp
Recommended pages to watch are SPKISS, MTRainbow, and Chat.
For astro stuff, add SPSunMoon, Wheel, and Chaos Clinic.
A special set of Dr. Al's research charts are on the Secret page.
Comments in the chat room are announced by a
"duck call" noise. This noise also occurs when the software detects a
resonant hex pattern on the Wheel page. MoonTide trading tutorials
are on the right side of the ListOfCharts page. One should
read Trading the MoonTide Tutorial and Keep it Simple as a minimum.
Many subscribers do not strictly trade the MoonTides, but use the charts on this
site as input to their own trading strategies. For example, charts 5 and 6 on the
SPKiss page are a good starting point for swing traders.
Also on this site is the Certified Chaos Trader's Room. That room is open
to graduates of my 4 main courses. See http://moneytide.com -> Courses for details.
---