Chaos Clinic Recap
---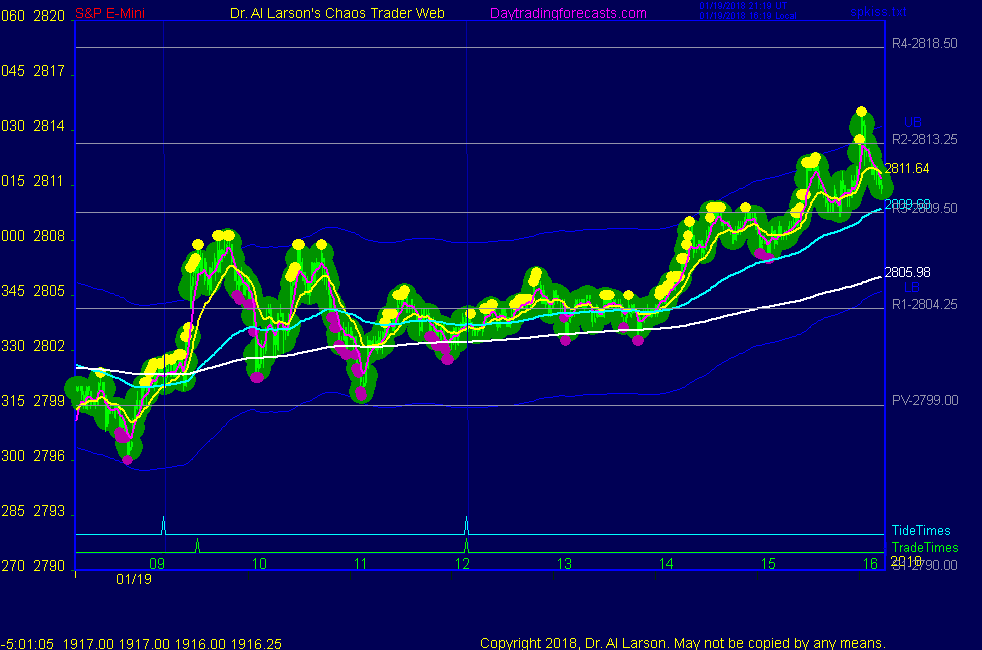 ---
Here are Al's comments
---
15:30 "9:47 been struggling all week to get above 2808; if break it may go much higher "
12:20 possible late rally
11:25 I'm calling it quits; not a good trading climate. Thanks for coming; see you next week. Take a course.
11:23 out -3
11:07 early, but sold 2800 stop 2803
11:00 this is the kind of day I was afraid we might have-flat and no juice-plenty of geo-political distractions
10:50 back-see tested high and fell short
10:13 taking a break now
10:10 That 2808 is a strong barrier
10:06 OK, no breakout, so back to congestion
10:05 stopped for +.25
9:55 still OK-dip to 2805 got support
9:49 I am getting a nice fan on my rainbow of EXMAs. That suggests a move that could last all day. We shall see.
9:47 been struggling all week to get above 2808; if break it may go much higher
9:44 caught a green swan-could be a good day
9:39 getting a hex pattern recognized at 2806.5-see link to Hex patterns today and tutorial, linked right side of List of Charts page
9:32 I have a good stop so I'll wait a bit before moving it
9:31 the energy is coming from a Mercury Moon cycle
9:30 may get interesting if bread 2808
9:28 stop to 2803
9:27 stop to 2802
9:18 getting some buying-going early; bought 2802.75 stop 2795
9:15 the pivot price is 2799- currently trading near it. The 440 and 220 minute EXMAs are flat near it.
9:05 today's trade times are 9:31 and 12:09. Trading may be dull. Prices are trading inside yesterday's range.
Yesterday was very choppy. Trade so far today has shown a rally of about 12 points, and a decline of about 9.
9:00 Good Morning. Welcome to the Chaos Clinic. This site has a lot of charts,
so you may find it useful to have several of them available within your
browser. If you have a tabbed browser, you can open separate charts
in separate tabs by right clicking on any link, and selecting "open in new tab"
from the menu. The main list of site pages is at
http://daytradingforecasts.com/chartlistsec.asp
Recommended pages to watch are SPKISS, MTRainbow, and Chat.
For astro stuff, add SPSunMoonMer, Wheel, and Chaos Clinic.
Chaos clinic comments appear at the bottom of the SPKISS, MTRainbow,
and ChaosClinic pages. Comments in the chat room are announced by a
"duck call" noise. This noise also occurs when the sofware detects a
resonant hex pattern on the Wheel page. Trading tutorials
are on the right side of the ListOfCharts page. One should
read Trading the MoonTide Tutorial and Keep it Simple as a minimum.

---
Besides the comments made by Al, the chat room is has live
comments from other traders who sometimes share their views,
trades and tips. Below are the chat room comments from this clinic
---


1/19/2018 8:13:40 AM MT Tg****:: Good morning everyone
1/19/2018 7:27:47 AM MT gon:: Good morning- first time here.

9:00 Eastern-System: No comments

---