---
CHAOS CLINIC RECAP
---
---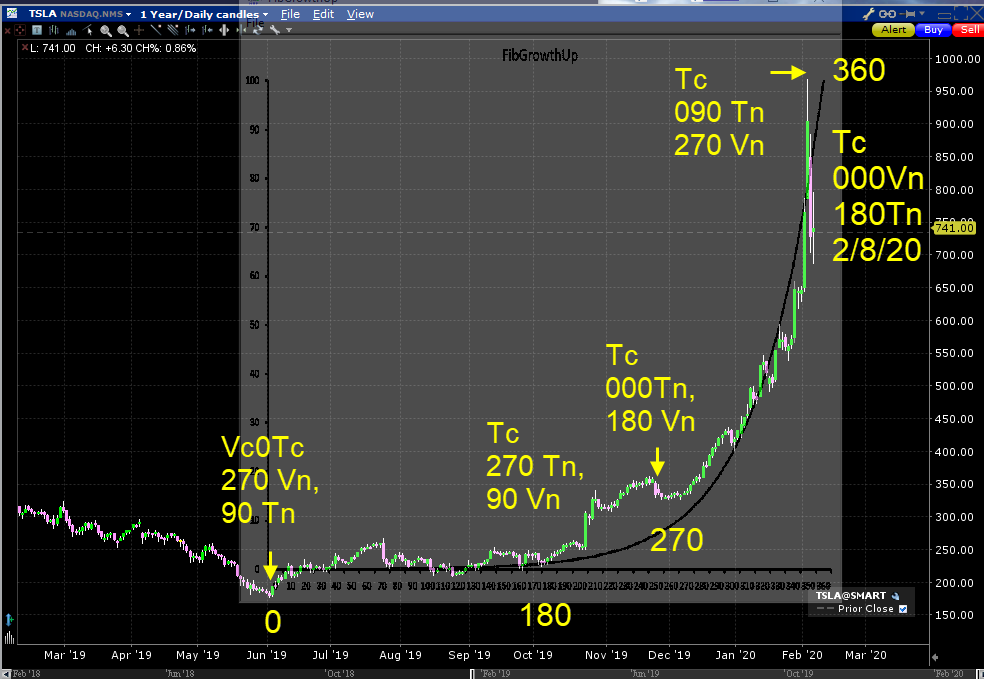 Chaos Clinic for 2/7/2020
********************************************************************************

Two weeks ago I noted how energetic the TSLA price chart was.
This week TSLA exploded to a high of 968.99, before falling back to the 740s.

My goal has always been to understand why prices behave as they do.
One of my discoveries is that there are several kinds of non-linear growth curves.
Growth curves have been known for a long time, going back to the Tulip Mania of 1636-1637.
What I have done is find mathmatical models to compute them.

This chart shows my FibGrowth overlay. It is the black curve and horizontal axis overlaid
on the price curve. On the horizontal axis is a 0 to 360 degree time scale. It
allows me to track the astro cycles that provide the energy for the move, and hopefully
find the end point.

The growth curve basically builds a base for 180 degrees of the circle, then starts to rise,
getting steeper and steeper. The Dow did this at the end of 2017, climaxing in early 2018.
That chart is on the home page of MoneyTide.com Bitcoin did this in 2017, climbing from
about 1000 to over 1800, before collapsing back to under 4000.

In TSLA, the grow curve was moving up solidly by December, 2019. In January, the rally
accelerated sharply. It got steeper until this week. Then it collapsed. As Joe Granville
said, "There is no gracefull way to come off a power curve."

I am always interested in tracking down the astro cycles involved in a price move. On
the chart, I have noted astro events at key points in the cycle. In these notations,
subscript "c" means "current", "n" means "natal" and V is Venus, and T is the Moon.

The move began as Tc conjoined Vc, square to TSLA's Vn and Tn. At the 180 degree point,
Tc squared TSLA's Vn and Tn. At the 270 degre point, Tc conjoined Tn, and opposed Vn.

This week, the high came as Tc squared Vn and Tn. The mathematical curve end tomorrow
as Tc conjoins Vn and opposes Tn.

These type of power curves are not uncommon, but are very difficult to trade. Once the curve
starts to rise. it is almost impossible to make a safe entry, or to place safe stops. But if
one can figure out the parameters of the move and catch a low, one can "ride the rocket."
One just has to be ready for the rocket to run out of fuel. And if you missed the blast off,
the best approach is to watch and wait for the mania to subside.

For more on my work, see Moneytide.com
---

Below is one of the SPKISS charts from daytradingforecasts.com
and the chat room comments from this Chaos Clinic. Most recent comment is on top.
---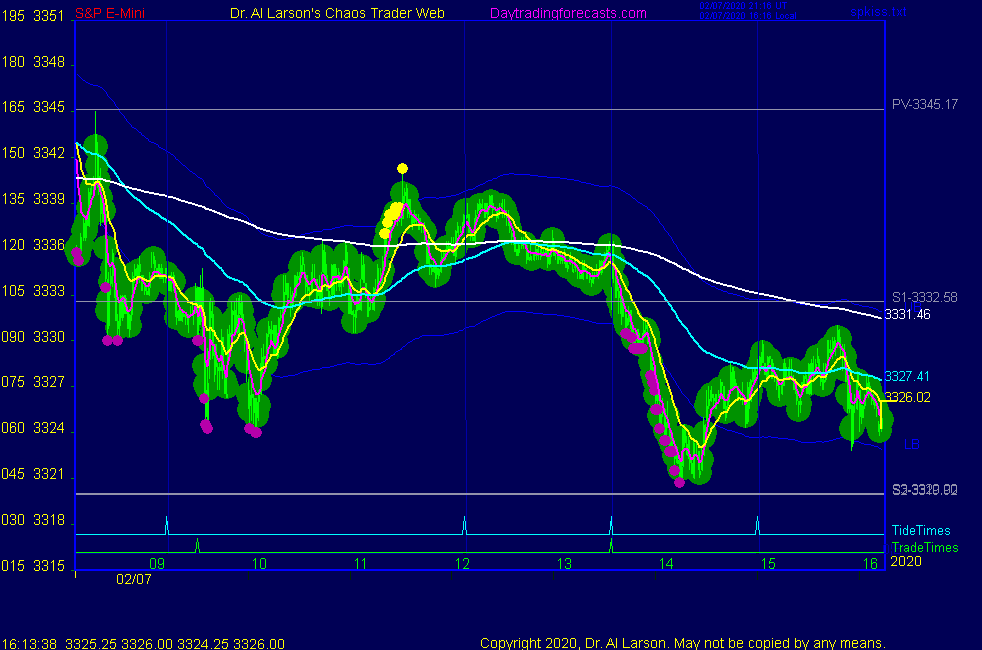 2/7/2020 1:56:14 PM MT qq:: WOW. Plunge at last. So far so good IF stays with XTides2Plus Green tide
2/7/2020 1:54:48 PM MT qq:: Small risk over the weekend SPY puts till Monday AM open.
2/7/2020 1:51:39 PM MT qq:: NOT
2/7/2020 1:50:25 PM MT qq:: Price headed for 3330 ES 72 resistance.
2/7/2020 1:49:47 PM MT qq:: Thanks Al
2/7/2020 1:44:45 PM MT Al****:: stopped for small gain. I'm done for the day. Thanks for coming. See you next week. Take some courses
2/7/2020 1:42:14 PM MT qq:: Rallying off support found past hour. And into close?
2/7/2020 1:39:16 PM MT qq:: OK. Found it
2/7/2020 1:38:42 PM MT qq:: Still looking for T270
2/7/2020 1:38:40 PM MT Al****:: I sold 3331.68 stop now 3330.25 trying to hold to close
2/7/2020 1:37:01 PM MT qq:: On Daniel see same 3 verticals for Feb 10 that we had overnight
2/7/2020 1:18:03 PM MT Al****:: now look at the two days shown on th SPSunMoon chart
note that the T270 Moon timeline has "exited to the right"
so any lift it gave yesterday is gone today
2/7/2020 1:11:54 PM MT Al****:: bounced back up to 110; 220 and 440 down
2/7/2020 12:53:22 PM MT Al****:: Thanks Ted. Re volume, I found it was mostly a proxy for the slope of price, plus in my early days I wrote all my own charting software and my first data feed did not have volume
Thanks for sharing what you use. It's all "Co-operate and graduate"
2/7/2020 12:50:05 PM MT Ted:: Oh yeah, I forgot that Al's 3min charts with the 15m/20m crossover and color change is very close to the 4000t Hull45.
2/7/2020 12:25:24 PM MT Ted:: Thanks for everything, Al! I love your work!
2/7/2020 12:23:29 PM MT Ted:: From what I've read of Al's work, I don't remember much discussion about volume. I like to use a set up from Mr. Yen on Twitter: 4000 tick ES heiken ashi chart with a 45 period Hull, and count the rotations. Provides a little volume-ish context.
2/7/2020 12:17:39 PM MT Ted:: Shorted around 3333.8... Al's Trade Time plus 110 minute line helped.... Watching the C24 levels and how price reacts when reached. Currently retesting 3324 180* level.
2/7/2020 12:12:53 PM MT Al****:: Chaos Clinic chart clear MoonTide sell
2/7/2020 12:09:04 PM MT Al****:: chart I posted in CCT Room this morning suggested this as a possible major top
2/7/2020 12:02:44 PM MT Al****:: rolled over on red -Tide
2/7/2020 11:47:22 AM MT qq:: Clues from bottom Chaos chart?
2/7/2020 11:43:33 AM MT qq:: Bought near trade time, but stopped out with small profit. No support yet as it's going down.
2/7/2020 11:22:24 AM MT qq:: I'm guessing that next trade time might be up till close. We'll see.
2/7/2020 11:21:18 AM MT qq:: Leo moon later today.
2/7/2020 11:00:58 AM MT Al****:: the other thing that flattens price action are major astro cycles turning - the longer cycles take many days to turn
2/7/2020 10:48:25 AM MT Al****:: years ago when I did a monthly news letter I noted the most bullish period in the S&P was from about November 5th to February 5th
2/7/2020 10:42:45 AM MT qq:: Gap from Feb 4 close to Feb 5 open remains to be filled. Maybe fill on Monday?
2/7/2020 10:36:12 AM MT qq:: Thanks Al. My thoughts are those Flash Boys will let the market rally back and then sell near close. XGO and Xtides2Plus seem to indicate top. Also Merriman Market Analyst gives this: Feb 7-10* (stocks, usually a high)
2/7/2020 10:22:37 AM MT Al****:: I think what you are seeing is distribution by larger houses after a big rally, much of which was done overnight in the "dark pools" they run
This is all explained in the book "Flash Boys", which I highly recomend for all traders
2/7/2020 9:49:53 AM MT jvj****:: Stopped for +3
2/7/2020 9:44:06 AM MT Tru:: What the hell is going on with this market? Can't make any money no matter which way I trade. This is bullshit.
2/7/2020 9:32:42 AM MT jvj****:: Lucked out on trade at 09:01. Had placed buy limit at 3331 before breakfast break. Was filled while gone. Sell stop now at 3333.
2/7/2020 9:24:20 AM MT Z.O:: Hey everyone just trying out todayís clinic, Iím going to join officially sometime next week and try it out for 3 months
2/7/2020 9:17:12 AM MT qq:: Passing on trades.
2/7/2020 8:38:03 AM MT Al****:: on SPSunMoon chart note how Moon timeline today has "passed" the Mercury timeline
low was on Mercury today, yesterday it was a high
2/7/2020 8:31:11 AM MT qq:: Stopped out and waiting to sell.
2/7/2020 8:20:35 AM MT qq:: 2 minutes ago bought with tight stop
2/7/2020 8:04:51 AM MT Al****:: third chart on SPKISS page bar color shows first trade a sell
2/7/2020 7:59:20 AM MT qq:: Price mostly following red tide in Xtide2Plus
2/7/2020 7:44:28 AM MT jvj****:: Was much more comfortable driving in it when I was young and indestructible!
2/7/2020 7:36:56 AM MT Al****:: I'm not wild about driving in it just because of all the people who don't know how. Fortunately I grew up in the Black Hills, so learning to drive in the winter on winding hilly roads was a must
2/7/2020 7:30:39 AM MT jvj****:: I agree with you. I meant I don't like to drive in it!
2/7/2020 7:27:09 AM MT Al****:: jvj: I actually enjoy snow - every morning I try to reconnect to the natural world. Standing in a nice slow snow really does that. Lots of 6th harmonic snow flake energy, plus the ions that make us giddy. After the snow, the shoveling is not as neat.
2/7/2020 7:23:59 AM MT Al****:: I have placed a chart in the Certified Chaos Trader's Room. That room is open
to graduates of my 4 main courses. See http://moneytide.com -> Courses for details.
eMylar Fractal of Pi overlays help you be patient, since they show you future potential moves.
The best bargain in my courses is to take the Cash In On Chaos and Fractal of Pi courses and
learn to use the FOP overlay. Then take Chaos Trading Made Easy, and finish with Face Of God.
2/7/2020 7:22:30 AM MT jvj****:: It's nice that I don't have to go out in this weather!
2/7/2020 7:21:18 AM MT jvj****:: Sitting tight, waiting for snow removal crew to do their thing. At least, don't have to water trees.
2/7/2020 7:15:58 AM MT Al****:: jvj: enjoying our white gold?
2/7/2020 7:02:57 AM MT jvj****:: Good morning everyone.
2/7/2020 5:58:36 AM MT Al****:: GM all. Good Luck today. I have posted the written Chaos Clinic on the AUX page.
Welcome to the Chaos Clinic. This site has a lot of charts,
so you may find it useful to have several of them available within your
browser. If you have a tabbed browser, you can open separate charts
in separate tabs by right clicking on any link, and selecting "open in new tab"
from the menu. The main list of site pages is at
http://daytradingforecasts.com/chartlistsec.asp
Recommended pages to watch are SPKISS, Chaos Clinic, SPKISS, MTRainbow, and Chat.
For astro stuff, add SPSunMoon, Wheel, and Chaos Clinic.
Comments appear in the chat room,
Comments in the chat room are announced by a
"duck call" noise. This noise also occurs when the software detects a
resonant hex pattern on the Wheel page. Trading tutorials
are on the right side of the ListOfCharts page. One should
read Trading the MoonTide Tutorial and Keep it Simple as a minimum.

9:00 Eastern-System: No comments

---