---
CHAOS CLINIC RECAP
---
---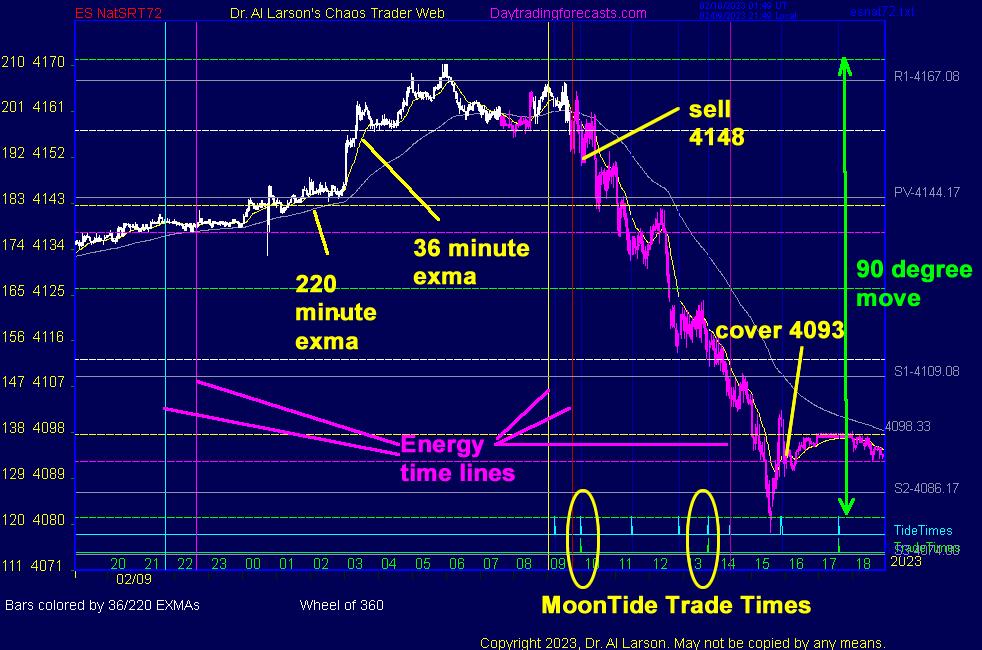 **************************************************************************************
A Great Day For MoonTides
Chaos Clinic for 2/10/2023
***************************************************************************************

This chart shows the Secret->esnat72 chart on daytradingforecasts.com for 2/9/2023.

This chart covers 24 hours of the market from 19:00 Eastern to 19:00 Eastern.
Since the normal session ends at 16:15 the left portion of the chart is the
"overnight market." The normal day session resumes at 9:30 Eastern and runs
until 16:15 Eastern. The MoonTide trading approach computes high energy points
in this day session, shown at the bottom of the chart by the row of pippers labeled
TideTimes. Some of these are selected as Trade Times. The idea is to enter near a
Trade Time, and carry the trade to the next Trade Time, at which one can cover,
or, it a trade keeps working. carry through. Trades are covered near the close.

Bars on this chart are colored by the crossings of a 36 minute EXMA through a 220
minute EXMA. Up bars are white, down are magenta. This simple crutch helps get
on the right side of the market.

This chart has horizontal green, white, yellow, and magenta lines, which are natural
"vibration" levels on a wheel of 360 degrees, meaning prices are mapped to a circle,
repeated every 360 degrees. On the left of the price labels are the equivalent degrees.

Also on the chart are vertical lines marking key energy times, when intraday trends are
likely to change. On this chart there are 5 lines, in 3 sets. When these occur early
in the normal session, they can have a pronounced effect.

On this day, an early sell was appropriate, with a possible entry at 4148.
Trailing a stop above the 220 minute EXMA suggested holding through the second
Moon Tide trade, and covering near the close at 4093, for a 55 point gain. A
great day.

Two things contributed to this: the Energy Timelines early in the normal session
and the green vibration levels. The day's move went two green levels, or 90 degrees.

This decline was not unexpected. It was hinted at by SP3XGO, which forecast a drop into
a low on the 9th. The drop was shifted in time by about a day. Also, on the 8th, I noted
that a 7/3 expansion of that day's normal range suggested a possible move to 4065.
This happened to coincide with the yellow vibration level on the Secret->esnat360 chart.
I noted this possibility in the chat room on the 8th and 9th. That price was hit
early in the day on 2/10/2022.

For more on my work and to subscribe to Tomorrow's Market Email Hotline and access to daytradingforecasts.com see
Moneytide.com
Software to plot electric field flux lines in NinjaTrader is available at
energyfieldtrading.com
---

Below is one of the SPKISS charts from daytradingforecasts.com
and the chat room comments from this Chaos Clinic. Most recent comment is on top.
---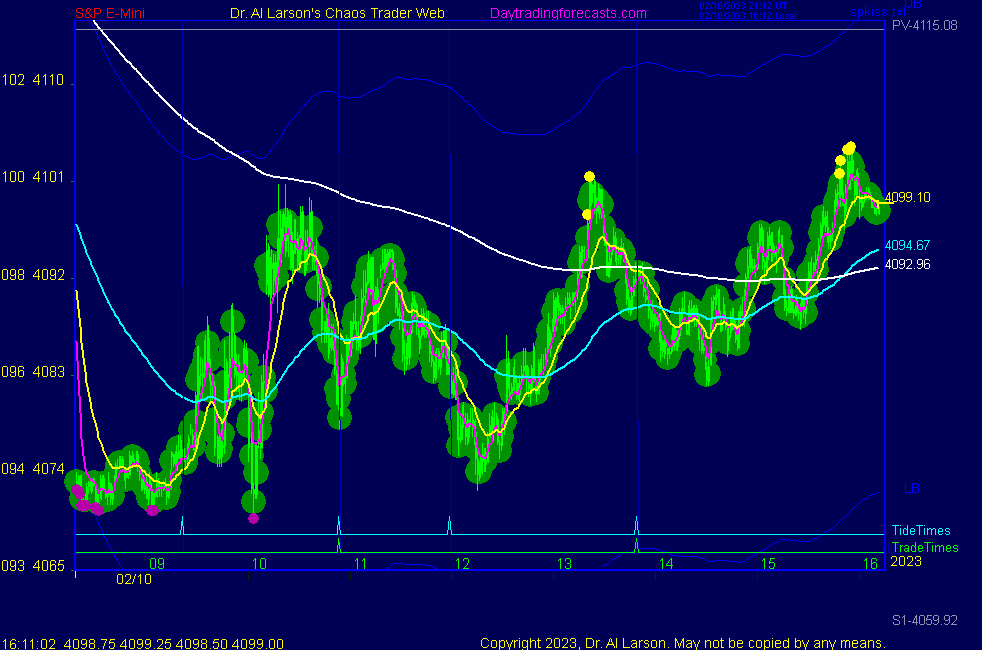 2/10/2023 2:11:42 PM MT Al****:: I'm done - covered on third high
thanks for coming-take some courses-see you next week
2/10/2023 1:50:56 PM MT Al****:: Moon juice on Moon timeline
2/10/2023 1:31:01 PM MT Al****:: watching to see if we make the pivot
2/10/2023 1:03:54 PM MT Al****:: I was correct that the middle vertical line was hot
2/10/2023 12:54:42 PM MT Al****:: in last hour have Jupiter, Chiron, and Moon T+180 time lines
2/10/2023 12:49:05 PM MT Al****:: may be starting move 5 up
2/10/2023 12:34:33 PM MT Al****:: I call these 3 lines the "confusion lines" because they are hard to figure out
the best thing I've found is to go with the flow after the last one
2/10/2023 12:15:33 PM MT Al****:: now have a 1-2-3-4 going into second vertical line
2/10/2023 11:18:17 AM MT Al****:: getting energy from that first vertical line
2/10/2023 10:56:59 AM MT Al****:: a doubling of today's range is about 4140
2/10/2023 10:38:24 AM MT Al****:: on the Secret charts there are 3 vertical lines coming up
any one can add energy - today I think the middle one will be hot
2/10/2023 10:32:21 AM MT Al****:: started after exchange passed Saturn
2/10/2023 9:57:31 AM MT Al****:: so far looks like a 1 ant 2 move. Solar noon could start move 3
2/10/2023 8:43:03 AM MT Al****:: maybe more like an airplane :)
2/10/2023 8:17:48 AM MT Al****:: Moon rocket
2/10/2023 7:50:44 AM MT Al****:: Thank you -sometime God is good to me
2/10/2023 7:38:15 AM MT raf:: Good morning, everyone! Al, your call for 4065 was correct, Thank you for your guidance - Shawn
2/10/2023 7:24:19 AM MT Al****:: 36/220 exmas coloring bars white=up
2/10/2023 6:35:48 AM MT Al****:: today is also a two Moon day, with Moon timelines near 9:30 and 15:30
these days are often volatile and move Moonm to Moon, or Moon-Noon-Moon
2/10/2023 6:33:30 AM MT Al****:: they bottomed just above the S1 pit price, so flash Boy computers will likely be looking for a move to the pivot at 4115
2/10/2023 6:30:54 AM MT Al****:: prices found support on the Moon +T270 electric field flux
2/10/2023 5:23:57 AM MT Al****:: Good Morning visitors. Welcome to the Chaos Clinic. The written Chaos Clinic is on the AUX page.
This site has a lot of charts,
so you may find it useful to have several of them available within your
browser. If you have a tabbed browser, you can open separate charts
in separate tabs by right clicking on any link, and selecting "open in new tab"
from the menu. The main list of site pages is at
http://daytradingforecasts.com/chartlistsec.asp
Recommended pages to watch are SPKISS, MTRainbow, and Chat.
For astro stuff, add SPSunMoon, Wheel, and Chaos Clinic.
A special set of Dr. Al's research charts are on the Secret page.
Comments in the chat room are announced by a
"duck call" noise. This noise also occurs when the software detects a
resonant hex pattern on the Wheel page. MoonTide trading tutorials
are on the right side of the ListOfCharts page. One should
read Trading the MoonTide Tutorial and Keep it Simple as a minimum.
Many subscribers do not strictly trade the MoonTides, but use the charts on this
site as input to their own trading strategies. For example, charts 5 and 6 on the
SPKiss page are a good starting point for swing traders.
Also on this site is the Certified Chaos Trader's Room. That room is open
to graduates of my 4 main courses. See http://moneytide.com -> Courses for details.
9:00 Eastern-System: No comments

---