Chaos Clinic Recap
---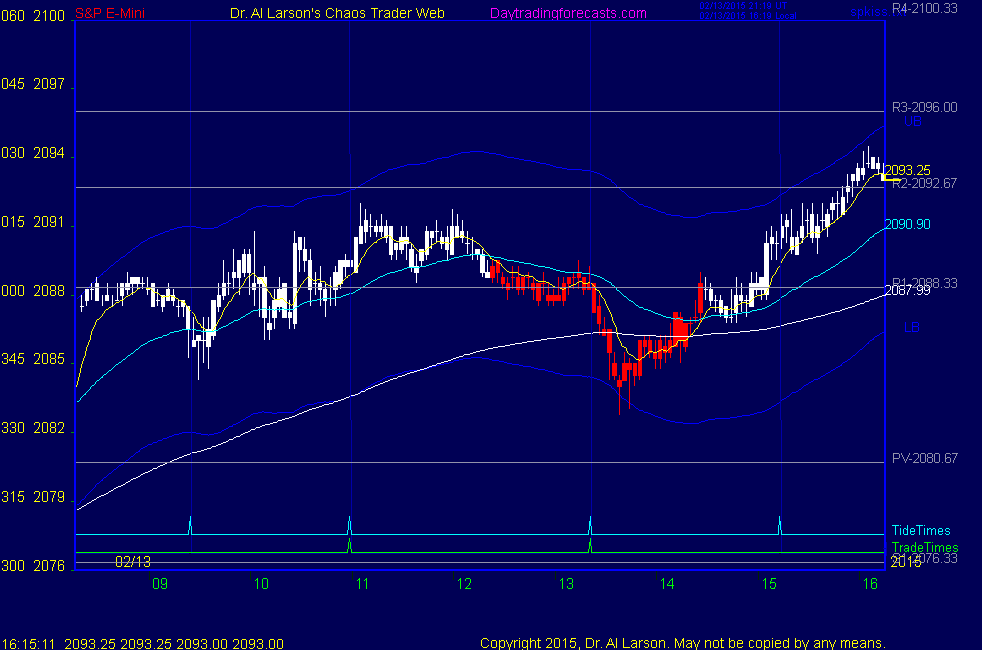 ---
Here are Al's comments
---
12:24 this is long weekend dullness; I'm going to leave now; thanks for coming; have a great weekend; see you next week;
The next Essentials of Personal and Market Astrophysics will be taught March 23-25. If you want to come, send Al An Email.
12:23 OK, no juice-out for 0
12:19 coming to the green swan
12:11 I have a good stop so just sitting
12:04 have a hex pattern recognized by my software-see Hex Wheels Today, and Hex Wheels tutorial, linked on right side of ListOfCharts page
12:01 I have placed a Fractal Grid chart in the Certified Chaos Trader's Room. That room is open
to graduates of my 4 main courses. See http://moneytide.com -> Courses for details.
eMylar Fractal of Pi overlays help you be patient, since they show you future potential moves.
The best bargain in my courses is to take the Cash In On Chaos and Fractal of Pi courses and
learn to use the FOP overlay. Then take Chaos Trading Made Easy, and finish with Face Of God.
11:45 taking the first move as the base, a 5/2 extension is 2100, a 7/4 is 2095.5, and 7/3 is 2099
11:42 coming to the green swan -it may accelerate things
11:31 this is what my friend Jim Twentyman calls a "grinder" - a slow steady move; need to be patient
11:21 moving stop now to 2087,just below the 220 minute EXMA
11:15 on any of my two day charts, a trend line under the lows reaches 2097 by the close
R4 is 2100, so could reach that
11:02 passing the exact trade time; now we can move up; moving stop to 2086
10:40 I like the trade so far - just need to wait to raise my stop
10:30 if the Green Swan catches price, the market could really rally; the double line means it is a strong Green Swan; see the Chaos Clinic chart
10:26 trade is OK so far -just need to be patient; this was the second continuation setup
had I not be in, I would have entered on it
10:20 I do like that the 220 EXMA is support
10:19 higher minor low; good
10:03 maybe could have waited but want to be in the uptrend
10:12 I bought a dip early-just have to accept that and leave my stop protect my capital
9:59 moving stop to 2084
9:54 taking trade early-bought 2089 stop 2082 for now-clear continuation on EXMA RAinbow
also, the XTIDE at bottom of Chaos Clinic chart shows energy pulse
9:49 momentum is up -trying to wait until in trade window
9:43 testing overnight highs
9:40 pretty choppy-watching-not in the trade window
9:27 near the pivot we have the 440 minute EXMA; and right near 10:59 we have a Green Swan line going up
so I'll be watching for a trade setup there
9:21 prices started on the R1 pit price 2088; may decline to pivot at 2080.75
9:18 opening up a bit; trade times today are 10:59 and 1:21 Eastern; may not get much volatility due to long weekend
9:00 Good Morning. Welcome to the Chaos Clinic. This site has a lot of charts,
so you may find it useful to have several of them available within your
browser. If you have a tabbed browser, you can open separate charts
in separate tabs by right clicking on any link, and selecting "open in new tab"
from the menu. The main list of site pages is at
http://daytradingforecasts.com/chartlistsec.asp
Recommended pages to watch are SPKISS, MTRainbow, and Chat.
For astro stuff, add SPSunMoonMer, Wheel, and Chaos Clinic.
Chaos clinic comments appear at the bottom of the SPKISS, MTRainbow,
and ChaosClinic pages. Comments in the chat room are announced by a
"duck call" noise. This noise also occurs when the sofware detects a
resonant hex pattern on the Wheel page. Trading tutorials
are on the right side of the ListOfCharts page. One should
read Trading the MoonTide Tutorial and Keep it Simple as a minimum.
The next Essentials of Personal and Market Astrophysics course will be September 22-24, 2014. For more detail see http://moneytide.com/hans/epmap.asp
---
Besides the comments made by Al, the chat room is has live
comments from other traders who sometimes share their views,
trades and tips. Below are the chat room comments from this clinic
---


2/13/2015 10:46:43 AM MT jon r:: So how many people are using this method getting similiar results to what is showing on this website?
2/13/2015 10:19:50 AM MT Al****:: 3 minute bars
2/13/2015 10:09:34 AM MT srj****:: @AL - the bottom of spike at ~09 something touched the T90 and the last few top peaks are again following the T90 line - Amazing...
2/13/2015 9:14:44 AM MT jon r:: is it a 2m , 3m, 5m chart?
2/13/2015 9:13:30 AM MT Al****:: all chart times are US Eastern time, normal or daylight
2/13/2015 9:12:23 AM MT jon r:: so what time frame is your ES chart?
2/13/2015 8:54:19 AM MT srj****:: GM Al, mm, all
2/13/2015 7:34:20 AM MT Al****::

9:00 Good Morning. Welcome to the Chaos Clinic. This site has a lot of charts,
so you may find it useful to have several of them available within your
browser. If you have a tabbed browser, you can open separate charts
in separate tabs by right clicking on any link, and selecting "open in new tab"
from the menu. The main list of site pages is at
http://daytradingforecasts.com/chartlistsec.asp
Recommended pages to watch are SPKISS, MTRainbow, and Chat.
For astro stuff, add SPSunMoonMer, Wheel, and Chaos Clinic.
Chaos clinic comments appear at the bottom of the SPKISS, MTRainbow,
and ChaosClinic pages. Comments in the chat room are announced by a
"duck call" noise. This noise also occurs when the sofware detects a
resonant hex pattern on the Wheel page. Trading tutorials
are on the right side of the ListOfCharts page. One should
read Trading the MoonTide Tutorial and Keep it Simple as a minimum.


The plugin request is coming from the audio tone-your browser needs an audio plugin-if it is IE, you should have Windows Media Player - the tones are not really needed
2/13/2015 7:20:36 AM MT jon r:: and i keep getting a message ( a plugin is needed to display this content )
2/13/2015 7:20:01 AM MT jon r:: I see all the records and am interested in what u are doing. But the website is very confusing, very hard to understand. No idea on where to start or anything
2/13/2015 7:16:03 AM MT Al****:: GM all-good luck today
no plugin are needed; all pages are linked through the ListOfCharts page; Chaos Clinic comments will be on the SPKiss abd ChaosClinc pages. I'll be posting more there in a minute.
2/13/2015 7:04:55 AM MT jon r:: This is a very confusing website, will there be anyone online today?
2/13/2015 6:57:42 AM MT jon r:: what plugin do i need for this?
2/13/2015 6:52:08 AM MT jon r:: morning all
2/13/2015 5:46:22 AM MT mm****:: gm all - have a great day

9:00 Eastern-System: No comments

---