Chaos Clinic Recap
---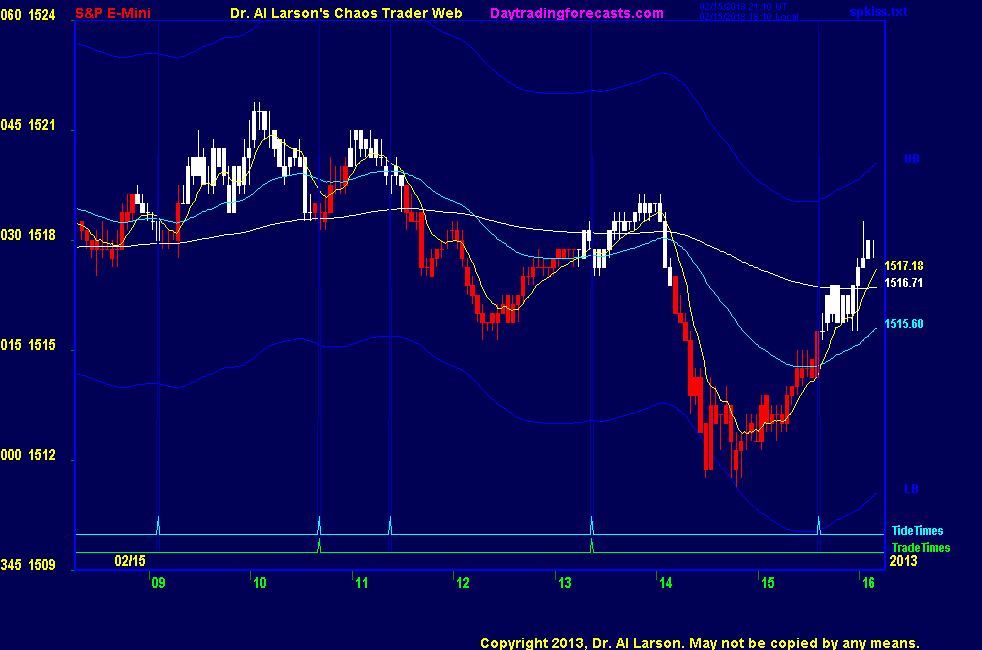 ---
Here are Al's comments
---
13:17 the 110 and 440 have gone flat-I'm calling it a day-have a great weekend-see you next week-take a course
13:13 looks like everyone has taken off for the weekend
13:03 not a lot of juice
12:57 still watching
12:45 watching for a continuation sell setup
12:30 watching to see if 1517, which was support, is now resistance
12:15 have a rollover in the 440 and 110 ; putting a sell stop at 1515 -hoping for a small rally into trade time
12:13 that FOP says we may get a decline
12:09 posted another FOP chart in the CCT room
11:46 stopped out - just no juice
11:24 taking a breakfast break
11:20 stop to 1517
11:16 I have placed a Fractal of Pi chart in the Certified Chaos Trader's Room. That room is open
to graduates of my 4 main courses. See http://moneytide.com -> Courses for details.
eMylar Fractal of Pi overlays help you be patient, since they show you future potential moves.
The best bargain in my courses is to take the Cash In On Chaos and Fractal of Pi courses and
learn to use the FOP overlay. Then take Chaos Trading Made Easy, and finish with Face Of God.
11:10 here I'm watching the 440 EXMA to see if it accelerates
11:05 if we break yesterday's high, we could acutally get some juice
10:59 looking better-trend remains up
10:52 bounced off both Moon flux and 440 EXMA
10:50 rebought 1519 stop 1516 ; I flinched
10:41 aborted for -1; don't like it
10:39 back down to the Moon flux

10:34 dipping near trade time-stop is in
10:06 a technique from Chaos Trading Made Easy suggests a move to 1534 - may not get there today
10:04 stop to 1517
10:00 getting some juice at 10:00 -can get a resonant streak at 10:00 when there is a Moon timeline near it
because 10:00 is 1/12 circle form the Sun in winter, 1/8th in summer
9:59 pressing the highs
9:55 we do have the Moon T090 timeline near 10:15 - it could add some Moon juice
see SPSunMoonMer chart
9:51 getting some divergence on the MTRainbow chart _ I hope it means some juice
9:46 if top 1521 should get some breakout buying
9:41 pressing a bit-bought 1520 stop 1516 - the 20 EXMA is continuing up
9:37 on the Chaos Clinc chart I see prices on the Moon +T000 electric field flux line
9:35 trade window opens at 9:56 - waiting
9:33 trading below the high-just watching
9:31 outcry session open - trade may come early
9:29 pre-outcry trading is bullish for the day
9:26 the 110 and 440 EXMAs are up, and the 20 has a continuation buy set up-watching for now
9:24 if we move off the 1518 corner of the hex, could go 12 points to 1530
9:22 the aoutmatic hex pattern software has recognized a hex at 1518
see Hex Wheels Today and tutorial on Hex Wheels on right side of ListOfCharts page
9:19 I do have a couple of astrocycles that are up today
9:18 trade times today are 10:41 and 13:22
9:15 this may be a slow day going into the 3 day weekend-market has been in a creepy crawler rally
so today's bias is up
9:00 Good Morning. Welcome to the Chaos Clinic. This site has a lot of charts,
so you may find it useful to have several of them available within your
browser. If you have a tabbed browser, you can open separate charts
in separate tabs by right clicking on any link, and selecting "open in new tab"
from the menu. The main list of site pages is at
http://daytradingforecasts.com/chartlistsec.asp
Recommended pages to watch are SPKISS, MTRainbow, and Chat.
For astro stuff, add SPSunMoonMer, Wheel, and Chaos Clinic.
Chaos clinic comments appear at the bottom of the SPKISS, MTRainbow,
and ChaosClinic pages. Comments in the chat room are announced by a
"duck call" noise. This noise also occurs when the sofware detects a
resonant hex pattern on the Wheel page. Trading tutorials
are on the right side of the ListOfCharts page. One should
read Trading the MoonTide Tutorial and Keep it Simple as a minimum.

---
Besides the comments made by Al, the chat room is has live
comments from other traders who sometimes share their views,
trades and tips. Below are the chat room comments from this clinic
---


2/15/2013 12:58:27 PM MT Nella****:: it was all in my CTME chart
2/15/2013 12:53:15 PM MT BBB****:: Nella if you sold 17 you got the trade of the week!~
2/15/2013 12:45:33 PM MT Nella****:: not that I blame him
2/15/2013 12:31:09 PM MT Nella****:: sometimes I think he leaves early if he sees something worth trading
2/15/2013 12:30:05 PM MT Nella****:: yeah, I say Al leave and got ready-sold 1517
2/15/2013 11:48:26 AM MT BBB****:: Not a bad comment about Al by the way - just trying to get some mojo into this flatline!
2/15/2013 11:43:24 AM MT BBB****:: Hate to say it but sometimes when Al leaves on Friday it brings the juice back. The tides are relatively flat until the top of the hour so maybe that brings the juice.
2/15/2013 10:56:39 AM MT kwb:: my apologies...
2/15/2013 10:53:09 AM MT Al****:: KWB: this is not a general discussion forum-but a tutorial for my students
2/15/2013 10:50:30 AM MT kwb:: also "strange that although the Dow has traded within a range for the last 3 or so weeks, the S&P has managed a 20-25 point gain.. a small divergence.. need to see what usually happens when the dow fails to move with the S&P... anyone with some ideas on that, feel free to share....
2/15/2013 10:45:04 AM MT kwb:: Hi everyone, a couple of possible patterns setting up.... H & S going back to last Friday..Using Dow Industrial numbers, today's high in the 14000-14010 area would be the top of the right shoulder.... certainly tough area to trade as have been in a 190 point range (13850-14040) since 1/24... another possible with multiple false breakouts both higher and lower.. another possible pattern is an ellipse, forming since the 28th-29th of Jan....with the Feb 7th low looking like the mid-point, would think something could happen today or monday.... hope you don't mind the observations.....
2/15/2013 9:43:47 AM MT Tg****:: Six 20/110 crosses in 2 hrs 40 min. Fridays :=(
2/15/2013 8:57:39 AM MT Tg****:: Hard not to flinch there, nasty hook and go potential.
2/15/2013 8:33:15 AM MT JMV****:: Yeah I suspected as much... It's funny because last week they were working so well, on Thursday I bought every single 4hr low, including 2 overnight. All good trades, all right on the ingress. And then the relationship just went puff! Gotta investigate more I guess...
2/15/2013 8:17:11 AM MT Al****:: I have not found ingresses of any value
2/15/2013 7:42:10 AM MT JMV****:: Al, have you ever looked into forecasting turning points using fixed points in the zodiac? A few weeks back I noticed we were getting exact turning points upon ingress into a new sign. And as the hours for these moved through the day, so too did the ES troughs... But then it just stopped working... I'm wondering if there is something to the concept.. I know for longer term it works remarkably well but I never thought it could also be used for intraday.
2/15/2013 7:36:23 AM MT JMV****:: Morning all! Looks like another dead market in our hands.
2/15/2013 7:12:22 AM MT Al****:: GM all-good luck today
thanks for the input TG
2/15/2013 6:50:19 AM MT Tg****:: Al, I chatted that I would not be interested in attempting to trade a new astro forecast. I should have also said that if you some how devised a successful trading strategy around it that gave clear entries and exits (not open to interpretation), obviously well backtested, that would be something of interest. Not sure how feasible or possible that is, though.
2/15/2013 6:40:28 AM MT Tg****:: GM Al. Not sure what kind of moves we can expect in a slow market before a 3 day weekend.
2/15/2013 6:28:11 AM MT mm****:: gm all - have a great day

9:00 Eastern-System: No comments

---