---
CHAOS CLINIC RECAP
---
---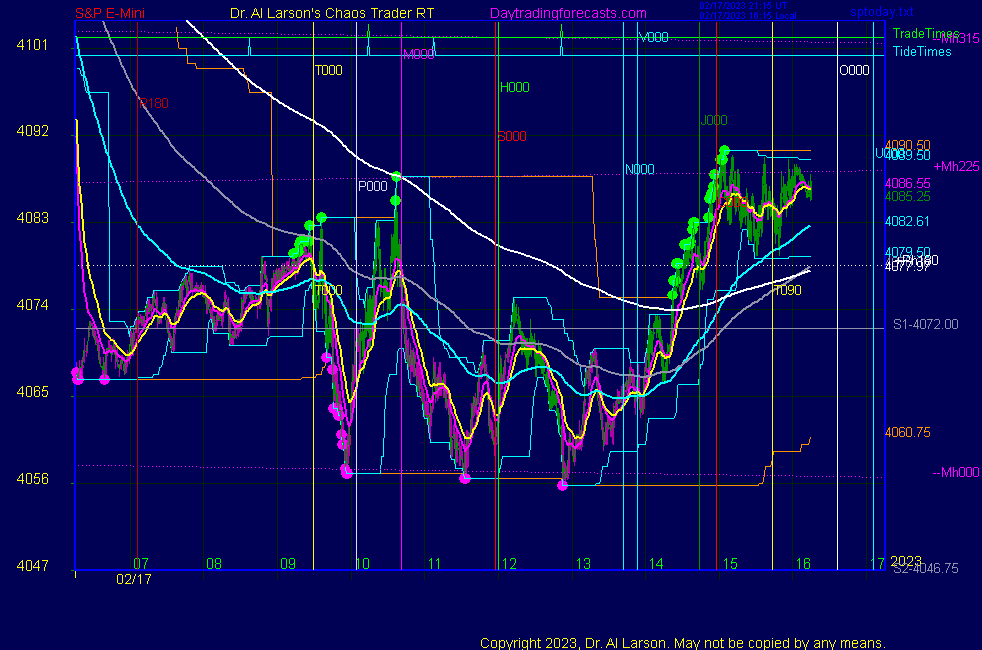 **************************************************************************************
Fly Me To The Moon, An Impromptu Clinic
Chaos Clinic for 2/17/2023
***************************************************************************************

This chart shows the chart I watched on Friday, Feb 17, 2017.

The discussion is all in the chat room portion.

For more on my work and to subscribe to Tomorrow's Market Email Hotline and access to daytradingforecasts.com see
Moneytide.com
Software to plot electric field flux lines in NinjaTrader is available at
energyfieldtrading.com
---

Below is one of the SPKISS charts from daytradingforecasts.com
and the chat room comments from this Chaos Clinic. Most recent comment is on top.
---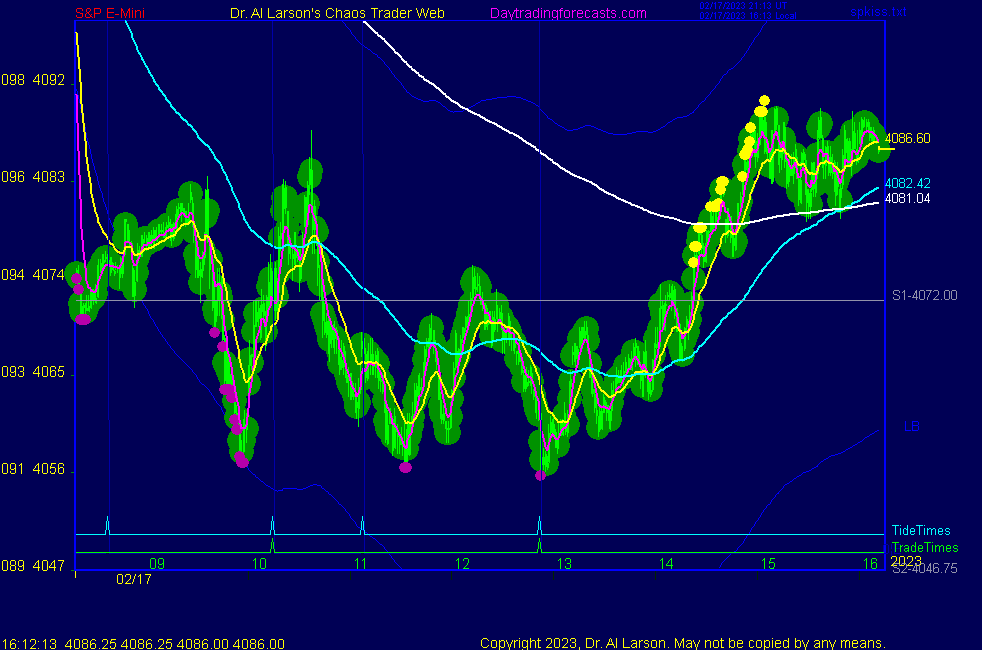 2/17/2023 2:11:02 PM MT Al****:: futures close at 4:15 for 15 minutes, then have a 30 minute settling period. That could be interesting, but I'm done for the day. Thanks for coming. Have a good weekend.
2/17/2023 2:03:03 PM MT Al****:: Dow closed up130
2/17/2023 1:52:17 PM MT Al****:: going up after Moon time line
2/17/2023 1:35:18 PM MT Al****:: coming to Moon timeline -more juice
2/17/2023 12:57:44 PM MT Al****:: filled the range, so half way to pivot
2/17/2023 12:44:22 PM MT Al****:: in terms om two Moon day-this is Moon-Noon-Moon with last Moon timeline near 15:30
2/17/2023 12:41:49 PM MT Al****:: finally turned the 440 EXMA up
2/17/2023 12:01:53 PM MT Al****:: got up energy passing Venus
2/17/2023 11:44:18 AM MT Al****:: now exchange passing Neptune and Venus time lines
2/17/2023 11:14:15 AM MT Al****:: chaotic moves come from frequency doubling
this often leads to range doubling; doubling today's range gives 4120, the pivot
2/17/2023 11:09:12 AM MT Al****:: three drives to a bottom? red -Tide suggests it is
2/17/2023 10:59:32 AM MT Al****:: now seeing a triple bottom
2/17/2023 10:55:23 AM MT Al****:: no rallyjuice
2/17/2023 10:11:45 AM MT Al****:: breaking above the Moon flux here can add energy
2/17/2023 10:08:53 AM MT Al****:: just passed Sun and Saturn time lines
2/17/2023 10:07:04 AM MT Al****:: that double bottom was support on the Mercury -Mh000 flux
2/17/2023 9:47:10 AM MT clb****:: The red and green swan intersection looks to be near the solar transit. Looks now like a test and retest of the bottom this morning.
2/17/2023 9:40:22 AM MT Al****:: if you look on the Chaos Clinic chart, you see a red swan down in morning and a green swan up in the after noon
the red swan is weak, but the green swan may be stronger
2/17/2023 9:09:18 AM MT Al****:: this is about what I expected for the morning
2/17/2023 8:41:03 AM MT clb****:: Well, you can't complain about the lack of volatility today. But the market does need to find a direction first.
2/17/2023 8:12:03 AM MT Al****:: chop due to Moon, then Pluto, then Mercury time lines
2/17/2023 8:01:56 AM MT clb****:: T000 sure seemed to add some volatility this morning. I expected an upward move today, but always wait for confirmation.
2/17/2023 7:41:06 AM MT Al****:: faded
2/17/2023 7:36:38 AM MT Al****:: as the exchange passed the Moon, prices dipped to S1 and bounced
2/17/2023 7:29:03 AM MT Al****:: as clb mentioned, this is a "two Moon Day" with Moon time lines early and late - now at the early one, T000
these days are often volatile and one way runni9ng Moon to Moon, or run Moon-Noon-Moon
2/17/2023 7:05:00 AM MT Al****:: I note that the 35/220 exmas are coloring bars white (up) and that the Moon +T180 electric field flux is support
2/17/2023 7:00:24 AM MT Al****:: thanks for the comments guys
2/17/2023 6:39:38 AM MT pab:: 85% chance of an up day in the SPX today or Tuesday as the VIX went up over 10% (10.64%%) yesterday (per a study one trader did) fwiw
2/17/2023 6:27:27 AM MT clb****:: Thanks, Dr. Larson. My 60 minute chart on ES is about to go on a buy signal. I also notice it is a 2 moon day. There is potential for large movement.
2/17/2023 5:53:40 AM MT Al****:: FWIW: for you early birds, note that prices declined to the 4065 price hit one week ago
that suggests the market will hold up from here and possibly rally in the afternoon
prices traded down to the S1 level, and could rally to the pivot 4120. The pivot is usually hit during the day. In the extreme, a rally could hit R1 4145, which was yesterday's midday double top
2/17/2023 5:43:40 AM MT Al****:: Good Morning visitors. Welcome to the Chaos Clinic. There is no written Chaos Clinic today.
This site has a lot of charts,
so you may find it useful to have several of them available within your
browser. If you have a tabbed browser, you can open separate charts
in separate tabs by right clicking on any link, and selecting "open in new tab"
from the menu. The main list of site pages is at
http://daytradingforecasts.com/chartlistsec.asp
Recommended pages to watch are SPKISS, MTRainbow, and Chat.
For astro stuff, add SPSunMoon, Wheel, and Chaos Clinic.
A special set of Dr. Al's research charts are on the Secret page.
Comments in the chat room are announced by a
"duck call" noise. This noise also occurs when the software detects a
resonant hex pattern on the Wheel page. MoonTide trading tutorials
are on the right side of the ListOfCharts page. One should
read Trading the MoonTide Tutorial and Keep it Simple as a minimum.
Many subscribers do not strictly trade the MoonTides, but use the charts on this
site as input to their own trading strategies. For example, charts 5 and 6 on the
SPKiss page are a good starting point for swing traders.
Also on this site is the Certified Chaos Trader's Room. That room is open
to graduates of my 4 main courses. See http://moneytide.com -> Courses for details.
9:00 Eastern-System: No comments

---