Chaos Clinic Recap
---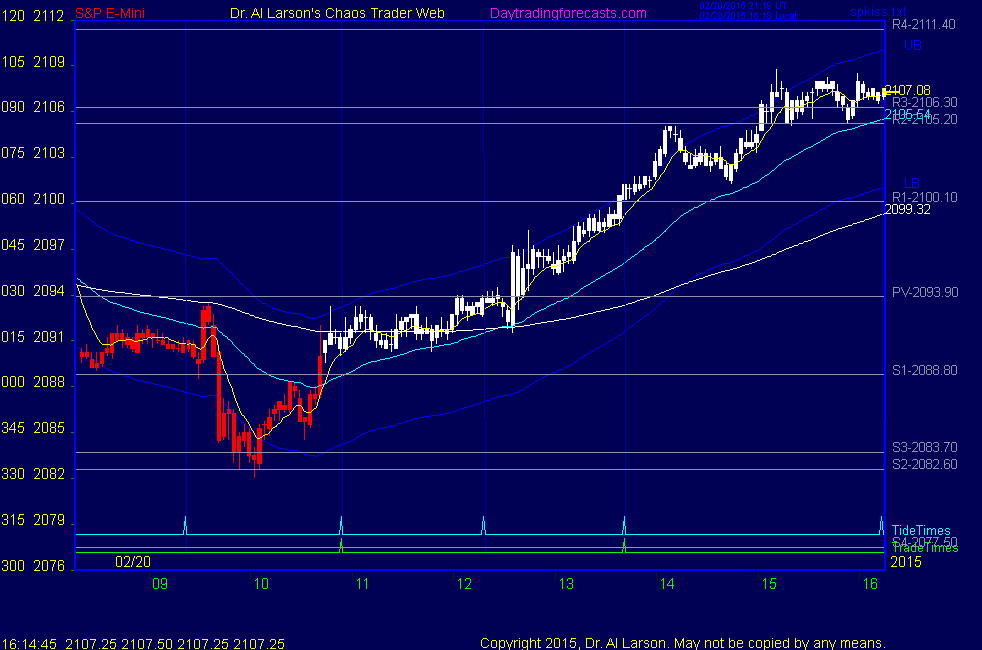 ---
Here are Al's comments
---
2:19 There may be more but I'm done. Thanks for coming; see you next week; take a course; come to EPMAP
2:17 OK, taking 9; did not like the red candles
2:06 stop 2102;lock 7.5; may hit cover point soon
2:02 stop 2101; lock 6.5
2:00 stop to 2100; lock 5.5
1:55 stop to 2099; lock 4.5
1:49 putting sell limit at 2106; double range of rising wedge; R3; Natural Resistance; harmonic energy point
1:42 stop to 2098.25-using the 55 minute EXMA as a guide
1:38 about to accelerate-stop to 2097.5
1:31 stop to 2096.25; making new highs
1:19 stop to 2095.75, lock 1.25 ; pausing at overnight high
1:16 stop to 2095.25, at last minor low
1:14 stop to 2094.75, lock one tick; cover commission
1:12 stop to 2093
1:08 looking at the XTide, I will look to cover about 15:10 if still in
1:02 just have to be patient here
12:56 projecting from my rising wedge sketch gives a target of 2106
12:42 way early, but bought 2094.5 stop 2091 for now - bounced off the 220 EXMA where XTide said to expect up energy
12:36 quickly reversed!
12:34 and there it is
12:21 a quick sketch shows a rising wedge pattern from the low, so a pullback may be nearby
12:16 I'm back; see we held up ; got minor selling at the pivot; see the SP1Day and SPKISS charts for pivot prices
11:03 That chart will also help me find the second trade; now taking a break for breakfast
11:01 if you have taken the Chaos Trading Made Easy course, you will see a link on the left side of ListOFCharts
to an SP CTME page, which has two CTME charts; they are saying selling is coming in
10:56 XTide says this rally is probably stalling
10:46 I have placed a Face of God chart in the Certified Chaos Trader's Room. That room is open
to graduates of my 4 main courses. See http://moneytide.com -> Courses for details.
eMylar Fractal of Pi overlays help you be patient, since they show you future potential moves.
The best bargain in my courses is to take the Cash In On Chaos and Fractal of Pi courses and
learn to use the FOP overlay. Then take Chaos Trading Made Easy, and finish with Face Of God.
10:40 popped up to the 440 EXMA-too fast to catch manually; does confirm that the downside is done
10:34 I'm going to pass on this first trade because there is not a good setup; I'll wait until things are more clear
the XTide at the bottom of the Chaos Clinic chart shows increase energy this afternoon, so I'll wait to see how that develops
10:28 I now expect prices to hold up into the close, but may not give us mcuh of a rally to trade
10:24 on the Chaos Clinic page you see both the -Tide and +Tide having an effect
10:20 given that, the question is, "Can we find a good trade under these conditions?"
10:17 the move from the overnight high early this morning to the low was an electical arc between two astro high tension wires; it is over
10:12 Friday mornings often have head fakes, as some big players settle accounts so as to avoid week end risk
10:08 looks like the flash move is over-20 minute EXMA has turned up
10:00 went to S2 at 2082.60-I also have Natural support there
9:59 this is one of those flash moves that if you catch it, it is great, but they end as quickly as they began
9:50 the open was below the pivot price, so the computers sold; S3 is at2083.7 so may limit the delcine
9:46 looks like there were a lot of public sell orders waiting for the open
9:18 the market is stuck in a week long flat. My analysis says it ends on Monday, so today may not
be a good trading day. We have time to watch, since trade times are 10:54 and 13:41
9:15 Good Morning. Welcome to the Chaos Clinic. This site has a lot of charts,
so you may find it useful to have several of them available within your
browser. If you have a tabbed browser, you can open separate charts
in separate tabs by right clicking on any link, and selecting "open in new tab"
from the menu. The main list of site pages is at
http://daytradingforecasts.com/chartlistsec.asp
Recommended pages to watch are SPKISS, MTRainbow, and Chat.
For astro stuff, add SPSunMoonMer, Wheel, and Chaos Clinic.
Chaos clinic comments appear at the bottom of the SPKISS, MTRainbow,
and ChaosClinic pages. Comments in the chat room are announced by a
"duck call" noise. This noise also occurs when the sofware detects a
resonant hex pattern on the Wheel page. Trading tutorials
are on the right side of the ListOfCharts page. One should
read Trading the MoonTide Tutorial and Keep it Simple as a minimum.

The next Essentials of Personal and Market Astrophysics will be taught March 23-25. If you want to come, send Al An Email.
---
Besides the comments made by Al, the chat room is has live
comments from other traders who sometimes share their views,
trades and tips. Below are the chat room comments from this clinic
---


2/20/2015 11:51:45 AM MT srj****:: Thanks Al.
2/20/2015 11:49:05 AM MT Al****:: double the range of the rising wedge
2/20/2015 11:40:33 AM MT srj****:: @Al - Al which method did you use to determine 2106 possible taget? TIA
2/20/2015 8:20:33 AM MT srj****:: The drop was close to the double Red Swan line.
2/20/2015 7:42:26 AM MT Al****:: found the DAX bug-a file got locked and not released
2/20/2015 7:32:52 AM MT mm****:: gm all - have a great day
2/20/2015 7:28:50 AM MT Al****:: GM all-I'll look at the DAX.
2/20/2015 7:24:53 AM MT srj****:: GM AL. all
2/20/2015 1:52:18 AM MT JEA:: Al: The DAX has been down for a few days.

9:00 Eastern-System: No comments

---