---
CHAOS CLINIC RECAP
---
---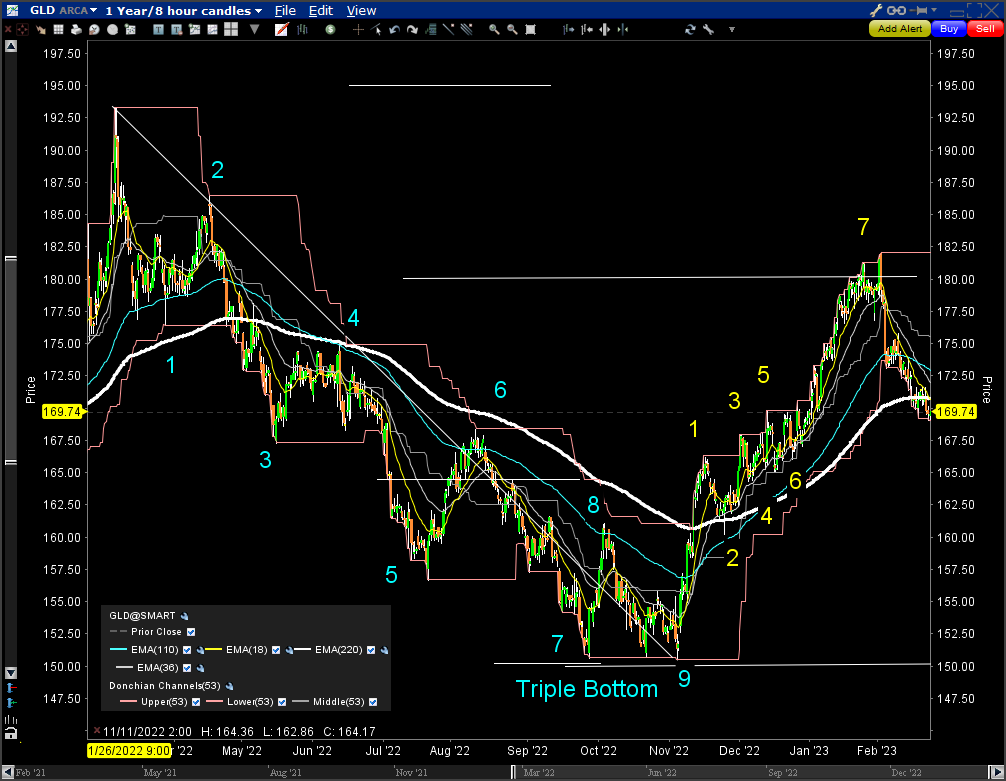 **************************************************************************************
Gold Delivers
Chaos Clinic for 2/17/2023
***************************************************************************************

In my 11/11/2022 Chaos Clinic I pointed out that GLD, a Gold ETF, had completed a down
Chaos Clamshell and was starting an up CC. This chart shows what happened since.

On 11/11/2022 prices has almost finished move 1 of the new up CC, which has moves numbered
with green numbers, That big, fast move 1 penetrated the 220 bar EXMA (heavy white line).
The first pullback brought prices back to it, as it turned up, Very quickly prices made
new rebound highs at 3. The pullback to 4 came fast as well. The up CC swings were
about twice as fast as in the down CC, as seen by the 53 bar Donchian channel. This indicated
the up CC had a frantic following.

Very quickly prices doubled the range of move 1, and hit the harmonic price of 180 at point 7.
From the prices have fallen back to the 220 EXA.

I seldom get feedback on my postings, so I was gratified that one of my Certified Chaos Traders
told me he had taken advantage of the up CC and made "a good profit." Well done.

For more on my work and to subscribe to Tomorrow's Market Email Hotline and access to daytradingforecasts.com see
Moneytide.com
Software to plot electric field flux lines in NinjaTrader is available at
energyfieldtrading.com
---

Below is one of the SPKISS charts from daytradingforecasts.com
and the chat room comments from this Chaos Clinic. Most recent comment is on top.
---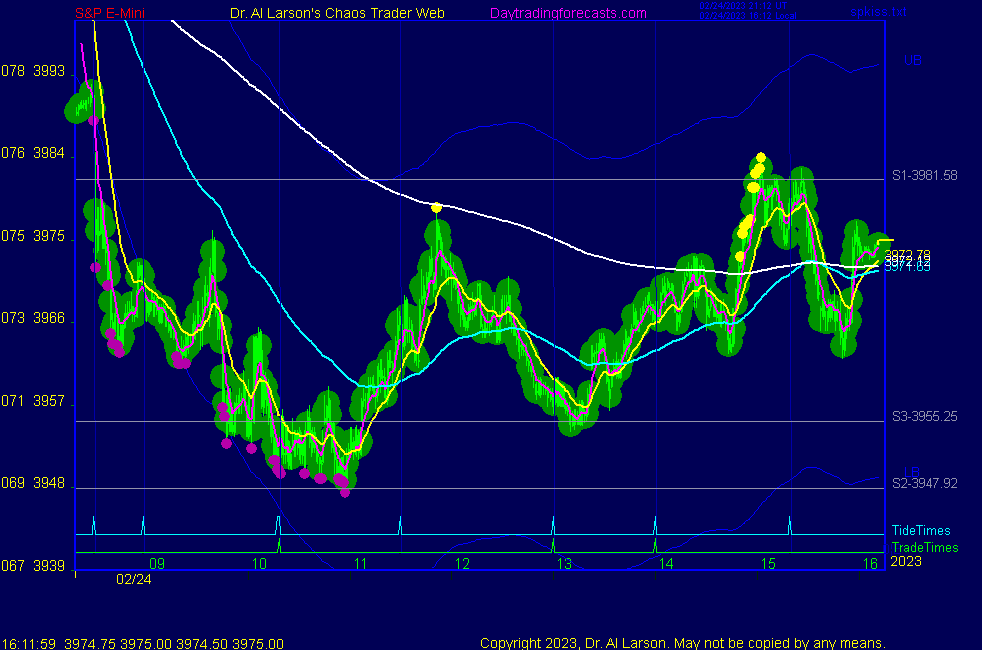 2/24/2023 10:57:08 AM MT Al****:: the down Moon -T315 flux limited the rally, so now prices are trapped between those two flux
this suggests market holds up from here
I'm calling it a day for the clinic-thanks for coming-take some courses-learn to Cash In On Chaos
2/24/2023 9:44:46 AM MT Al****:: This bounce tells me the decline is probably over for today
2/24/2023 9:32:56 AM MT Al****:: this low was bounced off the Moon +T315 electric field flux line
yesterday's bounce was stopped by the Moon +T045 flux, a harmonic 90 degree drop
2/24/2023 9:22:25 AM MT Al****:: the low came as the exchange rotated past Mercury
2/24/2023 9:21:39 AM MT Al****:: note on SPKISS chart 4 the support at S2 - Flash Boy computers covering
also on SPKISS chart 7 decline was from grey to grey
2/24/2023 6:49:52 AM MT Al****:: note the longer term charts 5, 6, and 7 on SPKISS have been showing this slide well
yesterday was interesting-I had an echo cardiogram and was gone most of the day
when I saw the wild swings yesterday I said "fibrillation, as precedes a heart attack." Right out of Cash In On Chaos.
2/24/2023 6:38:36 AM MT Al****:: Good Morning visitors. Welcome to the Chaos Clinic. The written Chaos Clinic is on the AUX page.
This site has a lot of charts,
so you may find it useful to have several of them available within your
browser. If you have a tabbed browser, you can open separate charts
in separate tabs by right clicking on any link, and selecting "open in new tab"
from the menu. The main list of site pages is at
http://daytradingforecasts.com/chartlistsec.asp
Recommended pages to watch are SPKISS, MTRainbow, and Chat.
For astro stuff, add SPSunMoon, Wheel, and Chaos Clinic.
A special set of Dr. Al's research charts are on the Secret page.
Comments in the chat room are announced by a
"duck call" noise. This noise also occurs when the software detects a
resonant hex pattern on the Wheel page. MoonTide trading tutorials
are on the right side of the ListOfCharts page. One should
read Trading the MoonTide Tutorial and Keep it Simple as a minimum.
Many subscribers do not strictly trade the MoonTides, but use the charts on this
site as input to their own trading strategies. For example, charts 5 and 6 on the
SPKiss page are a good starting point for swing traders.
Also on this site is the Certified Chaos Trader's Room. That room is open
to graduates of my 4 main courses. See http://moneytide.com -> Courses for details.
9:00 Eastern-System: No comments

---