Chaos Clinic Recap
---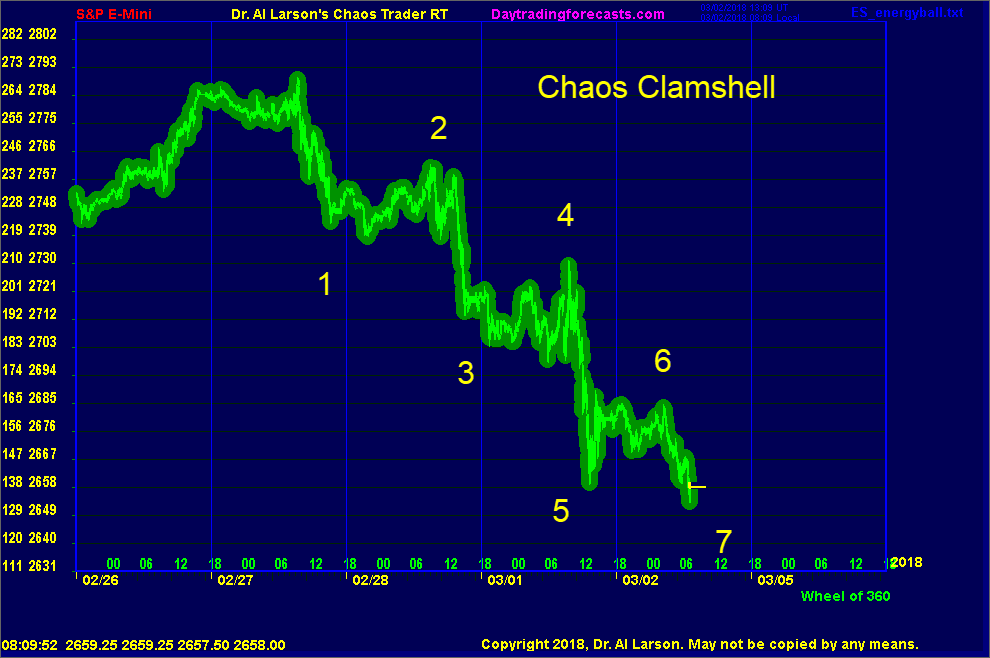 ---
Here are Al's comments
---
8:20 Good Morning. Today I am not doing a live Chaos Clinic because I have out of town company.
But I did want to show you this 3 day down Chaos Clamshell on The AUX page. It suggests that today the market will
be probing for a bottom. The red -Tide suggests this could come near 12:33. Have a good day.

---
Besides the comments made by Al, the chat room is has live
comments from other traders who sometimes share their views,
trades and tips. Below are the chat room comments from this clinic
---


3/2/2018 2:12:22 PM MT Al****:: covered a few minutes early, net 22. Have a good weekend all. Not a bad clinic TG!
3/2/2018 2:06:07 PM MT TG****:: Have a great weekend AL
3/2/2018 2:05:29 PM MT TG****:: I got about a net 30. There should be more Monday. Hopefully there will be an opportunity to get in pretty well.
3/2/2018 1:51:48 PM MT Al****:: There is a hot astro cycle right in the settlement period, so I plan to cover right at 4:14 Eastern
3/2/2018 1:48:36 PM MT TG****:: 89.25 is the 24 Hr pivot
3/2/2018 1:36:00 PM MT Al****:: I have mine just under last low
3/2/2018 1:27:59 PM MT TG****:: I don't know where a good reasonable stop is anymore.
3/2/2018 1:18:49 PM MT Al****:: watching for that last minute juice
3/2/2018 12:49:54 PM MT TG****:: If we finish strong, then 2710-20 on Monday looks like a good upside target to me.
3/2/2018 12:46:44 PM MT TG****:: Well, not sure if we should or not. Been a lot of failed rallies, afterall. Seems to fit the GO Big scenario, though, with a nice 20/110 upside cross just after the tide time.
3/2/2018 12:40:10 PM MT Al****:: This is where I get in trouble-late in day I get tired and don't hold 'til the fat lady sings
3/2/2018 12:24:41 PM MT Al****:: LOL: ego is such a hard thing :)
3/2/2018 12:21:41 PM MT TG****:: I was too busy patting myself on the back for my good entry to notice that there was a clear "balcony style" chaos clamshell completing. Now hoping that was 7 moves to a bigger move 1 high and that drop was bigger move 2 low.
3/2/2018 12:18:10 PM MT TG****:: By the skin of my teeth I survived the drop
3/2/2018 12:12:47 PM MT Al****:: TG: my Face of God pattern kept me long. Hope you are still in.
3/2/2018 11:00:24 AM MT TG****:: If I draw an up fractal grid on my daily Cash SPX chart from the 2/9 low to 2/27 high, then this morning represented a bit more than a 50% retrace as price tagged the first potential key upstreak.
3/2/2018 10:49:53 AM MT Al****:: now Green Swan energy
3/2/2018 10:48:51 AM MT Al****:: Great explanation. Don't blame you for not buying S1. Hard to compete with Flash Boys on the very edge
3/2/2018 10:42:52 AM MT TG****:: The long was because there was a 20/110 upside cross at a key spot in my down fractal grid. Price then dropped back below the 110 (I call that, flash boys want a better price to accumulate at) but the candle action indicated it was just testing the lower OOB level.
3/2/2018 10:34:38 AM MT TG****:: I'm reasonably good at finding the end of a fractal and playing up fractals. not very good on playing the down fractals for some reason. If I was really good I'd have taken a stab at the S1 level.
3/2/2018 10:21:25 AM MT Al****:: "long from 2656.5" - Wow, TG, your are GOOD!
3/2/2018 10:17:19 AM MT Al****:: even with company I have to check that all the technocrap is working, even if I'm not trading :)
3/2/2018 10:08:44 AM MT TG****:: The Swans have been something to behold.
3/2/2018 10:05:58 AM MT TG****:: AL, I thought you had company over. Hard to stay away from it, especially when these sorts of moves are taking place. I'm long from 2656.5. Bought 57.5, got stopped for -3.75, then rebought.
3/2/2018 9:55:39 AM MT TG****:: double bottom at S1 (2647.5).
3/2/2018 9:54:11 AM MT Al****:: thanks TG. Posted chart 3 in CCT Room
3/2/2018 9:47:18 AM MT TG****:: Nice Aux chart AL.
3/2/2018 8:41:44 AM MT TG****:: GM everyone.
3/2/2018 6:35:48 AM MT Al****:: GM all-good luck today. No clinic. Left chart and comment on AUX page.

9:00 Eastern-System: No comments

---