Chaos Clinic Recap
---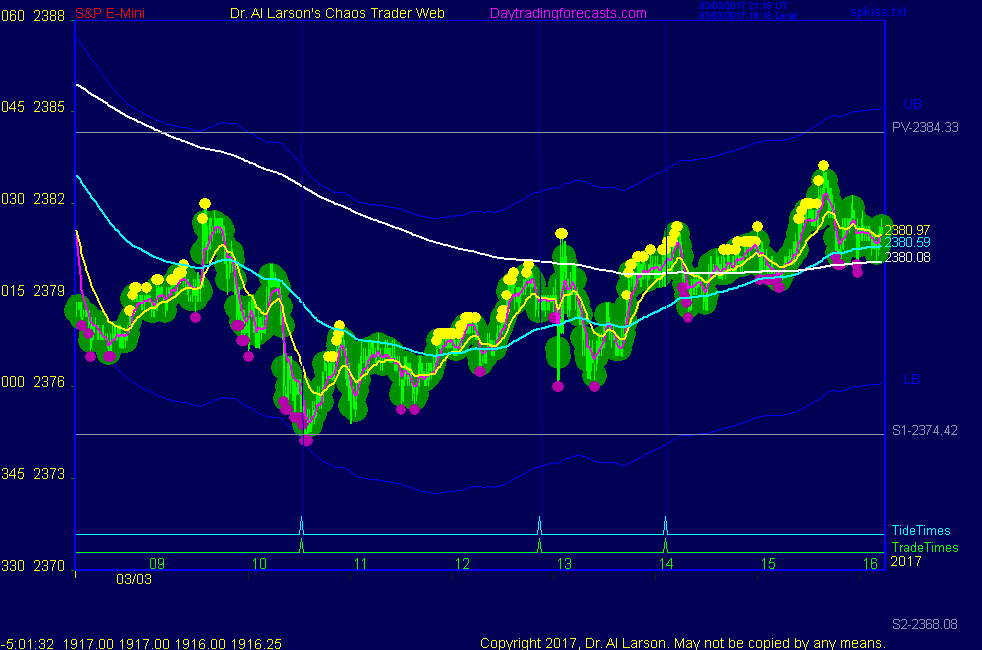 ---
Here are Al's comments
---
11:27 OK, prices are not moving; may move when Yellen speaks, but I'm not hanging around. Thanks for coming. See you next week. Take some courses. Order a SNAP XGO chart date 3/2/2017.
10:50 I'm going to take a break-I'm not seeing a trade here
10:48 you can also go to MoneyTide.com and order an XGO chart for SNAP-Fisrt Trade Date is yesterday
10:44 meanwhile on my stock board of about 30 stocks it is mixed, small gains/losses, except for SNAP up 15%
If you have take Chaos Trading Made Easy, look at a 3 minute chart and you can project where it is headed
10:27 it may be that prices are on S1; or that I already made a trade; whatever, I'm just watching
10:33 I just can't pull the trigger on a sell here - don't know why
10:32 doing nothing
10:22 sharp drop on Moon timeline - I'm still waiting-could be the low in the Red -Tide
10:10 I tried a trade going into the Tide time; now I'll se how it comes out of the trade time
my AUX chart shows an up blue swan ahead
10:05 Friday opening trades have a high failure rate, which is why I pushed my stop so as not to loose much
10:00 it also suggests an inversion to red -Tide; this means we have mixed Tides=congestion and chop
9:53 the opening volume did not push prices up much at all, which suggests no real conviction up or down
9:49 early rally failed- now I expect prices to congest sideways about the 6 day mean
9:47 out for -1
9:45 stop to 2379.5 risk 1
9:40 stop to 2379-risk 1.5
9:39 putting sell limit at 2385.5
9:38 rebought 2380.5 stop 2378
9:36 out for 0
9:35 stop to 2380.5, break even
9:33 elected long, stop at 2378-taking trade into the Tide time
9:31 putting a buy stop at 2380.5
9:24 this dullness seems to be because everyone is waiting to hear what Janet Yellen says at 1:00 Eastern.
So this may be one of those Fridays to just watch
9:20 on the AUX chart, the heavy white EXMA is the 6 day mean; may be hard to get through it
9:15 vibrating between the Moon and Venus flux lines on Wheel of 72
9:03 the chart I am watching is on the AUX page- it shows an early morning low with a modest
rally - so today looks like flat to modest up. Trade times are 10:32, 12:52, 14:06
may not be that tradable if we don't get better volatility than yesterday
9:00 Good Morning. Welcome to the Chaos Clinic. This site has a lot of charts,
so you may find it useful to have several of them available within your
browser. If you have a tabbed browser, you can open separate charts
in separate tabs by right clicking on any link, and selecting "open in new tab"
from the menu. The main list of site pages is at
http://daytradingforecasts.com/chartlistsec.asp
Recommended pages to watch are SPKISS, MTRainbow, and Chat.
For astro stuff, add SPSunMoonMer, Wheel, and Chaos Clinic.
Chaos clinic comments appear at the bottom of the SPKISS, MTRainbow,
and ChaosClinic pages. Comments in the chat room are announced by a
"duck call" noise. This noise also occurs when the sofware detects a
resonant hex pattern on the Wheel page. Trading tutorials
are on the right side of the ListOfCharts page. One should
read Trading the MoonTide Tutorial and Keep it Simple as a minimum.

The next Essentials of Personal and Market Astrophysics will be taught March 20-22. If you want to come, send Al An Email.
---
Besides the comments made by Al, the chat room is has live
comments from other traders who sometimes share their views,
trades and tips. Below are the chat room comments from this clinic
---


3/3/2017 11:15:37 AM MT TG****:: A Yellen speech today at 1:00 turned on the algo bots.
3/3/2017 9:49:05 AM MT BBB****:: What??? I CAN'T HEAR YOU! :)
3/3/2017 8:56:00 AM MT TG****:: All is well BBB. Suffering through our first week of a kitchen renovation. Very tough to concentrate.
3/3/2017 7:27:28 AM MT BBB****:: Hey TG - hope all is well.
3/3/2017 7:19:19 AM MT Al****:: Hello TG, good to see you on
3/3/2017 7:17:06 AM MT TG****:: GM AL, MM, BBB, everyone. Good luck today.
3/3/2017 6:31:59 AM MT mm****:: gm all - have a great day !

9:00 Eastern-System: No comments

---