Chaos Clinic Recap
---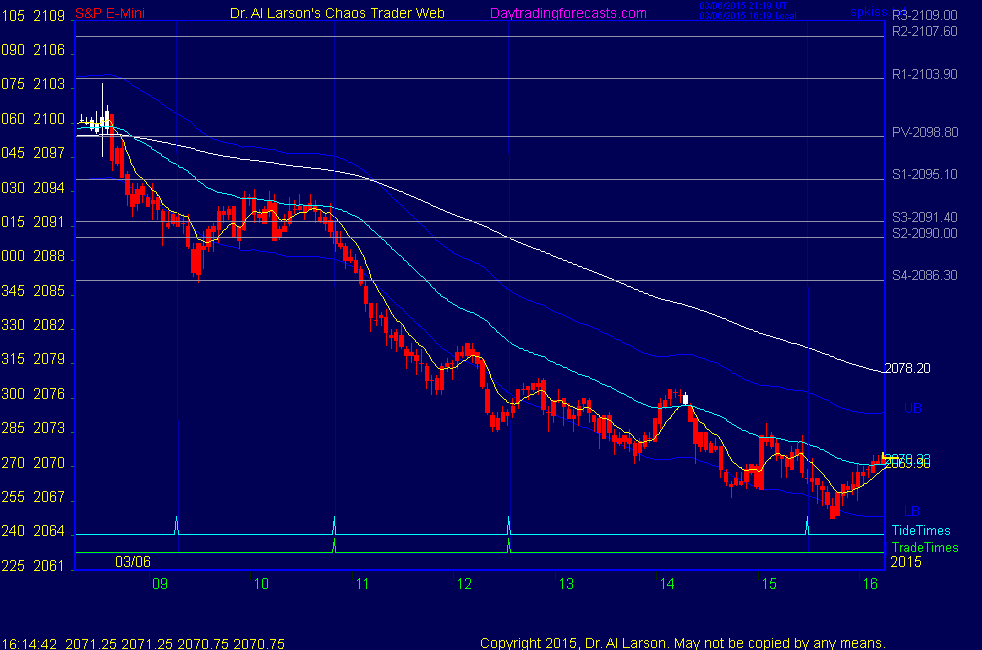 ---
Here are Al's comments
---
1:27 OK, this is well past thew second trade time, so I'm going to call it quits; thanks for coming; see you next week; take a course or two
1:24 2073 broken
1:14 lots of bottom wicks on 3 minute candles
1:06 low still holding
1:01 double bottom-lots of computer programs buy these
12:57 7 moves down from high
12:55 low needs to hold
12:41 I think we do
12:36 this Sun/Moon timeline pair is the Full Moon -watching to see if we have a Full Moon low
12:24 2073.5 is also the V+270 flux on Wheel of 72
12:22 still probing for the low-Moon T+180 timeline coming up soon
12:15 the 8:00 high came on the V090 timeline-the V000 timeline is at 2:00 PM-possible final low time
2073 is 45 points down from the 2118 Feb high, so it is major support
12:04 that's a 135 degree move, so I think it is over-now the exchange is passing the Sun; will watch to see if that changes the trend
11:58 even if you miss a trade, there is knowledge to be gained-if you look at the SPSunMoonMer chart, you see that
this move was harmonic to the Sun- High on +H090, Secondary high on +H045, Low on +H315
11:49 I'm back - sorry I missed most of such a good move- but I've learned no to chase them when I'm mentally - X behind-
11:29 taking a break to clear my head
11:28 aborted for 0
11:27 resold 82 stop 83
11:24 I'm way behind this market-trying to do too many things
11:12 out for +3 -late to enter, take it quick
11:11 will cover 2082
11:09 new lows -sold 2085 stop 2086 - red swan
11:03 if the low holds, we could start an uptrend
10:55 there was a 20/110 continuation sell near 2090 - I did not take it because so close to S4
10:49 trading at S3 with dips to S2 - may get a little selling soon
10:43 if you look at the Nasdaq 2 day chart, you see it is flat in a MoonTide Fractal Set pattern
10:32 XTide at bottom of Chaos Clinic chart timed the low and first rally-it now gets pretty dull
10:31 I'm probably going to pass on this first trade- just don't see a good setup yet
10:25 still just watching
10:00 technical 50% retrace ; got above the 55 minute EXMA, confirming decline is done; now wait tos see if we build a base
9:47 the drop was also on a Red Swan - now ended-see Chaos Clinic page
9:40 this type of early move screws up the EXMAs, which now need some time to settle down.
9:36 the Flash Boys are done-tested Wednesday's lows; low was also thhe Moon T+180 electric filed flux line
9:21 the Flash Boys do not trade fundamentals-just price action. They sold at yesterday's high, then sold at the pivot 1098.80, down to s2 2090;
and may make S4 at 2086.30
9:10 the Employment situtation report was first bought, then sold by the Flash Boys. The numbers were better than expected.
The size of this move suggests it about done, but it make daytrading today problematic.
The market must work off this move, which could take several hours. Fortuately, trade times are 10:50 and 12:33, so we can just watch
9:00 Good Morning. Welcome to the Chaos Clinic. This site has a lot of charts,
so you may find it useful to have several of them available within your
browser. If you have a tabbed browser, you can open separate charts
in separate tabs by right clicking on any link, and selecting "open in new tab"
from the menu. The main list of site pages is at
http://daytradingforecasts.com/chartlistsec.asp
Recommended pages to watch are SPKISS, MTRainbow, and Chat.
For astro stuff, add SPSunMoonMer, Wheel, and Chaos Clinic.
Chaos clinic comments appear at the bottom of the SPKISS, MTRainbow,
and ChaosClinic pages. Comments in the chat room are announced by a
"duck call" noise. This noise also occurs when the sofware detects a
resonant hex pattern on the Wheel page. Trading tutorials
are on the right side of the ListOfCharts page. One should
read Trading the MoonTide Tutorial and Keep it Simple as a minimum.

The next Essentials of Personal and Market Astrophysics will be taught March 23-25. If you want to come, send Al An Email.
---
Besides the comments made by Al, the chat room is has live
comments from other traders who sometimes share their views,
trades and tips. Below are the chat room comments from this clinic
---


3/6/2015 8:29:30 AM MT Al****:: BBB: our last snow was Wednesday, and now its warm into next week, so they should be able to get out
3/6/2015 8:22:17 AM MT BBB****:: Hi All - hope everyone is doing well. Al, how is the snow? My parents have been trying to drive back to Texas from Crested Butte for over a week and keep getting snowed in...
3/6/2015 7:50:35 AM MT gh:: Thanks Al for fixing the Swan Charts
3/6/2015 7:19:51 AM MT gh:: The Swan chart in the Chaos Clinic hasn't been working. Any idea when it might be fixed? Thanks
3/6/2015 6:15:16 AM MT Al****:: GM all-good luck today
3/6/2015 5:51:54 AM MT mm****:: gm all - have a great day

9:00 Eastern-System: No comments

---