---
CHAOS CLINIC RECAP
---
---

**************************************************************************************
Cashing In On The Market Panic
Chaos Clinic for 3/10/2023
***************************************************************************************

Last week the S&P soared on hopes of slower interest rate increases. Then this Tuesday
Fed Chairman Powell testified to Congress. He reported that inflation was proving
hard to tame, and the Fed expected to raise rates more than originally expected.
The market greeted that news with a hard decline.

Wednesday was relatively quiet, as traders waited for Thursday's Jobless Claims numbers
Thursday morning. When the numbers were released, the marked rallied - for 90 minutes.
Then by noon Eastern time, the market rolled over.
On a 8 day 24 hour chart, this looked like a completed move 2 of a down Chaos Clamshell
with move 3 beginning.

Realizing that, I posted a chart on The AUX page on daytradingforecasts.com.
The chart of the short S&P Exchange Traded Fund (ETF) SH. I
suggested in the chat room longer term traders might want to buy some.
At the time, SH was at 15.5.

This chart is an improved version of the one I posted. I use SH to trade longer term declines.
It can be tailored to any account size. It has no time premiums like options do,
so one can hold a position for long periods.

This 4 month daily chart shows a double bottom from mid December to the end of January.
Once I looked at the chart, I realized I could scale the prices to a wheel of 360. I
I just took the price as printed, ignoring the decimal point. The end of January low
of 14.70 becomes 1470. Dividing that by 360 degrees gives 4.0833. Dropping the 4 full circles
leaves .0833. Multiplying that by 360 gives 30 degrees. Using that procedure I have
marked several levels in degrees. Mapping prices to the circle helps estimate the potential moves,

In cyan I have labeled 4 swings of an up Chaos Clamshell.What caught my eye was the move 3 swing
went from 45 to 135 degrees a harmonic 90 degree move. The the move 4 swing went from
135 to just above 75 degrees. with two bodies basing at 90 degrees.
A move up to 180 degrees is probable, while a 180 degree move up from 30 degrees is 210, or 16.5.

The time between the lows of the double bottom is marked with a horizontal white line.
An equal time move up projects 3/23/2023. Note that this is near the spring equinox.

For more on my work and to subscribe to Tomorrow's Market Email Hotline and access to daytradingforecasts.com see
Moneytide.com
Software to plot electric field flux lines in NinjaTrader is available at
energyfieldtrading.com
---

Below is one of the SPKISS charts from daytradingforecasts.com
and the chat room comments from this Chaos Clinic. Most recent comment is on top.
---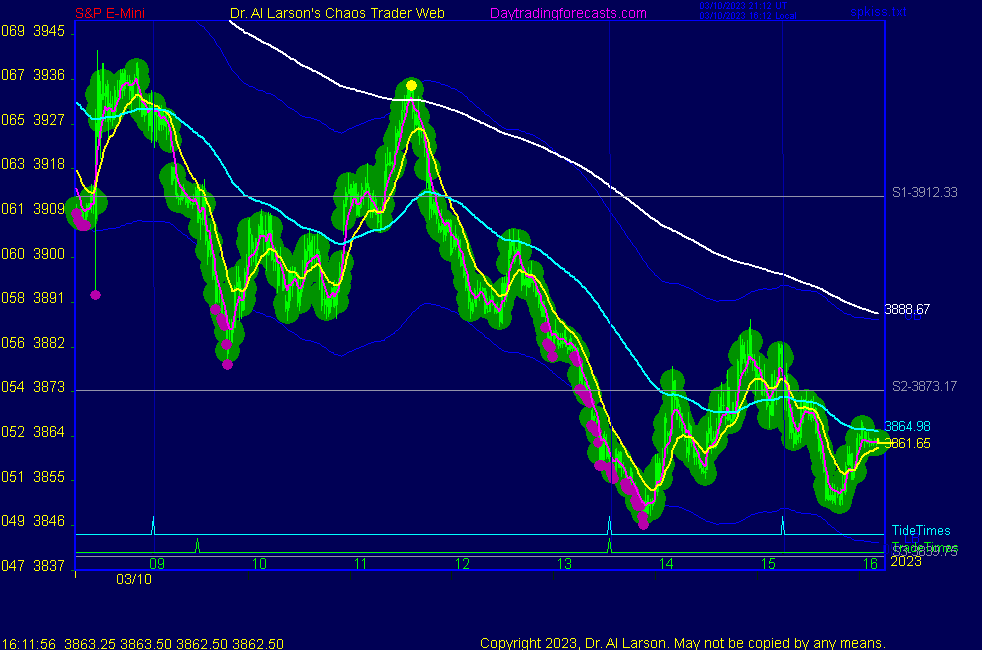 3/10/2023 2:10:22 PM MT NEL****:: Thanks Al-bought 1000 SH early today and made $240
3/10/2023 2:00:41 PM MT pab:: Great week AL---very good advice and AUX comments, much appreciated --- Have a great w/e
3/10/2023 1:25:15 PM MT pab:: 20 banks that are sitting on huge potential securities losses—as was SVB https://www.marketwatch.com/story/20-banks-that-are-sitting-on-huge-potential-securities-lossesas-was-svb-c4bbcafa
3/10/2023 1:21:53 PM MT pab:: Lots of startups banked w/ SIVB as a part of their loan covenant. Expect mass layoffs today and companies may not be able to make payroll next week. @DowdEdward Excellent advice to avoid this bank and Crypto, AL
3/10/2023 1:20:33 PM MT Al****:: I'm calling it a day-thanks for coming-see you next week-have a great weekend-take some courses
3/10/2023 1:07:46 PM MT awe:: sorry for 2nd message, but want to be clear to potential customers that my challenge is not related to its intended use, as track record shows - amazing for s&p - particularly swing trading imho
3/10/2023 1:07:30 PM MT Al****:: awe: send me an email with a discussion and if possible, charts
3/10/2023 12:51:28 PM MT awe:: Dr Al i was pleased to hear that you are still consulting, in your weekly mail. i m a long time very pleased xgo owner but it has lost it's effectiveness for me - happy to pay for some help to you or referent
3/10/2023 12:01:07 PM MT Al****:: That Bank was a crypto currency bank -look back through my Chaos Clinics and note how many times I've said STAY OUT OF CRYPTO
it has no intrinsic value
3/10/2023 11:39:42 AM MT pab:: down 3 Standard Deviations---oh oh
3/10/2023 11:37:11 AM MT Al****:: re today - could reach S4 pit price at 3800 - see SPKISS page
3/10/2023 11:33:31 AM MT awe:: Dr Al's Mar 23 could be a doozy- a couple of others that i respect as well have points of interest in that area and as doc mentioned the eq.
3/10/2023 11:24:36 AM MT pab:: BREAKING: Before the collapse of Silicon Valley Bank, $SIVB, the CEO sold $3.57 million of stock within the last two weeks.
3/10/2023 11:19:32 AM MT pab:: The 16th largest bank just crashed and stopped trading and the FDIC is taking it over---make sure you and friends have CASH on hand at your house just in case is one analyst's advice
3/10/2023 11:13:41 AM MT Al****:: SPKISS page chart 3 shows down trend - may accelerate late
3/10/2023 11:01:21 AM MT Ult:: Al. New to your method. What do see coming for this afternoon. Looks like you have 2 spikes around 3:10 EST
3/10/2023 9:54:17 AM MT Al****:: that pop up was stopped by the downgoing Moon -T180 electric field flux line
3/10/2023 9:33:38 AM MT Al****:: prices are pretty static right now
if you look on the Wheel page you see that price and Mars, Moon, and Saturn form a trine
3/10/2023 7:23:41 AM MT Al****:: running a live chart in the CCT Room
3/10/2023 7:02:18 AM MT Al****:: it is, BBB. Just the usual "getting old is not for sissies"
thanks for asking
3/10/2023 6:54:16 AM MT bbb****:: hope all is well Al
3/10/2023 6:44:35 AM MT Al****:: Good Morning visitors. Welcome to the Chaos Clinic. The written Chaos Clinic is on the AUX page.
This site has a lot of charts,
so you may find it useful to have several of them available within your
browser. If you have a tabbed browser, you can open separate charts
in separate tabs by right clicking on any link, and selecting "open in new tab"
from the menu. The main list of site pages is at
http://daytradingforecasts.com/chartlistsec.asp
Recommended pages to watch are SPKISS, MTRainbow, and Chat.
For astro stuff, add SPSunMoon, Wheel, and Chaos Clinic.
A special set of Dr. Al's research charts are on the Secret page.
Comments in the chat room are announced by a
"duck call" noise. This noise also occurs when the software detects a
resonant hex pattern on the Wheel page. MoonTide trading tutorials
are on the right side of the ListOfCharts page. One should
read Trading the MoonTide Tutorial and Keep it Simple as a minimum.
Many subscribers do not strictly trade the MoonTides, but use the charts on this
site as input to their own trading strategies. For example, charts 5 and 6 on the
SPKiss page are a good starting point for swing traders.
Also on this site is the Certified Chaos Trader's Room. That room is open
to graduates of my 4 main courses. See http://moneytide.com -> Courses for details.
9:00 Eastern-System: No comments

---