Chaos Clinic Recap
---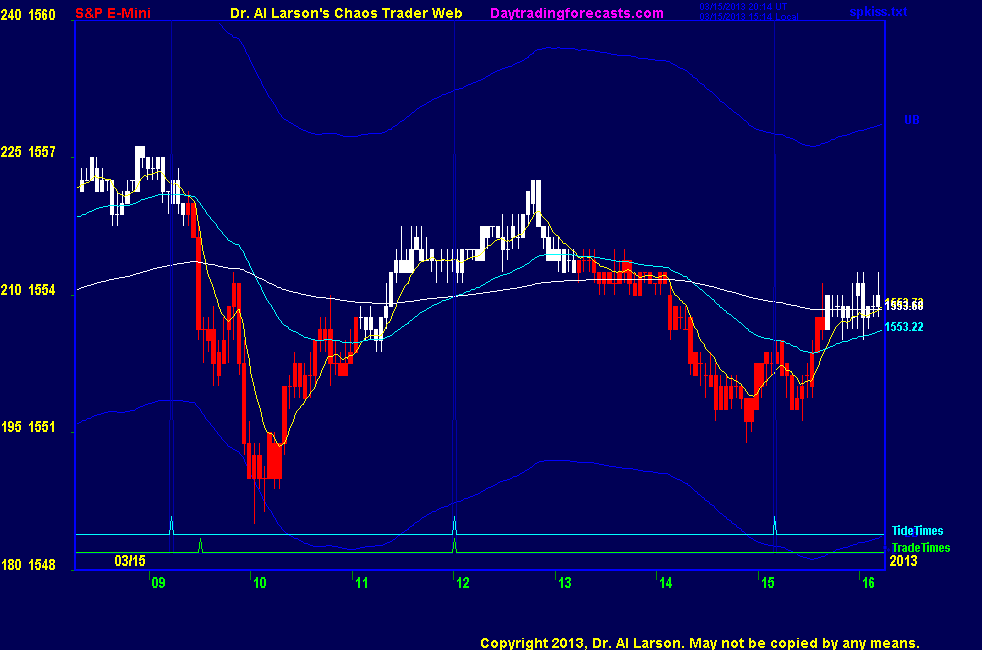 ---
Here are Al's comments
---
2:46 done for the day-thanks for coming-see you next week-take a course
2:44 got out at 53 for +2.5
2:23 plan to cover on close ; stop to 1545.5
2:02 posted a sanitized Ninja Trade chart on the AUX screen
2:47 short from 1555.5 stop to 1555
2:42 updated my other chart in the CCT room
2:34 placed a Face of God on hourly Ninja Trader chart in the CCT Room
2:20 now trade looking good -
1:41 pretty dull - hanging around but won't make a lot of comments-will answer chats
12:57 sold 1555.5 stop 1557 based on my Ninja CTME chart
12:53 there are no more hotline trades - I'll hang around a while
12:43 passing on the second trade -no juice
12:37 I have posted another Ninja Trader chart in the CCT room- I like to doodle on charts to keep me focused
12:16 pretty flat - had breakfast and see I did not miss anything
11:53 110 EXMA is curling over-putting a sell stop just under it at 1553.5 since my wife is getting breakfast on
11:48 in the second trade window - looks like rally losing steam
11:40 posted a Ninja Trader StaticScaledChart using CTME tools in the CCT room
11:12 the MTRainbow chart shows longer EXMA's up, shorter down. If longer turn down, expect lower prices next week
11:10 So far we have had a 1 move down, and a two move up of 7 in a down Chaos Clamshell
11:04 aborted for 0 -went flat
10:52 may be OK, will sit on it for now
10:45 may get stopped
10:29 adjusting my stop to 1554-think it is too close
10:16 I have posted a link to the beta test Ninja Trader MoonTide Indicator in the Certified Chaos Trader's Room. That room is open
to graduates of my 4 main courses. See http://moneytide.com -> Courses for details.
eMylar Fractal of Pi overlays help you be patient, since they show you future potential moves.
The best bargain in my courses is to take the Cash In On Chaos and Fractal of Pi courses and
learn to use the FOP overlay. Then take Chaos Trading Made Easy, and finish with Face Of God.
10:08 stop to 1553
10:02 stop to 1554.5
9:59 on the AUX page I have posted my Ninja Trader chart showing the MoonTide trade times as vertical bars
this chart is adjusted a a StaticScaledChart
9:44 a funny thing happened as I was falling to sleep last night-the thought "Beware the Ides of March"
popped up in my head-it was so strong I asked my almost asleep wife it today was the 15th
9:40 sold 1553 stop 1558 for now
9:35 trade times today are 9:31 and 12:01-got sell 20/110 on open; watching a minute
9:04 Good Morning. Welcome to the Chaos Clinic. This site has a lot of charts,
so you may find it useful to have several of them available within your
browser. If you have a tabbed browser, you can open separate charts
in separate tabs by right clicking on any link, and selecting "open in new tab"
from the menu. The main list of site pages is at
http://daytradingforecasts.com/chartlistsec.asp
Recommended pages to watch are SPKISS, MTRainbow, and Chat.
For astro stuff, add SPSunMoonMer, Wheel, and Chaos Clinic.
Chaos clinic comments appear at the bottom of the SPKISS, MTRainbow,
and ChaosClinic pages. Comments in the chat room are announced by a
"duck call" noise. This noise also occurs when the sofware detects a
resonant hex pattern on the Wheel page. Trading tutorials
are on the right side of the ListOfCharts page. One should
read Trading the MoonTide Tutorial and Keep it Simple as a minimum.

---
Besides the comments made by Al, the chat room is has live
comments from other traders who sometimes share their views,
trades and tips. Below are the chat room comments from this clinic
---


3/15/2013 1:05:03 PM MT BT:: Thank you for your reply sir.
3/15/2013 12:54:45 PM MT Al****:: BR-either is OK-given your experience, CTME may by a better starting point

can't show my Ninja chart publically becasue it has proprietary stuff on it
3/15/2013 12:47:30 PM MT t:: can u show your chart from ninja platform plz?
3/15/2013 12:09:47 PM MT BT:: Al, do you think it's ok for me to start with the CTME course first to start trading sooner or should I start with the cash in on chaos and Fractal Of Pi? I have been trading for over 15yrs with VERY limited consistency.
3/15/2013 12:04:39 PM MT Al****:: not often
3/15/2013 11:59:42 AM MT BT:: Al do you use any of the andrews pitchfork concepts in your studies?
3/15/2013 8:55:44 AM MT Al****:: silver is the wrong metal-see Your Electric Life re copper-on can do the same grounding with a wire connected to a copper braclet on the right wrist and then connect to a water pipe or good ground-the green wire ground is not the best
3/15/2013 8:40:32 AM MT BBB****:: Also, Al, I was reading about silver grounding mats and it got me thinking about your ebook - your electric life - have you ever looked into these? Basically a conductive mat and you plug it into the third ground plug of a wall outlet. If you are in contact with it you will pick up on the Earth's "vibrations" throughout the day. Very interesting stuff. I also read that there is a vibration after a lightening strike that humans find essential and they found that astronauts, after a prolonged absence of this, started to have detrimental health effects. Now there is an artificial device on board spacecraft that produces a similar effect and keeps them from having negative effects. Very interesting.
3/15/2013 8:35:23 AM MT BBB****:: Here is a link to the bulletproof coffee reasoning and recipe, but you can always search for bulletproof coffee - http://www.bulletproofexec.com/how-to-make-your-coffee-bulletproof-and-your-morn ing-too/
3/15/2013 8:10:51 AM MT mm****:: Thanks BBB - I'll check it out.
3/15/2013 8:01:56 AM MT BBB****:: Al, I had to reload ninja today, can you repost the link with the tide time indicator?
3/15/2013 7:28:29 AM MT BBB****:: GM. mm - I have been doing a lot of "testing" of different supplements lately and have found a great addition to a morning smoothie - it is called "Green Vibrance" and I get it from Amazon. Full of veggies, vitamins, and minerals and full of probiotics. Excellent stuff and gives me a ton of energy. I also found a recipe for what some call "Bulletproof Coffee". If you drink coffee, I highly recommend you try this. The brain boost it gives is out of this world. Requires a cup of coffee, grass fed butter, and coconut oil. Blend it up in a blender until frothy. Best cup of coffee I have ever had. The fats in the butter are broken down into manageable and easily digestable microsizes by the blender and it hits the system right away. Satiates and energizes. Give it a shot. There is a great website called the "Bulletproof Executive" and the author if it has basically hacked the body. Its amazing.
3/15/2013 5:54:46 AM MT mm****:: gm all - have a great day

9:00 Eastern-System: No comments

---