Chaos Clinic Recap
---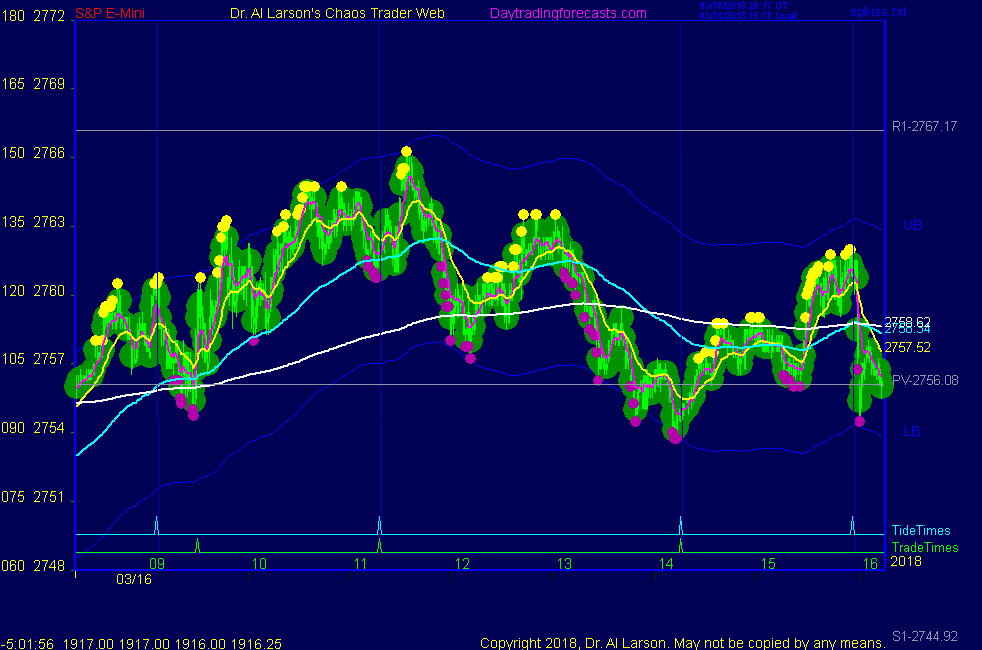 ---
Here are Al's comments
---
2:52 out for +1-done for day -thanks for coming-see you next week-take some courses
2:49 still OK - not over til the fat lady sings
2:43 stop OK so far - a tick is as good as a mile
2:30 sitting on a free trade so hanging in there-my Fractal Grid from Chaos Trading Made Easy suggests ti
2:20 stop to 2759
2:11 he just finished my favorite him-How Great Thou Art - a fitting tribute to the Great Engineer
2:11 going lower-stop to 2760-break even
2:07 need to be patient - put on some music to help me stay calm - in this case some gospel music
Tennessee Ernie Ford - love his deep voice
2:00 hanging around pivot - for now
1:54 Flash Boys gave up buying the pivot and switched to selling it
1:53 stop to 2761, just above the 220 minute EXMA
1:47 rally fell just short of R1; break down could reach s1 at 2745
1:46 that last rally should have lasted longer-may have frequency doubling=chaos
1:41 from the high you can sketch 7 swings down-3 complete so far
1:33 little bounce off the pivot
1:27 may AUX chart showed the energy balance price at 2760-the balance has been broken to the downside
1:26 this is now a hold to close trade
1:23 stop to 2764 - above last high
1:20 trade looking good
1:15 turning down-if it breaks, it could break hard
1:07 today I'm operating at a handicap-I lost the computer that shows me 9 screens on a UHD monitor
1:06 passed solar noon-stop OK
12:52 have to be patient here-can't move stop yet
12:32 the down move was exactly 9 points - sign of a harmonic move
12:29 now I know the green +Tide is still in effect, and it is down into 14:15
12:22 the amydala part of our brain detects fast moves and prompts us to act quickly-that is what keeps us
from stepping on snakes-sometimes it gets us into a bad trade quickly-those trades fail quickly
12:17 the bad news is I bought-the good news is I had a stop in-and I listened to what the market told me
I made up a story that we had switched to red -Tide; we always make up stories; often they are false :)
We even have an area of the brain whose job it is to make up stories
12:07 I reversed because the momentum flipped-the S&P can and will turn on a dime
12:02 that drop turned my EXMA's down
12:00 sold 2760-stop 2767
11:52 out -5
11:38 now I will just use 220 minute EXMA as my stop guide
11:32 bought 2065 stop 2760-rainbow of EXMA's still up-fast move-red tide
11:29 possible continuation buy setup
11:23 the one thing that could change that is the exchange passing the Moon near 12:15
11:20 on dull Fridays, the volatility usually starts low and gets lower
11:14 glad I aborted my long attempts - an entry at 62 was not going to work
11:05 coming into second tide time - may make it up to R1 - EXMA's not showing a trade setup right now
10:57 normal session range just 10 points-minor highs showing double top
10:54 yesterday's run to the high moved 12 points per hour-today 3 or less
10:46 on my chart that move was tracking right up the green +Tide, then fell off of it
10:43 aborting for +.5 - not moving well
10:32 stop to 2760
10:29 moving my cover to 2769
10:25 saw resumed strength-held above the 110 minute EXMA
10:22 rebought 62 stop 58 cover 67
10:15 still trying to rally but slope of the move indicates weakness
10:11 we have enjoyed great volatility lately; but not yesterday and not today.
10:09 the analysis I put on the AUX page made me cautious
10:07 I aborted that just because it was not moving better
10:03 I was afraid today would be sluggish
10:02 do not like it-aborting for -3
10:00 still OK
9:56 stop OK
9:47 stop to 2758; 2767 is also yesterday's high
9:45 elected long at 62 raising sell stop to 2757 placing cover sell limit at 2767 R1
9:43 upside looking good
9:41 putting sell stop at 2754
9:38 may invert to green +Tide; have buy stop at 62 if so
9:36 still watching
9:35 did not breakout-high right on red -Tide
9:32 normal session open-testing early high
9:20 I will buy a break above 2762
9:16 trading down to the pivot. A 9:31 time means "join a trend in progress"-today there is not trend so I'll watch
9:02 on that chart, my rainbow of EXMA's is converging near the pivot price of 2756
8:58 yesterday the market followed the red -Tide. On a two day "spliced" chart it looks to be following it again.
A "spliced" chart has data from 8:15 through 4:15 Eastern time.
8:37 Today's trade times are 09:31, 11:18, and 14:15
My concern is volatility. In the last two days, the market has gone flat. An analysis
of why shows that there is an energy field balance at 2760, which may last into next week.
I have placed a chart on the AUX page showing this.
8:33 Good Morning. Welcome to the Chaos Clinic. This site has a lot of charts,
so you may find it useful to have several of them available within your
browser. If you have a tabbed browser, you can open separate charts
in separate tabs by right clicking on any link, and selecting "open in new tab"
from the menu. The main list of site pages is at
http://daytradingforecasts.com/chartlistsec.asp
Recommended pages to watch are SPKISS, MTRainbow, and Chat.
For astro stuff, add SPSunMoonMer, Wheel, and Chaos Clinic.
Chaos clinic comments appear at the bottom of the SPKISS, MTRainbow,
and ChaosClinic pages. Comments in the chat room are announced by a
"duck call" noise. This noise also occurs when the sofware detects a
resonant hex pattern on the Wheel page. Trading tutorials
are on the right side of the ListOfCharts page. One should
read Trading the MoonTide Tutorial and Keep it Simple as a minimum.

---
Besides the comments made by Al, the chat room is has live
comments from other traders who sometimes share their views,
trades and tips. Below are the chat room comments from this clinic
---


3/16/2018 2:07:31 PM MT TG****:: Have a great weekend everyone.
3/16/2018 2:04:18 PM MT TG****:: Have a great weekend everyone.
3/16/2018 2:03:38 PM MT TG****:: NQ ripped up 17 in a few minutes into green tide high and reversed for 21 down even faster. Wacky expiration type close.
3/16/2018 1:51:44 PM MT TG****:: Very choppy expiration day
3/16/2018 1:14:52 PM MT TG****:: Seems like price has been tracking green tide all day.
3/16/2018 12:10:52 PM MT mjh:: Al you have about 20 minutes before this market turns more than likely up
3/16/2018 10:03:30 AM MT mjh:: Al you took a buy trade into serious supply...the heavy wicking on the M15 chart is pretty clear to see

9:00 Eastern-System: No comments

---