Chaos Clinic Recap
---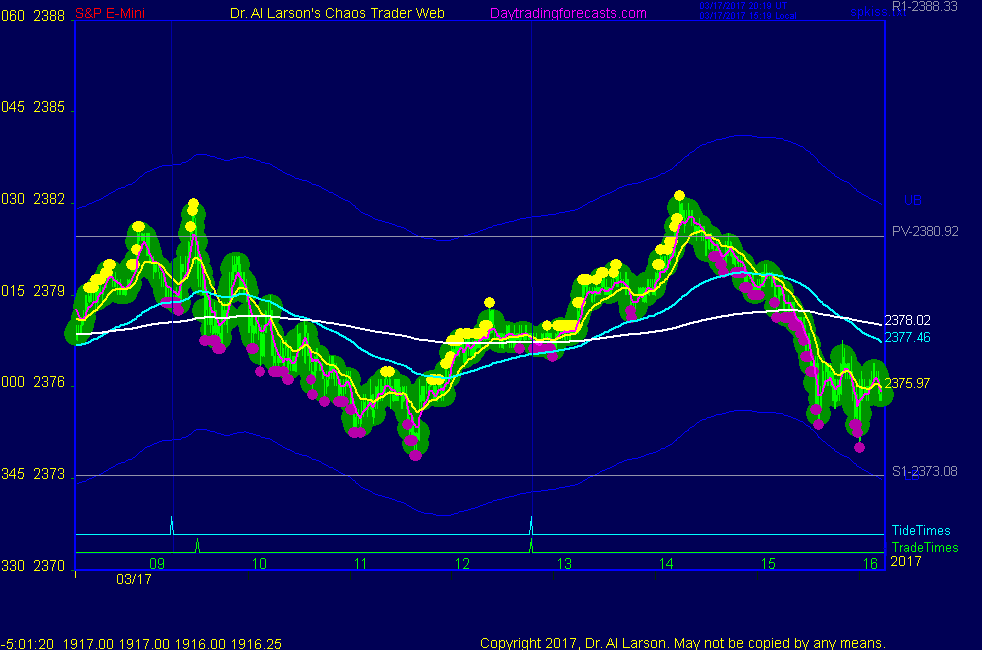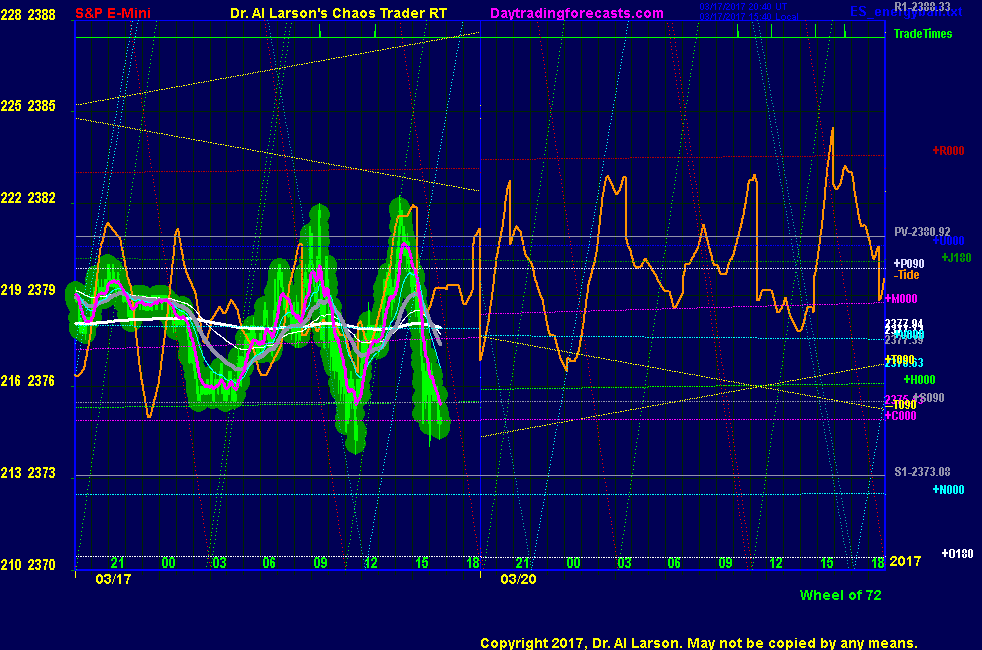 ---
Here are Al's comments
---
2:48 I'm done-thanks for coming-have a Happy St. Patrick's Day; next week;take some courses
2:47 don't like this stall-taking +3.25
2:41 still OK -trying to hold to close-stop is in
2:25 up to the pivot
2:14 stop to 2379-lock 2 ; rally is on
2:09 stop to 2378-lock 1
1:56 plan to hold to close unless stopped out
1:50 looking OK
1:34 stop to 2377; breakeven
1:28 Indexes turning positive on daily up/down screens - catches broker's attention
1:18 stop to 2376 ; risk 1 pt
1:16 have green swan up on my AUX chart; FOG looks good
1:14 just did
1:12 need to clear 2378
1:02 need to be patient - this is a volatility pinch-it will expand
12:55 stuck on Mercury-sitting tight
12:42 noticeable change in 3 minute candles - two hours very choppy-now much smoother
12:31 from the low on the 9th, I see two higher lows every 3 trading days
possible moves 1-2-3-4 of 7 in longer pattern
12:21 looking good-tracking -Tide on AUX page
12:10 bought 2377 stop 2374.5
12:04 I'm looking to buy, but I'm looking for a good entry
12:00 looks like -Tide low
11:57 tested yesterday's low and bounced
11:52 I have placed a Face Of God chart in the Certified Chaos Trader's Room. That room is open
to graduates of my 4 main courses. See http://moneytide.com -> Courses for details.
eMylar Fractal of Pi overlays help you be patient, since they show you future potential moves.
The best bargain in my courses is to take the Cash In On Chaos and Fractal of Pi courses and
learn to use the FOP overlay. Then take Chaos Trading Made Easy, and finish with Face Of God.
11:42 still probing -near red -Tide low
11:18 may be bottoming
10:33 taking a break now-will come back before next trade time-maybe by then the games will be over
10:13 as TG points out in chat room,today is a quadruple witching day when
4 sets of option contracts expire-leads to lots of chop
10:07 stopped out
10:04 tested Mercury again-held; nerves of steal trade
9:55 trade is now looking good-trend is weak, but up
9:51 it helps to understand what the Flash Boy algos did-they sold the pivot 2381 down to the Mean, now done
9:50 I still like the pattern on the AUX chart
9:45 stop held-lots of high frequency early-typical
9:35 stop OK so far-on AUX chart support is on Mercury flux line
9:27 with all the computer trading, you have to be quick; I had a Face Of God pattern telling me we were going up
so I focused on buying the little dip
9:25 yesterday's close was 2379 so I wanted to be in before the volume picked up at 9:30 Eastern
9:20 I like the dip to the 220 minute EXMA; bought second at 2379, so long 2 ave 2380 stop 2377
9:00 on the AUX page chart, the heavy white line is the 6 trading day EXMA -yesterday we reverted down to it;
today we are moving away from it; it is starting to curl up
8:55 move is on early-bought 2381 stop 2377 for now - AUX page shows my chart-continuation buy on the EXMAs
8:44 today's market looks slowly up; Research shows an energy attractor on Monday at 2385
Trade times are 09:31 and 12:47
8:40 Good Morning. Welcome to the Chaos Clinic. This site has a lot of charts,
so you may find it useful to have several of them available within your
browser. If you have a tabbed browser, you can open separate charts
in separate tabs by right clicking on any link, and selecting "open in new tab"
from the menu. The main list of site pages is at
http://daytradingforecasts.com/chartlistsec.asp
Recommended pages to watch are SPKISS, MTRainbow, and Chat.
For astro stuff, add SPSunMoonMer, Wheel, and Chaos Clinic.
Chaos clinic comments appear at the bottom of the SPKISS, MTRainbow,
and ChaosClinic pages. Comments in the chat room are announced by a
"duck call" noise. This noise also occurs when the sofware detects a
resonant hex pattern on the Wheel page. Trading tutorials
are on the right side of the ListOfCharts page. One should
read Trading the MoonTide Tutorial and Keep it Simple as a minimum.

---
Besides the comments made by Al, the chat room is has live
comments from other traders who sometimes share their views,
trades and tips. Below are the chat room comments from this clinic
---


3/17/2017 1:57:34 PM MT TG****:: Typical Expiration day. Range bound with moves back and forth to the extremes of the range. Have a great weekend everybody.
3/17/2017 12:13:20 PM MT Al****:: OK jvj-good to hear from you
3/17/2017 12:08:35 PM MT jvj****:: Good day, all Al: left personal e-mail on moneytide website for you. Not critical, but was just curious. Thanks
3/17/2017 10:09:02 AM MT Al****:: that may be an excellent entry
3/17/2017 10:02:13 AM MT TG****:: Found a low right into that trough in the Xtide. Wow. I bought some at 74.75, the weekly pivot. It felt dangerous but it also looked like it wanted to bottom.
3/17/2017 9:56:49 AM MT Al****:: restarted euro char; solar noon is at 13:00 Eastern due to daylight time
3/17/2017 9:46:25 AM MT hh:: Euro Chart is not Working
3/17/2017 9:44:25 AM MT jts:: What is exact time of solar noon? thnx
3/17/2017 8:12:42 AM MT Al****:: GM TG
3/17/2017 8:01:19 AM MT TG****:: GM everyone, good luck. Today is Quad Witching day.

9:00 Eastern-System: No comments

---