Chaos Clinic Recap
---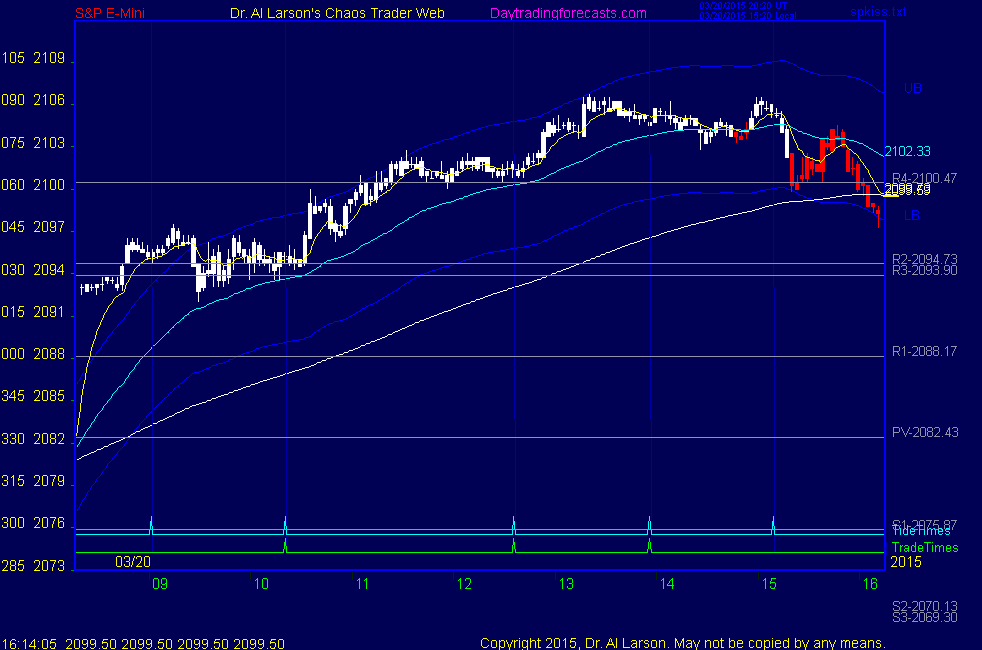 ---
Here are Al's comments
---
12:23 I think the rally has stalled; most of the gain was overnight; Got 5 points with what was left.
I think the rest of the day is the option guys bickering, so I'm done
Thanks for coming; see you next week; take some courses
12:17 aborting for 0-not moving
12:15 stop to 2099.5
12:04 in second window; taking continuation at 2101.5 stop 2099
11:55 OK taking +4 - do not like the stall
11:52 in the second trade window-I'll just carry this one through if not stopped out
11:46 stop to 2098; lock 1
11:41 stop to 2097; break even
11:24 stop to 2095
11:12 putting my cover at 2106 ; will move my stop slowly
11:05 I have placed a Face Of God chart in the Certified Chaos Trader's Room. That room is open
to graduates of my 4 main courses. See http://moneytide.com -> Courses for details.
eMylar Fractal of Pi overlays help you be patient, since they show you future potential moves.
The best bargain in my courses is to take the Cash In On Chaos and Fractal of Pi courses and
learn to use the FOP overlay. Then take Chaos Trading Made Easy, and finish with Face Of God.
10:58 rebought 2097 stop 2094 -decided my stop was too close; get a lot of chop on witching days
10:50 that move fizzled out fast; in hindsight leaving my cover at 2100
would have worked; taking a break now
10:48 stopped for +1
10:45 stop to 2097, lock one point and let it run, but take 9 if get there-good volatility
10:41 stop to 2096.5 ; cover to 2105 due to the sharp curl up in the 110 and time to next Tide time
10:37 stop to 2096; cover to 2100.5
10:35 looking better; stop to 2093.5
10:17 still OK - the congestion will end; trade has stayed above the 110; good
10:03 stop survived minor pullback; 110 minute EXMA still up, now near 2093
9:51 I'm taking this as a continuation buy at 2096 stop 2093, cover 2100
9:48 turned flat near the R2/R3 prices - Rainbow of EXMAs has 20 and 55 minute flat-see MTRainbow chart
9:30 first trade time is 10:21, so I plan to just watch for a while; often with a gap up, we get a pullback into about 11:00
9:28 getting some selling-may pull back to 2088
9:21 the pivot price levels on the SPKiss page show prices are nearly up to R4 at 2100; that suggests most of the up move is over;
That does not mean a big down move; more likely we hold up and trade in a modest range
9:17 further complications are that a solar eclipse just occurred, and it is quad triple witch day for options
9:13 prices have gapped up overnight by 15 points, so the trend is up; The trick will be finding a tradable pullback. Trade times are 10:21, 12:36, and 13:56
9:00 Good Morning. Welcome to the Chaos Clinic. This site has a lot of charts,
so you may find it useful to have several of them available within your
browser. If you have a tabbed browser, you can open separate charts
in separate tabs by right clicking on any link, and selecting "open in new tab"
from the menu. The main list of site pages is at
http://daytradingforecasts.com/chartlistsec.asp
Recommended pages to watch are SPKISS, MTRainbow, and Chat.
For astro stuff, add SPSunMoonMer, Wheel, and Chaos Clinic.
Chaos clinic comments appear at the bottom of the SPKISS, MTRainbow,
and ChaosClinic pages. Comments in the chat room are announced by a
"duck call" noise. This noise also occurs when the sofware detects a
resonant hex pattern on the Wheel page. Trading tutorials
are on the right side of the ListOfCharts page. One should
read Trading the MoonTide Tutorial and Keep it Simple as a minimum.

---
Besides the comments made by Al, the chat room is has live
comments from other traders who sometimes share their views,
trades and tips. Below are the chat room comments from this clinic
---


3/20/2015 6:33:04 AM MT mm****:: gm all - have a great day

9:00 Eastern-System: No comments

---