Chaos Clinic Recap
---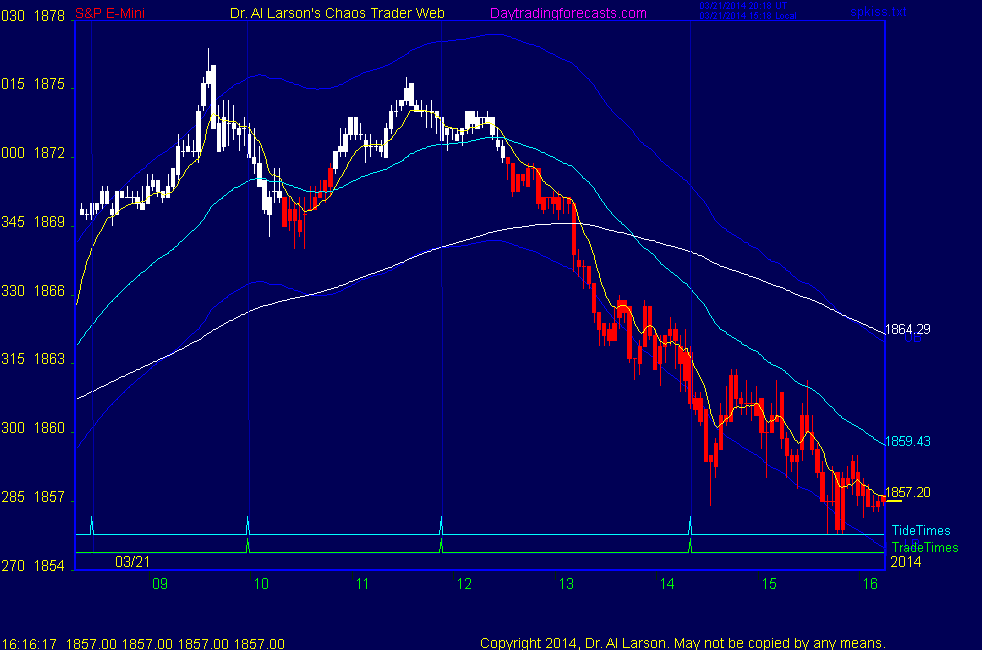 ---
Here are Al's comments
---
12:32 OK, I'm done. I'll leave the last trade as an exercise for the student. Thanks for coming. See you next week. Take a course.
12:31 aborted -1.5 ; just not enough momentum for manual trading as all the high frequency computers do their witching stuff.
12:30 trade looking marginal-waiting
12:26 these are the lunch time doldrums
12:02 still OK - dip suggests picking up the green +Tide
11:29 what I see here is that the Red Swan has passed, the 440 minute EXMA is up, early trading followed green +Tide, and it has a rally coming up; finally, there is a Green Swan influence this afternoon
11:25 I'm back -taking continuation buy at 1873.5 stop 1870.5
10:36 I think I'll take a breakfast break. I will be back for the next trade time
10:16 OK, looks like a choppy day. I got chopped once, and almost twice. Time to watch for a while.
10:14 don't like support on Moon flux/440 - aborting for 0
10:09 will cover 1866 if get there
10:07 sold 71 stop 73 -Red Swan "caught"
10:04 stopped for -4 ; accept it and let it go. Some trades are losses. Can always re-enter
10:01 early trades on Friday are tough, especially on quadtriple witching day
9:55 I could have waited and gotten a better entry price-hard to do when I'm busy typing comemnts
9:52 in a congestion triangle drawn by the minor swan lines
9:45 I think we are inverting from green +Tide to red -Tide
9:42 this thing could collapse but I don't think it will; 110 EXMA is tracking the up going minor Swan line
9:34 bought 1875 stop 71 for now
9:33 watching for the Red Swan to slow things down so O can get in
9:30 looking at the Chaos Clinic chart, whe had a bounce of the Moon -T315 electric field flux, and are approaching
a Red Swan, and have a 20/110 EXMA continuation buy set up
9:23 putting today in the context of the past week or so, we are in an uptrending market.
looking at the MTRainbow chart, we see that yesterday all the EXMAs converged and are now expanding.
The flow is up. Our goal today then is to try to get a small piece of it.
9:22 today's trade times are : 09:59 11:53 14:20
9:21 Good Morning. Welcome to the Chaos Clinic. This site has a lot of charts,
so you may find it useful to have several of them available within your
browser. If you have a tabbed browser, you can open separate charts
in separate tabs by right clicking on any link, and selecting "open in new tab"
from the menu. The main list of site pages is at
http://daytradingforecasts.com/chartlistsec.asp
Recommended pages to watch are SPKISS, MTRainbow, and Chat.
For astro stuff, add SPSunMoonMer, Wheel, and Chaos Clinic.
Chaos clinic comments appear at the bottom of the SPKISS, MTRainbow,
and ChaosClinic pages. Comments in the chat room are announced by a
"duck call" noise. This noise also occurs when the sofware detects a
resonant hex pattern on the Wheel page. Trading tutorials
are on the right side of the ListOfCharts page. One should
read Trading the MoonTide Tutorial and Keep it Simple as a minimum.

---
Besides the comments made by Al, the chat room is has live
comments from other traders who sometimes share their views,
trades and tips. Below are the chat room comments from this clinic
---


3/21/2014 12:35:22 PM MT MRL:: what a selloff ---
3/21/2014 8:28:04 AM MT MRL:: Al what contract are you trading? When you say sold 71 -- I trade the ESM4
3/21/2014 7:51:23 AM MT srj****:: ok thanks.
3/21/2014 7:49:05 AM MT Al****:: I don't have anything on the site yet-plan to do that next week
3/21/2014 7:40:52 AM MT srj****:: @AL - saw the mention of EPMAP in the newsletter yesterday - I missed any earlier announcements you might have had on it - can you pl. point me to them - Thanks.
3/21/2014 7:38:03 AM MT srj****:: GM all
3/21/2014 7:31:06 AM MT MRL:: Today is quadruple witching. Stock index futures, stock index options, stock options, and single stock futures expire today.
3/21/2014 6:05:32 AM MT mm****:: gm all - have a grreat day
3/21/2014 5:00:32 AM MT Al****:: GM all-good luck today

9:00 Eastern-System: No comments

---