Chaos Clinic Recap
---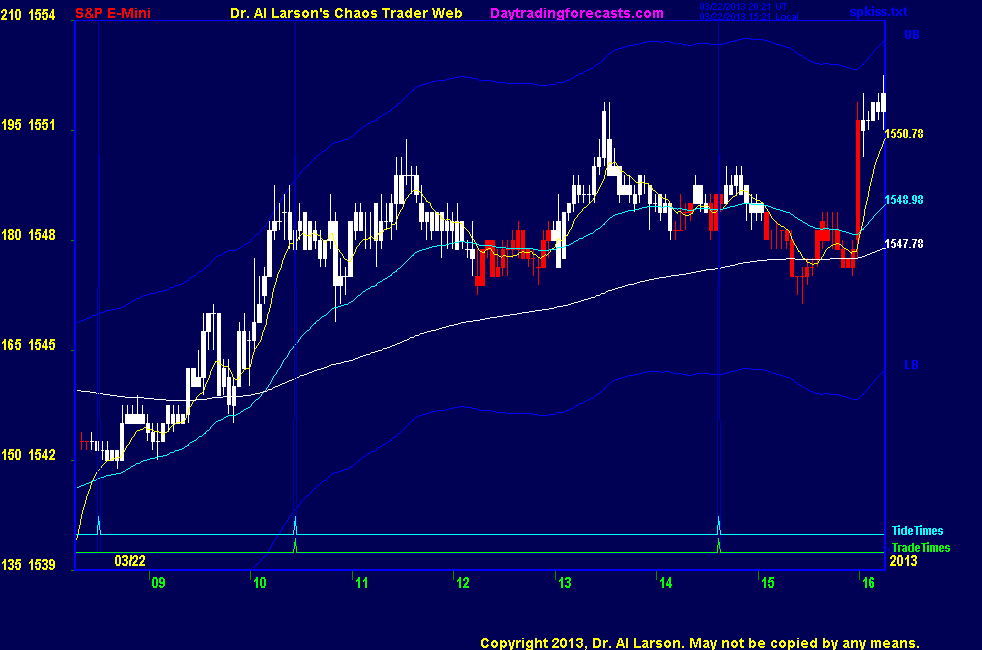 ---
Here are Al's comments
---
2:45 OK, calling it quits-thanks for coming-no clinic next week due to Easter-take a course
2:40 Still dead - about to call it quits
2:29 moving my sell stop up to 1546
2:24 price the same now as at 10:15 - still stuck on that hex pattern
2:16 I doubt that we'll get a trade this late in the day on Friday
2:13 from the early low, I see 6 moves in a 7 move up Chaos Clamshell
2:09 in the second trading window
1:41 price movement is about 1 point per hour - not coducive to good trading; unless there is some sort of late activity
1:36 for those still around, see http://secure.moneytide.com/hans/freestuff.asp, item 4. no text, just photos
1:24 still getting that hex pattern-these patterns are places of energy resonance, and can stabilize prices
1:16 over an hour until the second trade time-got the pictures uploaded for the charging mat page

1:03 small rally
12:50 while I'm sitting here, I'm working on the page on how to build your own charging mat
12:44 prices are being attracted to the Sun/Venus electric field flux lines as we approach their timelines
12:32 range on my 1 day charts is exactly 9 points, 1/8 the Wheel of 72; hard to make money on such days
better not to trade than trade dullness
12:28 just noticed today is a "two Moon" day with Moon timelines early and late - see SPSunMoonMer chart
these days can go Moon to Moon or Moon-Noon-Moon
12:15 looking weaker - still have a sell stop at 1545
12:02 posted an update to my Ninja Trader chart in the CCT room
11:50 getting hex pattern recognized - set by price, Mars/Uranus, Jupiter
see Hex Wheel tutorial and Hex Wheels today linked on right side of List of Charts page
11:49 tested yesterday's high and pulled back
11:46 I'm back - no trade on first trade time, so maybe get one on second
11:23 OK, leaving that stop in and taking Scamp and Tank to the park
11:21 back-see that not much happened
11:07 I'm going to leave that stop in and take a breakfast break
10:54 putting a sell stop at 1545
10:50 looking weak
10:45 on the SPSunMoonMer chart, can see the rally ran from the Mercury +M180 to the Sun +H180 electric field flux
10:37 George Soro says the market is always reacting to a "story" - this week's story was the crisis in Cyrus
That will not be resolved until next week, so we may just tread water the rest of today
10:34 FWIW, I have a Red Swan cycle coming in the next 30 minutes-it may or may not "catch"
10:29 still sitting on my hands-whole week has been a congestion on an hourly chart
10:20 rallied back up near yesterday's highs - I think it may stall out here
10:06 in the trade window - I want to wait to see how we come out of it -may get a reversal
10:02 I have also placed a Ninja Trader chart in the CCT room. It illustrates using Static Scaled charts in NT, and some Chaos Trading Made Easy tools
10:00 I have placed a Fractal of Pi chart in the Certified Chaos Trader's Room. That room is open
to graduates of my 4 main courses. See http://moneytide.com -> Courses for details.
eMylar Fractal of Pi overlays help you be patient, since they show you future potential moves.
The best bargain in my courses is to take the Cash In On Chaos and Fractal of Pi courses and
learn to use the FOP overlay. Then take Chaos Trading Made Easy, and finish with Face Of God.
9:38 looking at the MTRainbow chart, I see the longer averages are flat, so this could be a sideways day
9:32 first trade is 10:27 so start out just watching
9:31 Good Morning. Welcome to the Chaos Clinic. This site has a lot of charts,
so you may find it useful to have several of them available within your
browser. If you have a tabbed browser, you can open separate charts
in separate tabs by right clicking on any link, and selecting "open in new tab"
from the menu. The main list of site pages is at
http://daytradingforecasts.com/chartlistsec.asp
Recommended pages to watch are SPKISS, MTRainbow, and Chat.
For astro stuff, add SPSunMoonMer, Wheel, and Chaos Clinic.
Chaos clinic comments appear at the bottom of the SPKISS, MTRainbow,
and ChaosClinic pages. Comments in the chat room are announced by a
"duck call" noise. This noise also occurs when the sofware detects a
resonant hex pattern on the Wheel page. Trading tutorials
are on the right side of the ListOfCharts page. One should
read Trading the MoonTide Tutorial and Keep it Simple as a minimum.


---
Besides the comments made by Al, the chat room is has live
comments from other traders who sometimes share their views,
trades and tips. Below are the chat room comments from this clinic
---


3/22/2013 7:31:15 AM MT Al****:: GM all-good luck today
3/22/2013 5:34:46 AM MT mm****:: gm all - have a great day

9:00 Eastern-System: No comments

---