Chaos Clinic Recap
---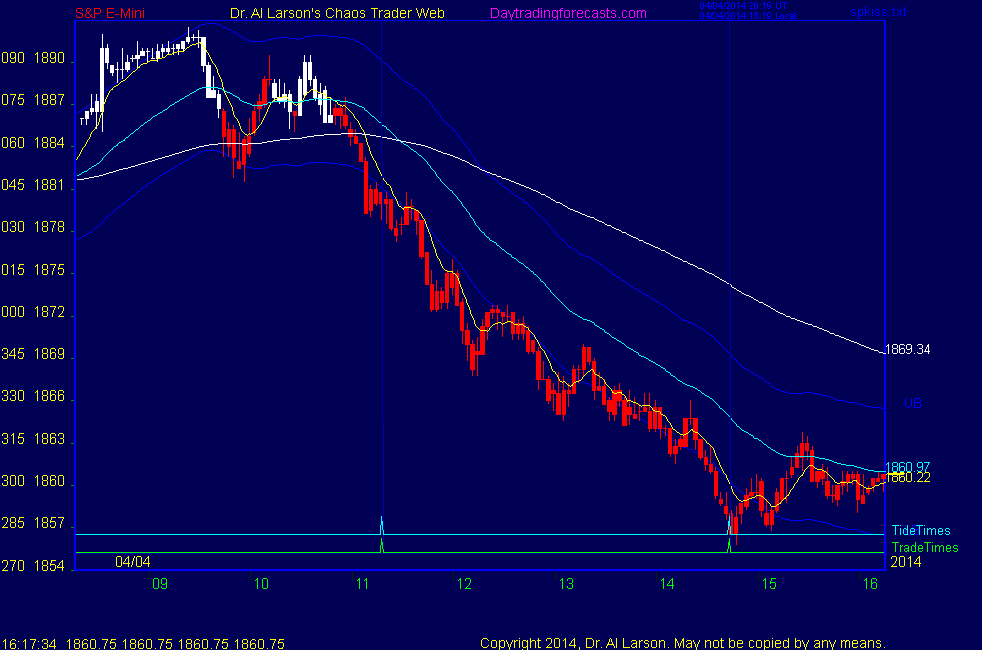 ---
Here are Al's comments
---
11:29 that's the first trade; I'm going to leave the second one as an exercise for the student;
I'm done with the Clinic; Thanks for coming; see you next week; take a few courses
11:27 out for +9; that is fine; pour the wine
11:13 stop to 1884 - lock 3
11:04 I'm going to try for 9, so cover at 1878
11:02 stop to 1891
11:00 OK, trade starting to work
10:46 still looks like on -Tide, so just waiting
10:39 still chopping around - needed the wide stop
10:22 early, but taking continuation sell at 87 stop 93 for now
10:14 pretty good bounce - may settle into a trading range - out of my swing trade for small profit -now just watching
9:55 so far, this looks like a down day; my trade is a swing trade; I'll look for a hotline day trade near the 11:18 trade time
9:49 I moved my stop to break even; on my NinjaTrader chart I got a 20/110 minute EXMA sell at 9:42
9:45 you must realize that trading the S&P is a world wide activity and you are competing with the world's best traders using very good techniques and equipment;
9:40 I saw that and managed to sell at 1889.25 ; this is not a hotline trade but one based on the bigger picture
9:38 the retacement guys sold the 1.27 retracement of the 3/21 to 27 decline
9:36 report may have shifted Tides left
9:34 no up juice - selling the news
9:28 just watching until first trade time -looks like a high red -Tide
9:25 may get a pop up to 1896
9:20 outcry session starts soon - may get a little more rally into the first trade time
Trade times are 11:18 and 14:43
8:40 stopped for +1 - that was fun
8:38 stop to 1888.50
8:36 stop to 1888.25
8:32 stop to break even
8:31 up 2
8:30 report is now out
8:27 my buy at 1887.5 was just filled-report has been leaked early
8:20 prices are trading between the Moon +T000 electric field flux and -T225 flux; a congestion zone.
8:12 today we have the First Friday employment report, which I like to watch but not trade.
It is widely traded by hedge fund computers, so competing manually is problematic.
I have played with using a breakout techcnique using the Ninja Trader simulated account.
Today I have a buy stop at 1887.5 and a sell stop at 1884 for entries, and cover limit orders
at 1893 and 1878.
8:10 EASTERN : Good Morning. Welcome to the Chaos Clinic. This site has a lot of charts,
1878 so you may find it useful to have several of them available within your
browser. If you have a tabbed browser, you can open separate charts
in separate tabs by right clicking on any link, and selecting "open in new tab"
from the menu. The main list of site pages is at
http://daytradingforecasts.com/chartlistsec.asp
Recommended pages to watch are SPKISS, MTRainbow, and Chat.
For astro stuff, add SPSunMoonMer, Wheel, and Chaos Clinic.
Chaos clinic comments appear at the bottom of the SPKISS, MTRainbow,
and ChaosClinic pages. Comments in the chat room are announced by a
"duck call" noise. This noise also occurs when the sofware detects a
resonant hex pattern on the Wheel page. Trading tutorials
are on the right side of the ListOfCharts page. One should
read Trading the MoonTide Tutorial and Keep it Simple as a minimum.

---
Besides the comments made by Al, the chat room is has live
comments from other traders who sometimes share their views,
trades and tips. Below are the chat room comments from this clinic
---


4/4/2014 12:48:55 PM MT mm****:: PS - no beach weather here - 45 F and rain !
4/4/2014 12:45:02 PM MT mm****:: good afternoon all - have a great last hour - just got back in after having spent the morning in MA: Grandparetns Day at the pre-school !
4/4/2014 10:48:36 AM MT BBB****:: Al, would you consider the move down to have 7 mini-moves?
4/4/2014 9:58:53 AM MT Al****:: amp - I do not disclose my swing trades
4/4/2014 9:54:18 AM MT MRL:: Hello AMP -- you can contact me if like -- randholm at gmail .com -- I will off this coming week going to Machupichu, Peru!!
4/4/2014 9:04:54 AM MT amp:: not sure i am clear on the "manage other people's money comment?" but ty you for allowing me to reach out to others for feedback. I have enjoyed the research with your methodology
4/4/2014 8:56:00 AM MT Al****:: it is OK to talk to other subscribers if they are private traders -it is not OK to use this hotline to manage other people's money
4/4/2014 8:53:20 AM MT amp:: al you mention a swing trade on thsi, but any targets or time when you would be entertained in taking profits/loss
4/4/2014 8:28:26 AM MT amp:: appreciate it, you will get an email from cparker
4/4/2014 8:26:24 AM MT BBB****:: amp - I will be around for a few hours today. my email is wbrandenberger at swst dot com
4/4/2014 8:21:39 AM MT amp:: gm all new to the service interesting concept to add to other tools of the trade....bbb(or any others) i reached out to you yesterday , wondered if you would be willing to discuss through email or phone your past experiences with this methodology? seems liek you have been around this chat for sometime from past studies i have done. AL are you ok with me contacting others for feedback? if not simply ignore my message....
4/4/2014 8:10:29 AM MT srj****:: weathers's good maybe he went to the beach :-)
4/4/2014 8:09:33 AM MT BBB****:: Gotcha - sure seems like doing that the way you do it once a month is a heck of an alpha play!
4/4/2014 8:09:01 AM MT Al****:: don't know about MM -he is usually on
4/4/2014 8:06:07 AM MT srj****:: gm Al, all .. (where is mm today)
4/4/2014 7:23:36 AM MT Al****:: I think not-the volume comes from the hedge fund computers which run algos that work off the bid ask data - they go for a few ticks and execute very fast - a long term trade for them is 7 minutes
4/4/2014 7:18:51 AM MT BBB****:: Al, do you think a lot of the big moves we see on employment reports are because of lots of traders having orders stacked up similar to what you do?
4/4/2014 6:09:08 AM MT Al****:: GM all-good luck today

9:00 Eastern-System: No comments

---