---
CHAOS CLINIC RECAP
---
---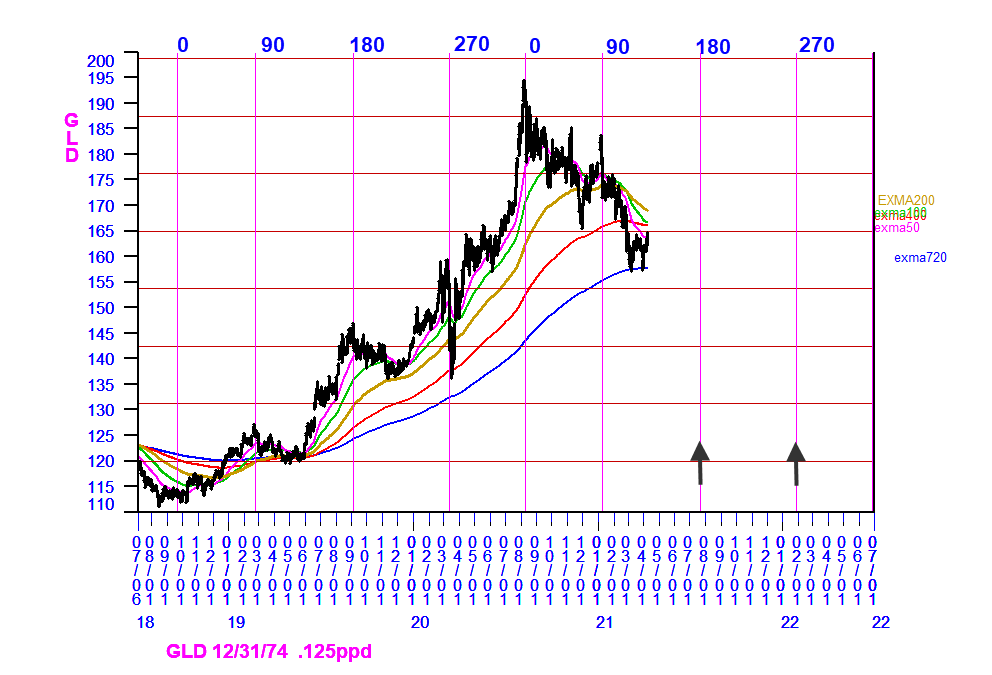 ********************************************************************************
A Mars Cycle In Gold
Chaos Clinic for 4/8/2021
********************************************************************************

This chart shows the gold Exchange Traded Fund, GLD over the past three years.

The vertical lines on the chart are Natural Times, in this case, a 687 day Mars cycle
to which gold responds. We all respond to natural cycles. The simplest of these
is the daily cycle of sunshine and darkness. As the earth rotates, we tend to fall
down and sleep. Then we tend to wake up, stand up, and be busy.

We respond to longer cycles. Our lives are governed by the Earth's annual trip around
the sun, from crop planting and harvesting, to our holiday schedules. There are many
longer cycles in everything we do, This was well documented by Edward Dewey, in his book,
Cycles: The Science of Prediction.

The natural cycle shown was not extracted with popular cycle tools. Rather, it is a
cycle found by studying gold's natal chart. The key aspects in the 360 degree cycle are numbered
along the top of the chart. The rally ran one full Mars cycle, from zero to zero.
The rally is tracked by a rainbow of EXMAs, of 50, 100, 200, 400, and 720 days.
During the rally, the EXMAs diverged. Then after the top, they began converging.

In January 2021, prices ran up sharply on the vertical 90 degree line. Then prices
fell back and turned down, in turn turning the 200 day EXMA down. This confirmed a
downturn. This downturn is likely to run to the 180 point, in late July 2021.
In time, this would be a 1:2 time ratio pullback. An extended pullback might be to the
4:3 270 point in late January 2022.

For more on my work and to subscribe to Tomorrows Market Email Hotline and access to daytradingforecasts.com see
Moneytide.com
Software to plot electric field flux lines in NinjaTrader is available at
energyfieldtrading.com
---

Below is one of the SPKISS charts from daytradingforecasts.com
and the chat room comments from this Chaos Clinic. Most recent comment is on top.
---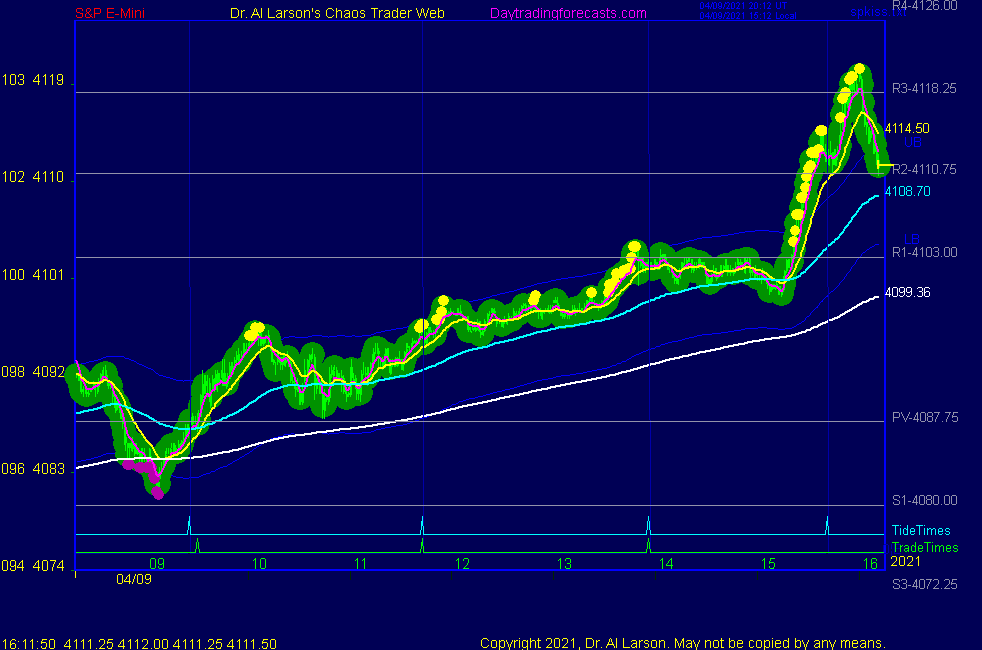 4/9/2021 1:59:27 PM MT DWY:: wee bit of information....energy signatures don't shift, skip beats, or any other crap.
4/9/2021 1:39:18 PM MT DWY:: no one should be talking top until the DLY 8EMA<20EMA.
4/9/2021 1:29:55 PM MT DWY:: thanks for the juice to get up past 4104.
4/9/2021 1:11:27 PM MT Al****:: 4104 high is 144 degrees- pentagon is a "shape changer"
ephemis shows Mercury, Mars, Pluto on 3 corners os a pentagon
4/9/2021 12:07:32 PM MT DWY:: hard to believe anyone is dumb enough to take the other side of my long trade.
4/9/2021 11:53:40 AM MT Jj:: Hard to believe this market will go down with all that money supply
4/9/2021 11:41:47 AM MT Al****:: OK, not dull-there was the thunder after passing Venus
4/9/2021 11:34:58 AM MT Al****:: too dull for me-calling it a day and week
thanks for coming - see you next week - take some courses
4/9/2021 11:19:43 AM MT Al****:: pretty dead
chart 4 on SPKISS shows three setws of yellow pushballs
could be a trader's "Three drives to a top"
4/9/2021 10:53:38 AM MT Al****:: I don't know what's happening with XGO - one of my clients showed me that it could shift left and right
4/9/2021 10:26:27 AM MT Jj:: Very large divergence to xgo, Just Happens from time to time or you think will mehr the forecast? Tjx
4/9/2021 10:17:36 AM MT Al****:: not sure what to make of it: took dog to park, boy came to pet him
told me he had two dogs, named Venus and Thunder
guess I'll watch the Venus timeline near 13:10 for possible thunder
4/9/2021 10:11:07 AM MT Al****:: tested yellow vibe on secret->esnat72
4/9/2021 9:32:20 AM MT pab:: LOL---good one Al
4/9/2021 9:12:05 AM MT Al****:: if the Secret->esnat72 chart was a heart monitor, the doctor would be declaring the patient dead
4/9/2021 7:21:10 AM MT Al****:: charts 5 and 6 on the SPKISS page show the S&P is due a pullback
the rainbow of EXMAs is widely diverged
4/9/2021 6:47:16 AM MT Al****:: Good Morning visitors. Welcome to the Chaos Clinic. The written Chaos Clinic is on the AUX page.
This site has a lot of charts,
so you may find it useful to have several of them available within your
browser. If you have a tabbed browser, you can open separate charts
in separate tabs by right clicking on any link, and selecting "open in new tab"
from the menu. The main list of site pages is at
http://daytradingforecasts.com/chartlistsec.asp
Recommended pages to watch are SPKISS, MTRainbow, and Chat.
For astro stuff, add SPSunMoon, Wheel, and Chaos Clinic.
A special set of Dr. Al's research charts are on the Secret page.
Comments in the chat room are announced by a
"duck call" noise. This noise also occurs when the sofware detects a
resonant hex pattern on the Wheel page. MoonTide trading tutorials
are on the right side of the ListOfCharts page. One should
read Trading the MoonTide Tutorial and Keep it Simple as a minimum.
Many subcribers do not strictly trade the MoonTides, but use the charts on this
site as input to their own trading strategies. For example, the bottom chart on the SPKiss page is good starting point for swing traders.
Also on this site is the Certified Chaos Trader's Room. That room is open
to graduates of my 4 main courses. See http://moneytide.com -> Courses for details.
9:00 Eastern-System: No comments

---