Chaos Clinic Recap
---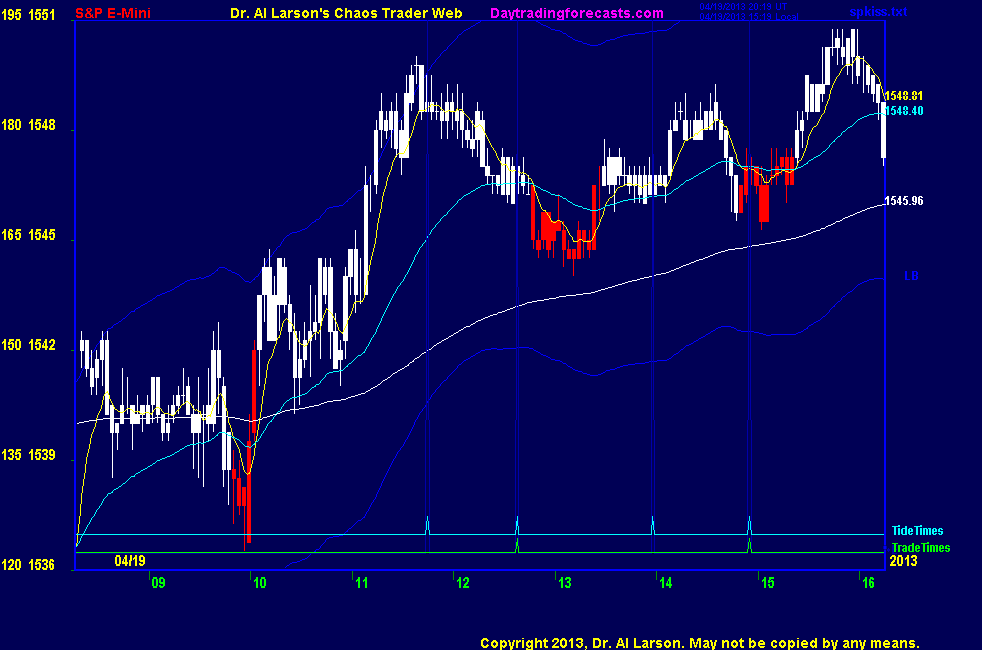 ---
Here are Al's comments
---
2:50 I'm passing on the second trade due to lack of volatility; done for the day;
thanks for coming; see you next week; take a course or two
2:49 don't like this -aborting for -.75
2:40 back-still a creepy crawler; nearing second trade time-will just keep working this one
2:24 creepy crawler -taking a lunch break
2:16 raising my stop to 1544 , the midday low
2:12 thank God, Grandma's back
2:08 getting a little up move right where the Fractal Grid says it should be
2:00 market is dull; but Dragon Rider was exciting; now moved on to Max and Ruby;
Max is a bad bunny; Daniel is satified; hard to baby sit and trade, but market dullness helps
1:48 still pretty dull but day trend as per the 440 minute EXMA is up
1:27 about to get a buy signal-pressing- bought 1547; stop 1543.5, 2 ticks under last low
1:23 at least my Ninja Trader screen saver is updating the chart in the CCT Room properly
1:15 pretty dull-gave me time to deal with a technocrap problem with my Visio DVD player-scrambled pix-piece of junk
resumed playing dvd on PC in media center
1:02 held above the 440 minute EXMA -watching to see if the 110 turns up
12:56 often Friday markets have juice early, then get dull-this may be one of them
12:49 don't like this-covered for +2.75
12:42 market has now held up 2 1/2 hours. When it does this it is unlikely to turn down
12:40 updated my second chart in the CCTRoom, showing a fractal grid form the Chaos Trading Made Easy Course
12:31 looks like setting up a continuation buy at this trade time-I'll just hold what I have
12:25 my wife has to leave, leaving me alone with Daniel-so I started his favorit movie-"Dragon Riders"
also know as How To Tame Your Dragon; he's watched it many, many times; I now have the dialog memorized
12:15 now in the Noon time doldrums
12:09 move 4 is a choppy congestion move so just need to try to hold past it
11:56 from the low I think I see 1,2,3 moves, and starting 4 of 7 in an up Chaos Clamshell
11:52 coming into the MoonTide trade window-may get a continuation buy
11:42 painted my required astronaut and escaped - now he's got Grandma painting TWO astronauts
11:37 Daniel wants me to help him paint-stop to 1544, lock 2
11:33 I think both Daniel and the market are going to run all day
11:25 stop to 1543; plan to let it run
11:11 stop to 1542.25
11:08 like the action so far-CTME tools and some other research told me not to wait; not all trades ar Moontide hotline trades so other tools, doing your homework, and executing well give you an edge -take some courses
11:02 new high for move; moving my stop to 1540.5
11:00 hex pattern formed by Chiron/Neptune,Venus,Saturn,Pluto, and Price. Next higher corner is about 1554
10:55 Daniel is running around playing, and I'm looking for a power cord to plug into that energy :)
10:45 posted another chart in the CCT Room -shows trend is up, probably for the day
10:38 the reason the Ninja Trader chart is in the CCT Room is that it has
indicators from the Chaos Trading Made Easy course on it, and I may add Face of God and Fractal of Pi patterns.
10:35 not a hotline trade, but bought 1542 stop 1539.5 - CCTs see Ninja chart
10:32 grabbed a quick breakfast - Daniel painted a picture and announcee he wanted to HAMMER it to the wall.
Grandma found some masking tape. Meanwhile market has congested a bit.
10:17 today we are babysitting grandson Daniel-2 1/2 - should add a little more chaos to Chaos Manor
10:13 if you have your sound on, the "duck call" is announing a hex resonance
see Hex Wheels today and the Hex Wheel tutorial linked on right side of ListOfCharts page
10:03 early orders send it down, but now getting a bounce-low of day may be in
9:50 today I am showing my Ninja Trader chart in the CCT ROOM. That room is open
to graduates of my 4 main courses. See http://moneytide.com -> Courses for details.
eMylar Fractal of Pi overlays help you be patient, since they show you future potential moves.
The best bargain in my courses is to take the Cash In On Chaos and Fractal of Pi courses and
learn to use the FOP overlay. Then take Chaos Trading Made Easy, and finish with Face Of God.
9:36 also, trading near Monday's low
9:35 holding up above yesterday's low after a week of decline-smells like a rally attempt coming
9:33 Trade times today are late: 12:38 and 14:55 so just watching for now
9:30 Good Morning. Welcome to the Chaos Clinic. This site has a lot of charts,
so you may find it useful to have several of them available within your
browser. If you have a tabbed browser, you can open separate charts
in separate tabs by right clicking on any link, and selecting "open in new tab"
from the menu. The main list of site pages is at
http://daytradingforecasts.com/chartlistsec.asp
Recommended pages to watch are SPKISS, MTRainbow, and Chat.
For astro stuff, add SPSunMoonMer, Wheel, and Chaos Clinic.
Chaos clinic comments appear at the bottom of the SPKISS, MTRainbow,
and ChaosClinic pages. Comments in the chat room are announced by a
"duck call" noise. This noise also occurs when the sofware detects a
resonant hex pattern on the Wheel page. Trading tutorials
are on the right side of the ListOfCharts page. One should
read Trading the MoonTide Tutorial and Keep it Simple as a minimum.

---
Besides the comments made by Al, the chat room is has live
comments from other traders who sometimes share their views,
trades and tips. Below are the chat room comments from this clinic
---


4/19/2013 10:59:18 AM MT BGBB****:: Missed the run this am, took the short at 45 on the cross on tide time.....
4/19/2013 5:55:35 AM MT mm****:: gm all - have a great day

9:00 Eastern-System: No comments

---