Chaos Clinic Recap
---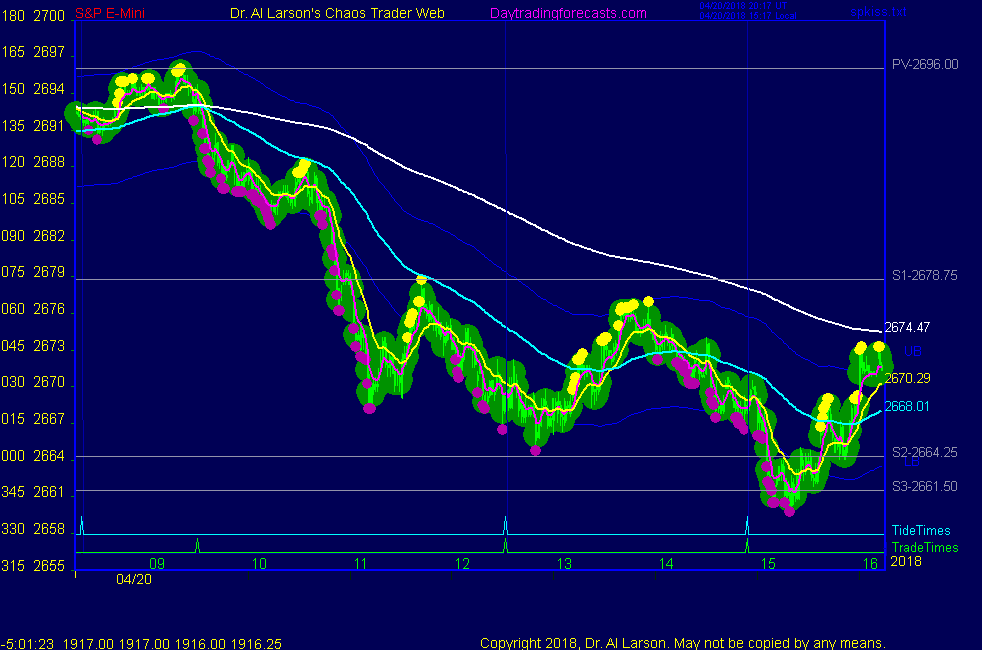 ---
Here are Al's comments
---
3:28 OK, that's how you can Cash In On Chaos-Today, one contract made me $1300; enough to buy a Chaos Trading Made
Easy Course; To make money trading you need to understand how markets work. My courses give you some excellent tools.
Thanks for coming. See you next week.
3:26 covering at 2664 for +26 ; computers covering on s4 and s3
3:20 stop to 2667, lock 23
3:08 stop to 2670, lock 20 points, or $1000 per contract
3:06 new lows-here's the chaotic break
3:02 stop to 2673, lock 17 points; panic possible if make new lows
2:57 stop to 2674
2:48 the hourly bar ending at 3:00 will be a down bar; odds favor the new hourly bar will also be down
2:46 I've locked in 15 points so I can wait to get stopped or cover on close; either is a happy trade
2:41 stop to 2675 above wick of last 20 minute candle
2:33 stop to 2677-last minor high
2:20 still 100 minutes to close ; nice continuation sell on EXMAs
2:12 fractal pattern suggests decline into close
2:01 stop held; on Secret page; on esNat72 rally stopped on white vibration line; vertical yellow line may add juice
1:50 stop was not hit, yet anyway
1:49 the 440 EXMA is still down, so no buy on 20 crossing 110
1:47 may get stopped, but so far, no
1:41 pushed up to 2676.5
1:35 showing resistance at 2674, so maybe stop will survive
1:20 what I have done here is sell on first MoonTide trade time, and carry through the second,
looking for another down thrust on the third
1:10 a normal pattern for a down day is thrust-congest-thrust; today the congest is weak
trying to keep my stop wide to get past the congest
1:06 not today- I like to watch 20 minute candles and not the wicks -not showing much buying
1:01 passed solar noon - sometimes changes then energy
12:50 lows broken with increased vigor; stop to 2678, lock 12
12:41 still trying to rally off the low, but EXMAs are steady down
12:30 now the 220 minute EXMA is 2679.59, below my 2680 stop; very good; new low as well
12:22 testing the low
12:18 you can also use the EXMAs to judge the strength of a move. Yesterday the first rally touched the 220;
today it did not touch the 110, so this is a stronger decline
12:15 on the MTRainbow chart, you see a nice set of diverging EXMAs. On such days, a stop on the 220 minute EXMA
will keep you in the trade. Right now it is at 2680.8
12:04 I'm back-see my stop did survive; that is a good thing; rally high was on S1, which computers sold
11:40 hope my stop is not hit-taking a breakfast break
11:23 Dow is down about 200 points-serious down days have been about 400 lately
11:19 yesterday's decline was lurch and jerk; today's is a falling dagger-do not try to buy falling daggers
11:13 this is now a "hold to close" pattern - stop to 2680-lock 10
11:09 this is now that "serious decline" I mentioned earlier
11:06 stop to 2685-lock 5
10:50 broke yesterday's low -stop to 2689-lock 1
10:49 lowering stop to 2690-break even
10:42 lowering stop to 2692; risk 2
10:35 I have placed a Fractal of Pi chart in the CCT Chat Room, which can be seen by all CCT's who also subscribe
to my hotline. This is where I post most of my charts.
10:26 lowering my stop to 2693; risk 3
10:20 got a little buying near the overnight low; watching to see if support fails
10:12 on Wednesday I made the following comment in the chat room:
looks to be following green +Tide; note late drop in it; also red swan down late ;
on daily chart possible end of move 4 from high
There is a value to subscribing to the hotline; and yesterday I posted a chart in the 24/7 CCTRoom for
my Certified Chaos Traders. The Certified Chaos Trader's Room is open
to graduates of my 4 main courses. See http://moneytide.com -> Courses for details.
eMylar Fractal of Pi overlays help you be patient, since they show you future potential moves.
The best bargain in my courses is to take the Cash In On Chaos and Fractal of Pi courses and
learn to use the FOP overlay. Then take Chaos Trading Made Easy, and finish with Face Of God.
10:03 now just need to be patient; I like that the 440 minute EXMA has curled down
9:45 if we break yesterday's low, this could turn into a serious decline
9:39 the Flash Boy computers sold the pivot 2696; moving stop to 2596.25
9:35 sold 2690 stop 2699 for now
9:29 will sell break of 2690
9:26 nearing normal session open with no juice
9:13 overhead resistance is at 2699, support below from last minor low is 2690.25
9:07 the 440 EXMA is flat; The trend for Wednesday is down, so looking for a sell setup
9:01 today's trade times are 09:31, 12:32, and 14:54 ; early trade is quiet, trading just under pivot price 2696
9:00 Good Morning. Welcome to the Chaos Clinic. This site has a lot of charts,
so you may find it useful to have several of them available within your
browser. If you have a tabbed browser, you can open separate charts
in separate tabs by right clicking on any link, and selecting "open in new tab"
from the menu. The main list of site pages is at
http://daytradingforecasts.com/chartlistsec.asp
Recommended pages to watch are SPKISS, MTRainbow, and Chat.
For astro stuff, add SPSunMoonMer, Wheel, and Chaos Clinic.
Chaos clinic comments appear at the bottom of the SPKISS, MTRainbow,
and ChaosClinic pages. Comments in the chat room are announced by a
"duck call" noise. This noise also occurs when the sofware detects a
resonant hex pattern on the Wheel page. Trading tutorials
are on the right side of the ListOfCharts page. One should
read Trading the MoonTide Tutorial and Keep it Simple as a minimum.

---
Besides the comments made by Al, the chat room is has live
comments from other traders who sometimes share their views,
trades and tips. Below are the chat room comments from this clinic
---


4/20/2018 7:59:45 AM MT Woble:: MOON ENTERS CANCER 1026 UTC WOBLE
4/20/2018 6:58:39 AM MT Al****:: GM all-good luck today

9:00 Eastern-System: No comments

---