Chaos Clinic Recap
---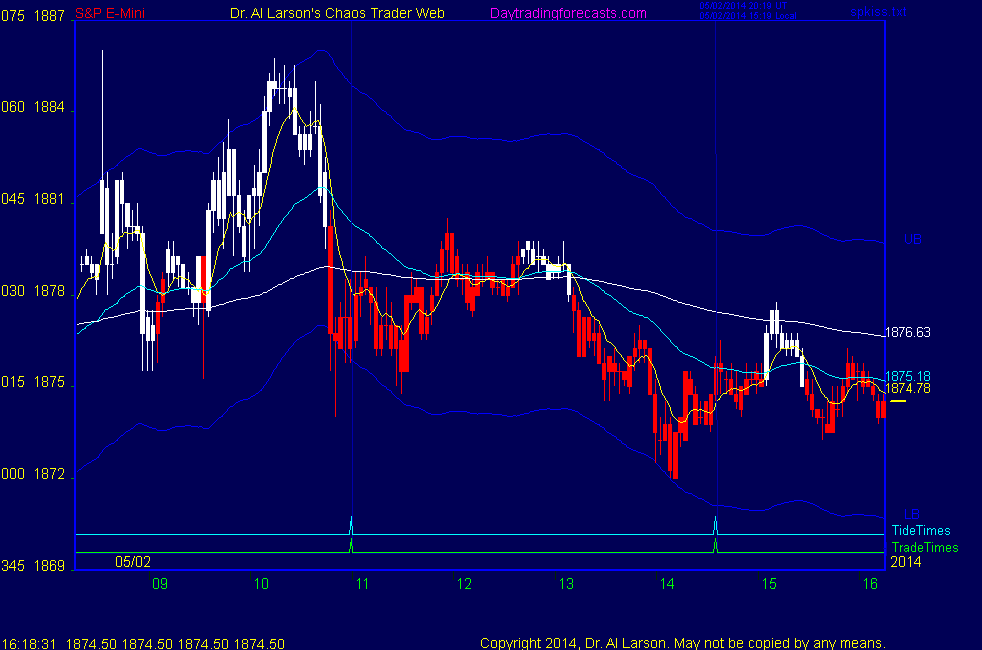 ---
Here are Al's comments
---
12:00 thank you for coming; see you next week-take a course or two-come to the new Essentials course May 19-21
see Moneytide.com for details
11:57 covered my short for +3.5 ; I think I'm going to skip the rest of the day; I was lucky to
get acouple of points while there was some modest action. Rest of the day looks to be even less volatile;
11:56 back - looks like total dullness
11:09 this is now a waiting game - I have my stop in, I am in a position where I can wait without risk of a loss
taking a break
10:58 trading is still choppy-I have a good entry, I've locked a profit, I can just wait
10:54 the 20/110 crossover occurred near 1881, which has been a resistance area;
we popped above it, then collapsed
10:52 lowering my stop to 1880.75 - near the 110 EXMA
10:50 OK, got the 20/110 crossing -will just hold my short and go for max
10:47 earlier I noted the sluggish ness of the market-under those conditions, the EXMA's will also be sluggishe, so it helps to have other tools in your toolchest-take some courses!!
10:46 one component of my sell was an indicator out of the Chaos Trading Made Easy course
10:42 rally stalled - I sold 82.75 , using my advanced techniques - not every trade is a MoonTide hotling trade
10:27 so far today is a scalper's market - not the sort of trending day we like for hotline trades
10:24 also, I saw that prices stalled at the Neptune N+090 flux, where they stalled on the employment report flash rally
10:22 I covered for +1.75 - did not like the stall on this type of day
10:18 I did that based on the Moon flux ane Moon timelines plus the EXMA rainbow-could go up to the Moon +T000 flux near 1888
10:12 not a hotline trade, but I managed to buy the 20/110 continuation 82 stop now 83
10:09 rally as per green +Tide
10:07 support on Moon +315 flux and broke above -T225 flux
10:03 trying to rally again -support on 110 and others in the EXMA Rainbow
9:56 OK, good jobs report-the flash boys popped it and left; the more patient "investment managers" didn't act excited about it; Does not look like a robust trading environment
9:54 prices are trading now between the Moon +T315 and-T225 electric field flux lines-a congestion zone
9:51 15 minute rally-energy died off quickly
9:39 the 440 minute EXMA on the MTRainbow chart is up weakly, so day trend is modestly up
9:33 outcry session open -support at last minor low
9:23 the first trade time today is not until 11:00, so we have time to watch
9:20 The jobs report trading was strange. The report was very good. Prices jump on computerized
trading but they ended the rally within minutes. Now prices have dropped back into yesterdays narrow range.
All is not as it seems on the screen.
9:00 Good Morning. Welcome to the Chaos Clinic. This site has a lot of charts,
so you may find it useful to have several of them available within your
browser. If you have a tabbed browser, you can open separate charts
in separate tabs by right clicking on any link, and selecting "open in new tab"
from the menu. The main list of site pages is at
http://daytradingforecasts.com/chartlistsec.asp
Recommended pages to watch are SPKISS, MTRainbow, and Chat.
For astro stuff, add SPSunMoonMer, Wheel, and Chaos Clinic.
Chaos clinic comments appear at the bottom of the SPKISS, MTRainbow,
and ChaosClinic pages. Comments in the chat room are announced by a
"duck call" noise. This noise also occurs when the sofware detects a
resonant hex pattern on the Wheel page. Trading tutorials
are on the right side of the ListOfCharts page. One should
read Trading the MoonTide Tutorial and Keep it Simple as a minimum.

---
Besides the comments made by Al, the chat room is has live
comments from other traders who sometimes share their views,
trades and tips. Below are the chat room comments from this clinic
---


5/2/2014 10:58:25 AM MT Al****:: Sharp: I avoided the head fake because prices were trading both sides of the 110 and the prior day had been choppy-that one could have go either way ; on the stops when the market is choppy you have to move them very aggressively-like a 2.5 or 3 point trail

MJH: we still have not taken out the S&P near contract futures high. The longer we don't the bigger the drop coming
5/2/2014 10:48:05 AM MT mjh:: Al last week you talked about the top being in on the SP. However Saturns has yet to complete a 60 degree move from the 2009 low so I think that its not quite in yet, watch out on the 22nd May as I think that will cause a change in trend as we are on one of the SP 72 degree axis point from the date of first trading. Whats your thoughts
5/2/2014 7:36:44 AM MT Sharpe:: Good morning Al, I had three questions for you from yesterday's trades. 1. How did you avoid taking the head fake we got yesterday morning when prices moved higher before dropping? I got sucked into the long side. 2.. During the first trade time where you were stopped for +3 what was the trigger for you to move your stop aggressively lower and what technique did you use to move your stop? 3. For trade time two, again what was the trigger for you to move your stop lower and what technique did you use to place your stop? I'm finding that I'm having trouble appropriately moving my stops on my trades.
5/2/2014 5:24:05 AM MT mm****:: gm all - have a great day

9:00 Eastern-System: No comments

---