Chaos Clinic Recap
---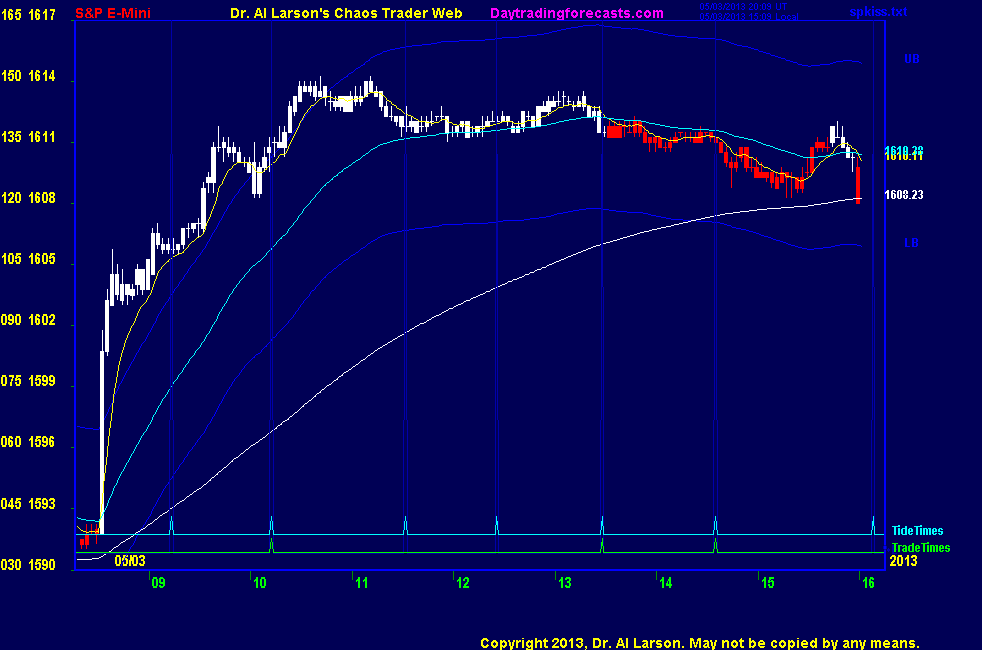 ---
Here are Al's comments
---
14:05 I'm passing here and calling it quits for the day in the Chaos Clinic
13:02 since things are slow I use my ephemeris to study what's happening; since we are trading on the Venus
flux, I will be watching what happens at the Venus timeline near 13:36
12:54 I'm back after a long breakfast and taking the dogs to the park-see that we are still in the congestion zone
11:30 I'm going to take a breakfast break-be back for second trade time
11:20 now officially trapped in the congestion zone - I expect trade to be between about 1608 and 1614 rest of day
11:00 juice seems to be drying up
10:56 trading now between the Moon and Venus flux lines - Moon squared Venus overnight
10:45 turning down a bit, so trapped in the congestion zone mentioned earlier
10:37 watching to see if stop at the Moon T+180
10:30 not trading because prices have moved too far from the 110 minute EXMA
10:21 Chaotic systems tend to have stable states where they "rest". Then somethingg triggers "unrest",
and they make a chaotic jump to a new stable state. We just saw that. To learn about chaotic systems and markets,
take the Cash In On Chaos course. To learn about the fractal patterns they produce, take the Fractal of Pi course.
10:07 prices are trading in a fluxline cluster trapped between the Moon +T180 and -T270 electric filed flux.
This is a congestion zone containing +V090,+O2790,+H090,+R090,+S270,and +M090 flux lines.
A similar bundle trapped prices 90 degrees lower yesterday afternoon. So the rest of the day may get dull.
10:01 prices have moved rougly 90 degrees to where they stalled out yesterday
9:52 This week the marked was driven down on Wednesday by a Red Swan Cycle, and up yesterday by a
Green Swan cycle. Today prices are nearing a Red Swan cycle. I am showing this on the AUX page.
Prices don't always stick to the cycle as they fly through, but when they do the market moves.
I'm still researching when they "stick"
9:39 trade times today are 10:13, 13:28, and 14:35 . Not sure how soon the juice will dry up
9:36 I traded that jobs report with Ninja Trader, set up as a a Chaos Trading Made Easy chart.
I have placed that chart in the Certified Chaos Trader's Room. That room is open
to graduates of my 4 main courses. See http://moneytide.com -> Courses for details.
eMylar Fractal of Pi overlays help you be patient, since they show you future potential moves.
The best bargain in my courses is to take the Cash In On Chaos and Fractal of Pi courses and
learn to use the FOP overlay. Then take Chaos Trading Made Easy, and finish with Face Of God.
9:33 market opening way up after positive jobs news
9:00 Good Morning. Welcome to the Chaos Clinic. This site has a lot of charts,
so you may find it useful to have several of them available within your
browser. If you have a tabbed browser, you can open separate charts
in separate tabs by right clicking on any link, and selecting "open in new tab"
from the menu. The main list of site pages is at
http://daytradingforecasts.com/chartlistsec.asp
Recommended pages to watch are SPKISS, MTRainbow, and Chat.
For astro stuff, add SPSunMoonMer, Wheel, and Chaos Clinic.
Chaos clinic comments appear at the bottom of the SPKISS, MTRainbow,
and ChaosClinic pages. Comments in the chat room are announced by a
"duck call" noise. This noise also occurs when the sofware detects a
resonant hex pattern on the Wheel page. Trading tutorials
are on the right side of the ListOfCharts page. One should
read Trading the MoonTide Tutorial and Keep it Simple as a minimum.

---
Besides the comments made by Al, the chat room is has live
comments from other traders who sometimes share their views,
trades and tips. Below are the chat room comments from this clinic
---


5/3/2013 11:47:11 AM MT Al****:: OK, use the Meeting tab to join my meeting m86-065-385
5/3/2013 11:41:31 AM MT bBB****:: I have it running - let me know the next step
5/3/2013 11:39:11 AM MT bBB****:: getting it installed. not sure if it will work or not behind company firewall.
5/3/2013 11:37:51 AM MT Al****:: OK-let me try to get something set up - do you have Tramviewer installe on your computer? If not go to http:/teamviewer ang get it. Install it for personal use only
5/3/2013 11:33:58 AM MT bBB****:: Hey Al - I am here - was out to lunch.
5/3/2013 11:30:17 AM MT Al****:: apparently everyone has gone home
5/3/2013 11:18:25 AM MT Al****:: Are any CCT's around? If so speak up. I'd like to try a quick Team Viewer meeting for Ninja Traders
5/3/2013 11:17:17 AM MT Al****:: BBB: sorry but I couldn't use the chart grab today -
MJH: Crash? not today-I've been getting all kinds of The END IS HERE stuff from people-contrary opinion and Stargo tell it ain't so
5/3/2013 8:22:52 AM MT BBB****:: Al, are you going to be running the chart grab in the CCT room today?
5/3/2013 8:21:25 AM MT MJH:: Thanks Al, that was nice of you
5/3/2013 8:06:32 AM MT MJH:: Hello Al, whats your thoughts on the chances of a market crash today, I used the 7 wave fractal which is pointing to 14928 and 15213 as possible top levels.
5/3/2013 7:58:01 AM MT Al****:: Thanks. Too bad I had to leave to do the Clinic.
5/3/2013 7:39:08 AM MT BBB****:: nice trade AL.
5/3/2013 5:50:07 AM MT mm****:: gm all - have a great day

9:00 Eastern-System: No comments

---