---
CHAOS CLINIC RECAP
---
---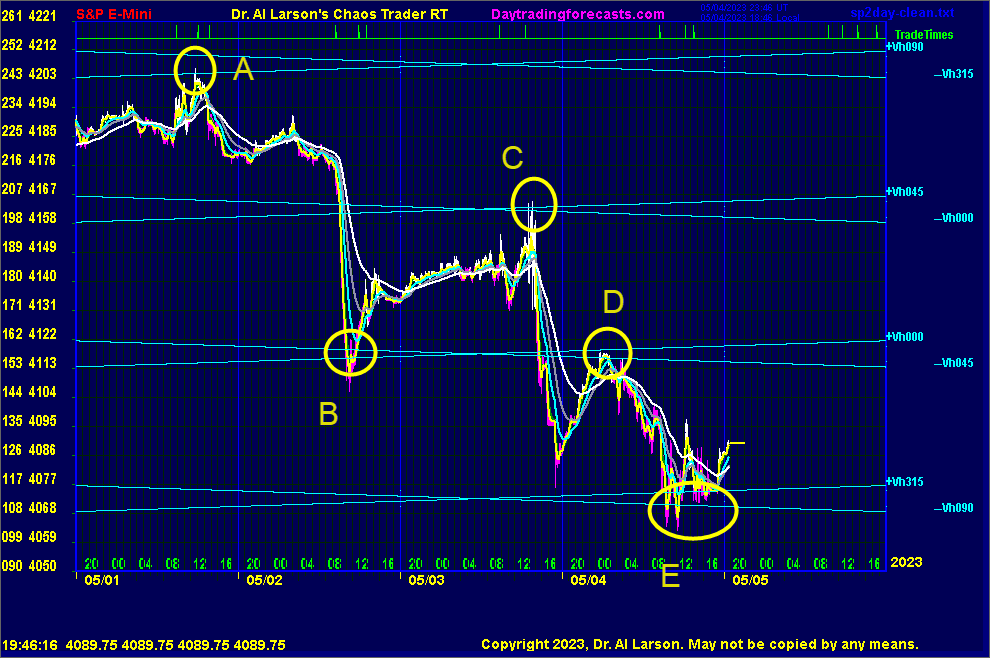 Venus, The Money Planet
Chaos Clinic for 5/5/2023
********************************************************************************

Astrologers consider Venus the planet determining a person's relationship with money.
A favorable position in a person's natal chart supposedly means that person will always
have plenty of money.

I am not an astrologer and I don't do astrology. I am a scientist that looks at the
electric fields of the planets. Occasionally I can isolate a single planet strongly
affecting the S&P. This week was one such occasion.

This chart shows the S&P futures this week. The chart shows 3 minute bars 24 hours a day.
It includes a rainbow of EXMAs of 20, 110, 220, and 440 minutes. It also includes
helio Venus electric field flux lines on a wheel of 360, with the 8th harmonic aspects.

Several key points are circled. The letters have nothing to do with any sort of wave count.
They are simply points for discussion.

Last week the S&P rallied sharply. Monday 5/1/2023 it continued its rally, until noon, when it made a
sharp peak at A, where it was repelled by the Venus +Vh090 flux line. The decline from that
gave a lower close.

On 5/2 there was a rally that peaked sharply. Then prices sagged, trading below the down 440.
As the normal session opened, prices dropped like a rock, breaking right through the Venus
flux near 4260. They did not stop until point B. This was a harmonic 90 degree drop to the
Venus +Vh000 flux line. From there prices bounced up to the 440 minute EXMA.

This was the start of the "What will the Fed do?" rally. The FOMC announcement and press conference
were at point C. Note the little spikes above the +Vh045 and -Vh000 flux lines. This was a harmonic
45 degree move up from B. From there prices headed down sharply, down to 4077 by 1800.

From there prices rallied in the 5/4 "overnight" market up to D, where they were repelled by the -Vh045
flux and the +Vh000. This pair was support at B, but resistance at D. From there, prices fell to
area E, where they made two spike lows, chopped up and down, finally finding support on the +Vh315
flux. This was down 135 degrees, 3/8 ths of a circle down from A.

The chart suggests a move up for Friday. This Friday is the first Friday employment report, so this
is a "What will the employment report tell us?" rally.

I was lucky in that I recognized that the high on +Vh090 on Monday could turn the market down. I
enters a short position using the SH EFT, which I covered on the first spike low at E. So
for me this week, Venus was the money planet.

For more on my work and to subscribe to Tomorrow's Market Email Hotline and access to daytradingforecasts.com see
Moneytide.com
Software to plot electric field flux lines in NinjaTrader is available at
energyfieldtrading.com
---

Below is one of the SPKISS charts from daytradingforecasts.com
and the chat room comments from this Chaos Clinic. Most recent comment is on top.
---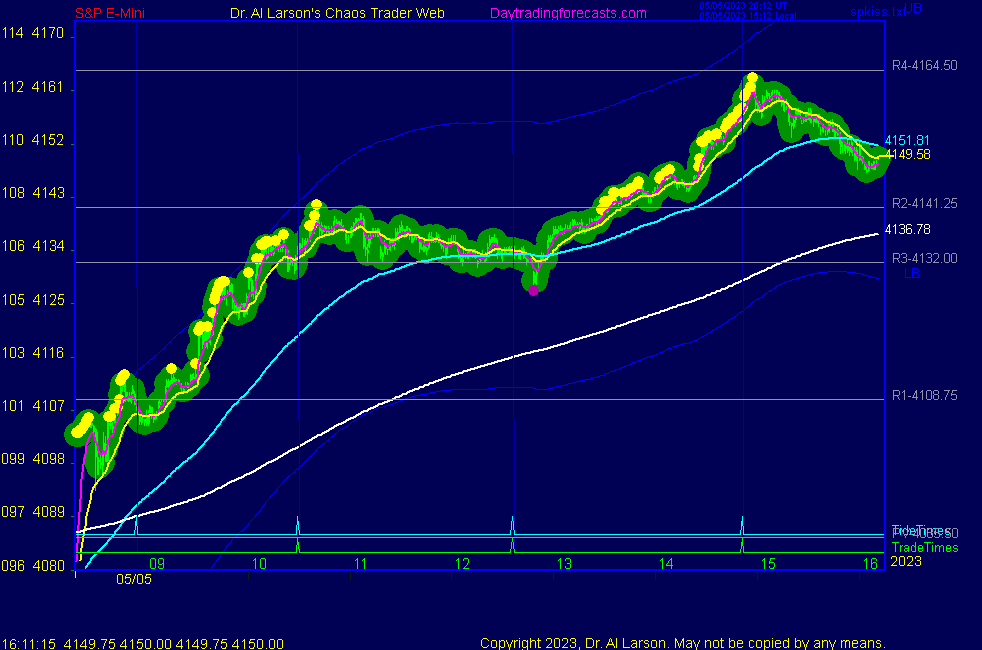 5/5/2023 1:42:41 PM MT Ahab****:: Good job Al!!
5/5/2023 1:29:20 PM MT Al****:: and hit the -V000 flux , so a 90 degree move up from yesterday's -V090
5/5/2023 1:25:52 PM MT Al****:: covered on red -Tide high and up 2% which usually gets some selling-
5/5/2023 1:22:48 PM MT Al****:: covered my long - may go higher but I'm tired and done for the day
thanks for coming - see you next week-take some courses
5/5/2023 1:22:17 PM MT Day:: great. thanks
5/5/2023 1:18:07 PM MT Al****:: that magenta ball show prices were trying to push lower
but the push stopped - there was no second or third ball
that said selling was weak
5/5/2023 12:49:41 PM MT Al****:: could even reach the green vibration on esnat360
5/5/2023 12:48:02 PM MT Day:: Al, what does the magenta ball tell you on that chart?
5/5/2023 12:47:57 PM MT Al****:: thank you - it helps to be lucky
5/5/2023 12:27:54 PM MT pab:: Perfect call today, Al
5/5/2023 12:12:44 PM MT Al****:: if you look at chart 4 on the SPKISS page, you see a single magenta push ball near 12:40 ; the 220 minute EXMA was support ; that was a buying opportunity for a "buy the dips" strategy
5/5/2023 12:03:17 PM MT Al****:: now today I'm just trailing my stop below the 440 EXMA
5/5/2023 12:01:30 PM MT Al****:: yesterday I bought a MES at 4085, which looked stupid, but I kept my stop at 4060
then overnight when prices got above the 440, I managed to cut my risk from 25 points to 3
that allowed me to sleep easy and see what the big boys would do about the jobs numbers
5/5/2023 11:46:34 AM MT Al****:: I sincerely thank those two clients who pointed out the yellow vibration support on Secret->esnat360 yesterday. I told me where to put my overnight stop for a possible rally
5/5/2023 11:41:57 AM MT Al****:: the trend remains solidly up, probably into the close
5/5/2023 11:28:43 AM MT Al****:: this is the sort of rally that hurts a lot of traders
they see every dip as a major reversal
which is why I use the rainbow of EXMAs
they show the momentum of a move
and I've paid a lot of money to learn not to fight the 36/220
5/5/2023 10:57:57 AM MT Al****:: dipping to 220 to pick up energy
5/5/2023 10:45:46 AM MT Al****:: it peaks at 1:24 EDT, just after this cluster of time lines
5/5/2023 10:44:54 AM MT Al****:: the lunar eclipse is in progress right now-streaming site I looked at is clouded over
5/5/2023 10:27:45 AM MT Al****:: in addition to the Sun, Moon, Node timelines, we have Mercury and Uranus coming up
5/5/2023 10:26:11 AM MT Al****:: minor low as exchange gets rotated past the Node
5/5/2023 9:57:14 AM MT Al****:: the Sun flux +H270 was support on the Employment report at 4095
trade made it to 4240 +H315
+H000 is at 4185
5/5/2023 9:53:54 AM MT Al****:: just looking at the Venus flux , the +Vh045 is about 4165, near R4, up 90 degrees from the +Vh315 that supported prices yesterday
5/5/2023 9:47:37 AM MT Al****:: the rainbow of EXMAs on the MTRainbow chart are up, so I think this is just a pause
5/5/2023 9:45:56 AM MT pab:: @CiovaccoCapital · 1m Post #NFP, market pricing in 97% odds the Fed will pause in June. If (emphasis) Fed wants to alter those expectations, Bullard speaks at 1 pm ET. Is the market waiting for Bullard ???
5/5/2023 9:44:59 AM MT Al****:: on secret->esNat72 made it up to second yellow level and on esnat360 up to the white level

5/5/2023 9:42:52 AM MT Al****:: made it up to R2 already, small pull back to R3
eclipses are made up of Moon, Node, and Sun
coming to their time lines in next 90 minutes
5/5/2023 9:05:57 AM MT Al****:: made it up to the +T315 ; next Moon flux up is +T000 45 points higher
5/5/2023 8:32:34 AM MT Al****:: rally has a lot of juice ; the bars colored by 36/220 are white; this is a white rocket
5/5/2023 8:13:31 AM MT Al****:: more Moon juice
5/5/2023 7:32:52 AM MT Al****:: normal session opened with buying
5/5/2023 7:31:19 AM MT Al****:: yesterday two clients pointed out the support on the yellow vibration on Secret->esnat360
5/5/2023 7:23:01 AM MT Al****:: the trend is up; SPKISS chart 1 shows the red -Tide is up
secret->esnat72 shows two vertical lines either side of the employment report and support on the yellow vibration level
odds favor a move to the next higher yellow level
5/5/2023 7:05:36 AM MT Al****:: the next Moon flux up is the +T315 ends the day near 4141
this is also the pit R2
5/5/2023 6:57:27 AM MT Al****:: the employment report was more jobs than expected
the Moon is the big player today, being a Full Moon day with a lunar eclipse
yesterday the Moon +T270 electric field flux line was resistance, today it is support
5/5/2023 6:14:59 AM MT Al****:: Good Morning visitors. Welcome to the Chaos Clinic. The written Chaos Clinic is on the AUX page.
This site has a lot of charts,
so you may find it useful to have several of them available within your
browser. If you have a tabbed browser, you can open separate charts
in separate tabs by right clicking on any link, and selecting "open in new tab"
from the menu. The main list of site pages is at
http://daytradingforecasts.com/chartlistsec.asp
Recommended pages to watch are SPKISS, MTRainbow, and Chat.
For astro stuff, add SPSunMoon, Wheel, and Chaos Clinic.
A special set of Dr. Al's research charts are on the Secret page.
Comments in the chat room are announced by a
"duck call" noise. This noise also occurs when the software detects a
resonant hex pattern on the Wheel page. MoonTide trading tutorials
are on the right side of the ListOfCharts page. One should
read Trading the MoonTide Tutorial and Keep it Simple as a minimum.
Many subscribers do not strictly trade the MoonTides, but use the charts on this
site as input to their own trading strategies. For example, charts 5 and 6 on the
SPKiss page are a good starting point for swing traders.
Also on this site is the Certified Chaos Trader's Room. That room is open
to graduates of my 4 main courses. See http://moneytide.com -> Courses for details.
9:00 Eastern-System: No comments

---