Chaos Clinic Recap
---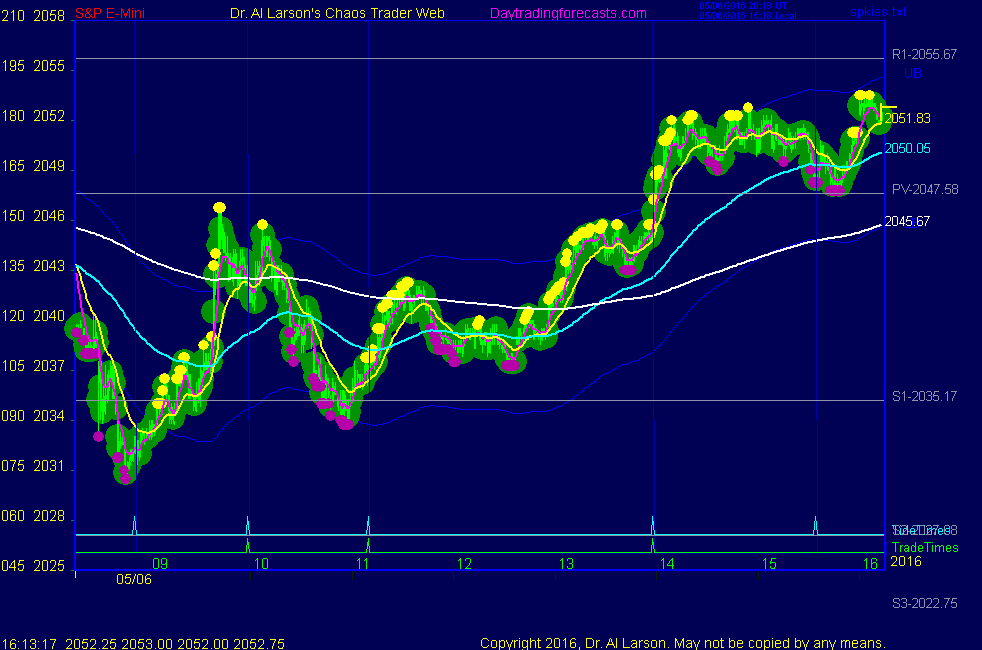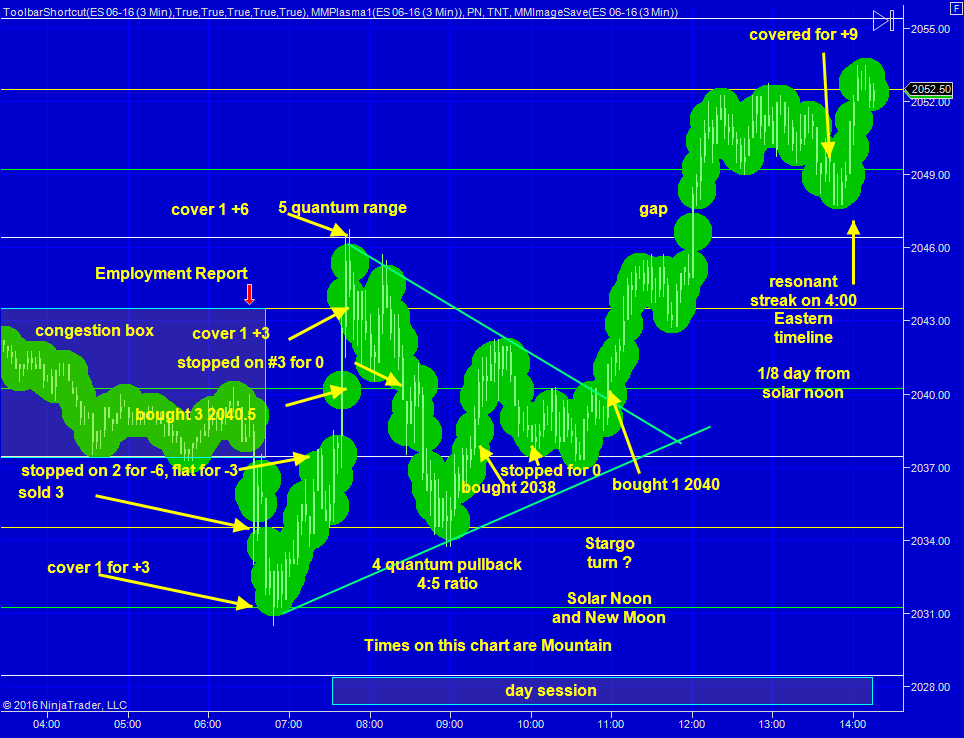 ---
Here are Al's comments
---
3:44 Thanks for coming; see you next week. Takes some courses. Become a CCT and trade like TG.
3:43 OK, covered for 9 following TG's lead
3:38 stop OK by 1 tick
3:18 on SPKISS, got two magenta pushballs (lows) above my stop
3:14 the SPSunMoonMer chart shows that the 4:00 timelines could be hot
3:04 trick here is to hold fast; computers bought s1; got above pivot; should try for R1
3:00 stop to 2048 lock 8
2:48 stop to 2047 lock 7
2:29 stop to 2046; lock 6
2:14 stop to 2045; for anyone wanting to hold this as a swing trade I'd hold it here; I'll keep moving as a day trade
2:11 CCT member TG has shared his Fractal Grid in the CCT Chat Room-that room is open to graduates of my 4 main courses-CIOC, ROP, FOG, and CTME
2:08 this could be a good swing move; New Moon today, Combust=Mercury transit Sun Monday; NASA will stream it live
2:01 stop to 2042.5
2:00 may get plasma gap - see AUX page
1:58 after 2:30 should see a lot of short covering
1:55 testing early high
1:47 this is first pullback since entry; stop to 2041
1:22 I'm going to let this run if I can due to the green swan evidence earlier today; stop to 2040.5
1:14 stop to 2040, break even
1:12 it pays to understand what is going on PHYSICALLY
1:07 stop to 2037.5
12:57 trade coming early, bought 2040 stop 2036
12:55 keep in mind that "Chaos Follows Dullness"; the dullness is a balance of buyers and sellers
when the balance is broken, a chaotic move to another balance level can occur
12:48 very flat
12:43 because it is New Moon, the Sun and Moon timelines are both at 1:00 Easten
12:18 a Stargo pattern suggests a rally may start near 1:00 Eastern
12:11 in a converging triangle; apex near last trade time
12:00 out for 0 now trading both sides of 110-a congestion
11:52 stop may be too close, but holding it
11:41 stop to 2038, break even
11:36 we may have a green swan lifting prices
11:32 that pullback was to S2; so the computers bought S2 for a run to the pivot 2047, or higher
11:30 stop to 2037; risk 1
11:26 looking OK
11:15 bought 2038 stop 2033.5 for now; higher low
10:58 I'm noticing 08:52 LOW, 09:59 HIGH, so 11:10 LOW?
10:53 I'll wait to see how we come out of this trade time
10:45 440 has gone flat, trend flat to weak down
10:24 stopped -3 on retry; taking a break now
10:13 on the SPKISS chart, the 440 minute EXMA has turned up, switching the day trend
10:05 stopped for 0 on hotline trade; probably pressed stop too soon; rebought 2043, stop 2040
9:47 things happening too fast; just now got annotations done Trade sys; on AUX page; It bout 3, covered 2 for +3 and +6, holding 1
9:42 stop 2041; break even
9:40 now juice; bought 2041, stop 2037; getting a resonant hex; the "duck call" ; sell links on hex patterns, right side of List Of charts
9:37 trying to turn up, but not much juice
9:34 on SPKiss chart the 440 minute EXMA is down, so day trend is down; trading near the S1 pivot price
9:31 regular session now open; very quiet
9:23 Experimental TS stopped on last two contacts, net -3; still working on rules
9:14 MoonTide trade times are 09:59, 11:10, and 13:58
9:10 I have now switched the AUX page to show my NinjaTrader plasma chart, where I'm working on my
EXPERIMENTAL trading sysem
8:59 corrected some typos on the TS stops
8:46 Trading system covered 1 for +3, stop on 2 to 2037.5, will cover second 2028.5
8:42 now stronger reaction to report; I had an EXPERIMENTAL trading system sell 3 at 2034.5, stop 2040.5; it will cover one at 2031.5
8:41 today the aux page is showing a multiday Moon flux chart
8:37 modest reaction
8:28 employment report out in a few minutes; I just watch these
7:55 Good Morning. Welcome to the Chaos Clinic. This site has a lot of charts,
so you may find it useful to have several of them available within your
browser. If you have a tabbed browser, you can open separate charts
in separate tabs by right clicking on any link, and selecting "open in new tab"
from the menu. The main list of site pages is at
http://daytradingforecasts.com/chartlistsec.asp
Recommended pages to watch are SPKISS, MTRainbow, and Chat.
For astro stuff, add SPSunMoonMer, Wheel, and Chaos Clinic.
Chaos clinic comments appear at the bottom of the SPKISS, MTRainbow,
and ChaosClinic pages. Comments in the chat room are announced by a
"duck call" noise. This noise also occurs when the sofware detects a
resonant hex pattern on the Wheel page. Trading tutorials
are on the right side of the ListOfCharts page. One should
read Trading the MoonTide Tutorial and Keep it Simple as a minimum.

---
Besides the comments made by Al, the chat room is has live
comments from other traders who sometimes share their views,
trades and tips. Below are the chat room comments from this clinic
---


5/6/2016 2:00:28 PM MT TG****:: stop 48.5.
5/6/2016 1:59:01 PM MT TG****:: Maybe nothing but I saw 4 ever so slightly lower lows off of the top and then a 20 / 100 upside recross just after the last decent place on my FG for a streak to take place today.
5/6/2016 1:56:49 PM MT TG****:: Couldn't resist, rebought 49.25, stop 47.5. 1/2 the contracts that I had on before.
5/6/2016 1:43:12 PM MT Al****:: Nice trade TG; have a good weekend, too
5/6/2016 1:33:43 PM MT TG****:: Out for 10.25. Have a great weekend Al.
5/6/2016 1:08:31 PM MT Al****:: TG, the charts post live separately, but both rooms share history charts
5/6/2016 1:04:45 PM MT TG****:: Like the support found on the 55 exma so far.
5/6/2016 12:06:20 PM MT TG****:: I posted my grid in the CCT room. Not sure if that is same as the 24 hr CCT room or not though.
5/6/2016 12:02:03 PM MT Al****:: yes it is
5/6/2016 12:00:30 PM MT TG****:: This is a really nice looking fractal grid thus far.
5/6/2016 11:35:45 AM MT TG****:: 58 to 59 looks doable today if we can get over the 24 hr pivot.
5/6/2016 10:32:45 AM MT gb:: Thanks AL! :D
5/6/2016 10:31:13 AM MT Al****:: BBB: thanks for link. Yes, plasma will be part of our offering
5/6/2016 10:29:24 AM MT Al****:: gb: I was looking for an upturn, so took the 20/110 setup, but pressed my stop to break even out of respect for the longer term EXMAs; just a judgment call; neither side worked that well
5/6/2016 9:55:39 AM MT gb:: Al, all longer exma´s are poiting down and 20/110 is about to cross down during the trade window. Shouldn´t we be looking to sell instead of buying, despite the higher lows?
5/6/2016 8:33:35 AM MT TG****:: GM AL, MM, BBB and everyone
5/6/2016 8:02:22 AM MT BBB****:: Gm Al, so is the NT add on you are working on going to offer the plasma charts too? Also - I found a nice add on for NT that allows squaring of the chart. Very reasonable price. http://www.integrity-traders.com/index.php/indicators-store-sp-2026324196/view/productdetails/virtuemart_product_id/107/virtuemart_category_id/3
5/6/2016 5:57:24 AM MT Al****:: GM all-good luck today

9:00 Eastern-System: No comments

---