Chaos Clinic Recap
---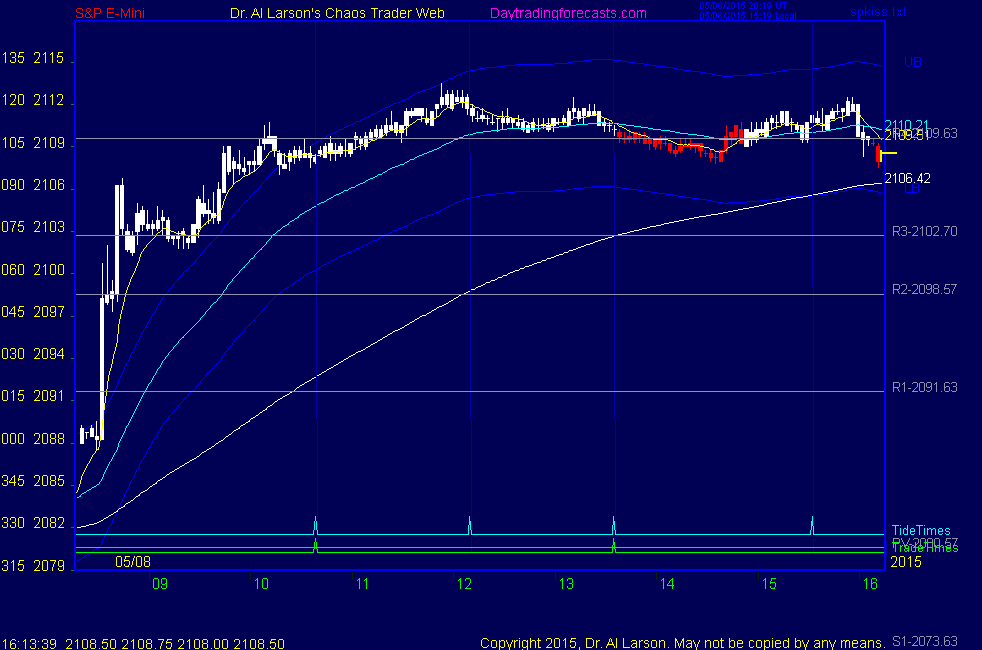 ---
Here are Al's comments
---
12:54 OK, I'm calling it quits. The volatility is gone. Thanks for coming. See you next week. Take some courses.
12:21 That looked like a high in the red -Tide
12:20 back-covering on stall for +1.25
12:00 Taking breakfast break now
11:58 the 220 minute EXMA is tracking the green swan, which ends the day near 2124
11:56 now that we are above the r4 pivot price,the pivot trading programs do not have any more sell points
11:51 stop to 2109.5, breakeven; now I can relax, let it run, and enjoy
11:45 stop to 2108.25 -risk 1.25, what I made earlier
11:33 this is now "hold for max" type day -pullbacks have not even come close to the 110 minute EXMA
11:24 the MTRainbow chart shows the flow is up-could run all day
11:19 breakfast is delayed-so back-stop to 2107.5 -risk 2 points
11:04 stop is in-taking a breakfast break
11:00 now I expect a second round of buying to come in -"Gap up-buy low at 11:00"
10:54 prices are riding the Moon +T180 flux, which is slowly rising
10:46 took continutaion buy at 2109.5 stop 2106.5
10:38 at Tide time -trading flat
10:06 up to R4; I'm not chasing it; I'll wait for a while; taking a break
9:58 I also saw that the XTide at the bottom of the Chaos Clinic chart was topping
9:55 covered for +1.25-don't like it; stallede at Moon +T180 electric field flux
9:45 stop to 2104, mid point of the correction; I entered when prices broke above the red swan and made new highs
9:43 OK, bought 2106 stop 2101 for now
9:39 just watching - looks like there is no up juice left
9:31 outcry session open-retesting the high; there is a red swan right here
9:28 prices are at the R3 level, R4 is 2109.5, so there is not much room going up
yet this is not a market to seel, so we just need to wait for a decent dip
9:25 the positive employment report sent the market up a harmonic 18 points-it is now overbought
and will need some time to adjust. Trade times today are 10:39 and 13:35
9:00 Good Morning. Welcome to the Chaos Clinic. This site has a lot of charts,
so you may find it useful to have several of them available within your
browser. If you have a tabbed browser, you can open separate charts
in separate tabs by right clicking on any link, and selecting "open in new tab"
from the menu. The main list of site pages is at
http://daytradingforecasts.com/chartlistsec.asp
Recommended pages to watch are SPKISS, MTRainbow, and Chat.
For astro stuff, add SPSunMoonMer, Wheel, and Chaos Clinic.
Chaos clinic comments appear at the bottom of the SPKISS, MTRainbow,
and ChaosClinic pages. Comments in the chat room are announced by a
"duck call" noise. This noise also occurs when the sofware detects a
resonant hex pattern on the Wheel page. Trading tutorials
are on the right side of the ListOfCharts page. One should
read Trading the MoonTide Tutorial and Keep it Simple as a minimum.

---
Besides the comments made by Al, the chat room is has live
comments from other traders who sometimes share their views,
trades and tips. Below are the chat room comments from this clinic
---


5/8/2015 8:24:26 AM MT Al****:: Samsung U28D590 monitor with EVGA GTX750i graasphic board in old Intel motherboard DP35DP computer running windows 7
5/8/2015 8:17:20 AM MT DPP****:: GM All; Al - Would like to know the details behind your new 4K trading station build. Thanks.
5/8/2015 6:32:04 AM MT Al****:: GM all-good luck today
5/8/2015 5:26:20 AM MT mm****:: gm all - have a great day

9:00 Eastern-System: No comments

---