Chaos Clinic Recap
---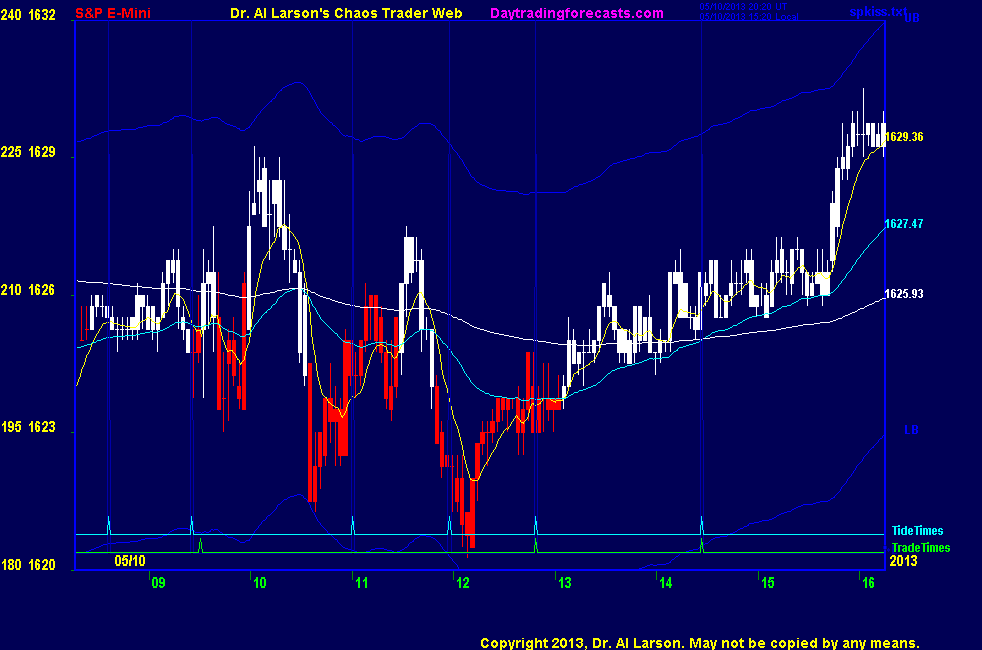 ---
Here are Al's comments
---
1:45 I'm calling it quits. Turned out to be exactly the sort of day anticipated on my video.
Subscribe at http://www.youtube.com/DrAlLarson. Take a course. See you next week. Have a great weekend.
1:19 moving stop on theroetical trade now to 1623
1:11 moving stop on theroetical trade to 1621.5 - lock one point
1:00 now expect to hold up rest of day, but no big rally
12:53 crossing both sides so no hotline trade setups -good day to research the fine grain action
12:33 see my theoretical trade bought 1620.5 stop 1619.5 -ist part of some research I'm doing
12:31 I'm back after a nice breakfast and taking the dogs to the park on a beautiful Rocky Mountain High day
10:57 taking a breakfast break
10:49 here's an experimental theoretic trade - buy limit 1620.5 and sell stop 1619.5
10:47 low may not quite be in-9 point quantum range would be 1620 to 1629
10:45 looking like it got some support - I think it holds up and tried to rally later in the day
10:35 down to the Uranus/Pluto flux-watching for support
10:33 market is still riding along the Moon -T090 flux +/- about 3 points
10:27 this looks like one of those 9 point range days -really hard to make money
10:23 out for -2 ; just too much chop
10:17 stop to 1626.5
10:13 placing sell limit order at 1631-the Moon +T180 electric field flux
10:12 stop to 1626
10:07 bought 1628.5 stop 1625.5
10:05 still watching
9:59 The video is up! http://youtu.be/TTaEr9rpBbU
9:57 not going down
9:53 still chopping-that video is taking longer than I expected
9:45 sitting-looking choppy
9:41 I am currently uploading a video to You Tube at http://youtu.be/TTaEr9rpBbU
I'm still learning how to do this and how long things take
9:34 initial take : flat ; watch
9:32 Trade times 09:31 12:49 14:27
9:00 Good Morning. Welcome to the Chaos Clinic. This site has a lot of charts,
so you may find it useful to have several of them available within your
browser. If you have a tabbed browser, you can open separate charts
in separate tabs by right clicking on any link, and selecting "open in new tab"
from the menu. The main list of site pages is at
http://daytradingforecasts.com/chartlistsec.asp
Recommended pages to watch are SPKISS, MTRainbow, and Chat.
For astro stuff, add SPSunMoonMer, Wheel, and Chaos Clinic.
Chaos clinic comments appear at the bottom of the SPKISS, MTRainbow,
and ChaosClinic pages. Comments in the chat room are announced by a
"duck call" noise. This noise also occurs when the sofware detects a
resonant hex pattern on the Wheel page. Trading tutorials
are on the right side of the ListOfCharts page. One should
read Trading the MoonTide Tutorial and Keep it Simple as a minimum.

---
Besides the comments made by Al, the chat room is has live
comments from other traders who sometimes share their views,
trades and tips. Below are the chat room comments from this clinic
---


5/10/2013 8:49:16 AM MT BBB****:: Have a good one TG. You were luckier than I was - got dinged for 2 up and 2 down.
5/10/2013 8:39:29 AM MT Al****:: sleep well TG
5/10/2013 8:35:32 AM MT Tg****:: They got me coming and going this morning. Luckily out for even each time. Probably calling it an early night.
5/10/2013 8:13:17 AM MT Tg****:: Nice new way to keep the up momentum going. Quick sharp corrections, then start another up fractal. Seems to be happening again.
5/10/2013 8:04:31 AM MT Al****:: no, my stop was not hit
5/10/2013 7:45:14 AM MT BBB****:: Don't think we got down to 1622 Al?
5/10/2013 6:30:09 AM MT mm****:: gm all - have a great day

9:00 Eastern-System: No comments

---