Chaos Clinic Recap
---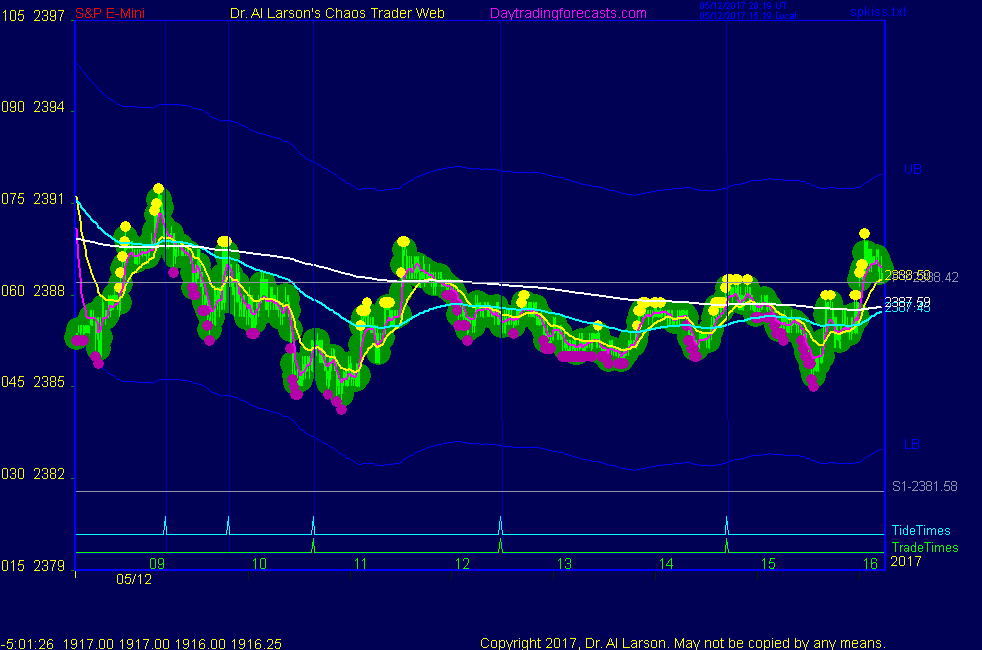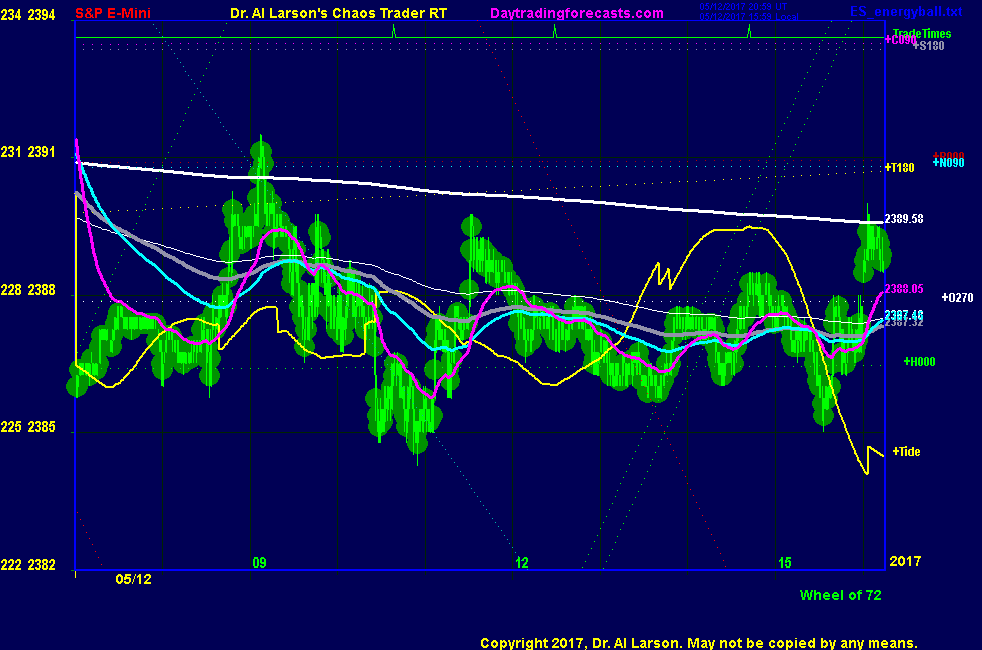 ---
Here are Al's comments
---
3:12 I'm done - thanks for coming-see you next week-take some courses
3:11 out for 0
3:10 stop to 2386.5
3:03 still OK
2:53 just need to be patient here
2:49 added a chart to the CCT room
2:42 looking better - stop to 2386.25 - just under the 110 minute EXMA
2:35 after 2:30 often get a short covering rally
2:33 It's not over 'til the fat lazy sings
2:26 still OK, but not impressed;reset -Tide; stop is in proper place
2:18 not much juice - may get more
2:09 coming to Moon/Mars/Neptune time line bundle-their flux are near 2391
1:55 stop to 2385.5
1:51 stop to 2385
1:48 bought 2386.75 stop 2384.25
1:44 watching for some juice
1:42 coming to the Green Swan
1:28 some minor buying
1:13 on AUX chart I've shifted -Tide left 60 minutes ; shows rally on Green Swan
1:03 watch for some buying to come in about 1:30 Eastern
12:57 a bit of selling but no follow through
12:54 like watching paint dry
12:44 some buying coming out of second trade time
12:40 CCTs: Teamviewer ID in CCT chat room
12:34 back-see I did not miss anything
11:50 taking a breakfast break-looks like last trade of day may be best
11:40 rest of day looks flat to up
11:35 stopped out
11:24 stuck in the mud
11:12 adjusting stop to 2389.5
11:08 looking marginal
10:53 taking a break
10:45 trend is now down - may persist all day
10:35 on the AUX page is my plasma chart-drop produced a gap in the plasma as computers sold the pivot
10:27 sold 2385.5 - broke through FOG center - stop 2388.25
10:27 stopped out
10:24 still OK
10:18 may have jumped too soon, but FOG pattern says up
10:08 bought 2388.75 stop 2385.75
10:05 possible continuation buy setup
10:02 need to be patient - now in the trading window
9:52 not a lot of juice
9:50 holding up
9:46 I have placed a Face 0f God chart in the Certified Chaos Trader's Room. That room is open
to graduates of my 4 main courses. See http://moneytide.com -> Courses for details.
eMylar Fractal of Pi overlays help you be patient, since they show you future potential moves.
The best bargain in my courses is to take the Cash In On Chaos and Fractal of Pi courses and
learn to use the FOP overlay. Then take Chaos Trading Made Easy, and finish with Face Of God.
9:42 no violent sell off like yesterday
9:38 still in trading range-just watching
9:32 modest buying
9:17 Today's pivot prices is 2388.42 - may just trade around that price for a while
9:12 trade has been is 6 point range on today's 24 hour chart and trading inside yesterday
that and nature of MoonTides suggest a trading range market today
9:10 CCTs: Teamviewer ID in CCT chat room
9:00 Today's trade times are 10:39, 12:29, and 14:42
9:00 Good Morning. Welcome to the Chaos Clinic. This site has a lot of charts,
so you may find it useful to have several of them available within your
browser. If you have a tabbed browser, you can open separate charts
in separate tabs by right clicking on any link, and selecting "open in new tab"
from the menu. The main list of site pages is at
http://daytradingforecasts.com/chartlistsec.asp
Recommended pages to watch are SPKISS, MTRainbow, and Chat.
For astro stuff, add SPSunMoonMer, Wheel, and Chaos Clinic.
Chaos clinic comments appear at the bottom of the SPKISS, MTRainbow,
and ChaosClinic pages. Comments in the chat room are announced by a
"duck call" noise. This noise also occurs when the sofware detects a
resonant hex pattern on the Wheel page. Trading tutorials
are on the right side of the ListOfCharts page. One should
read Trading the MoonTide Tutorial and Keep it Simple as a minimum.

---
Besides the comments made by Al, the chat room is has live
comments from other traders who sometimes share their views,
trades and tips. Below are the chat room comments from this clinic
---


5/12/2017 1:34:20 PM MT Al****:: this now fits my XGO scenarion of down into next week
5/12/2017 1:23:14 PM MT TG****:: Hoping this is a bend but not break situation. Drives me nuts that you have to wait so late in the day, often for the mutual fund guys, to at the last minute decide if they are buyers or sellers.
5/12/2017 1:21:12 PM MT TG****:: You too AL
5/12/2017 1:16:24 PM MT Al****:: have a good weekend TG
5/12/2017 12:36:59 PM MT TG****:: I was very tempted to add some more contracts on that retest/ false hook and go. Now looks like a Hook & Hook & Go
5/12/2017 12:28:54 PM MT TG****:: I remember being short on a fractal pattern heading into the flash crash with an active chat session taking place here. I think I got 15 to 20 and felt like a hero only to watch it turn down and drop about 100 more.
5/12/2017 12:19:49 PM MT Al****:: them were the good old days :)
5/12/2017 12:17:08 PM MT TG****:: Yea, like the old days. I remember being with you on some insane moves. 30 - 40 point GO BIG intraday moves.
5/12/2017 11:58:33 AM MT Al****:: Good luck with it-nice to see you with me
5/12/2017 11:53:38 AM MT TG****:: With you on it Al. That last move was too wimpy to be a 7. Started feeling like a 2 after this morning's 1.
5/12/2017 11:51:59 AM MT TG****:: bought 86.75
5/12/2017 11:26:01 AM MT TG****:: Have to be open to both possibilities.
5/12/2017 11:25:06 AM MT TG****:: Big Gap could mean overnight moves accounted for some of the fractal moves and 10:54 is end of 7.
5/12/2017 11:05:54 AM MT Al****:: Thanks TG
5/12/2017 11:01:39 AM MT TG****:: I see this morning's 10:54 EST low as a move 5 low from yesterday's late afternoon high. Would like to see a marginal lower low this afternoon and then a pop back up as a signal.
5/12/2017 9:13:43 AM MT Al****:: GM TG
5/12/2017 9:08:31 AM MT TG****:: Good morning everyone. Good luck today.

9:00 Eastern-System: No comments

---