Chaos Clinic Recap
---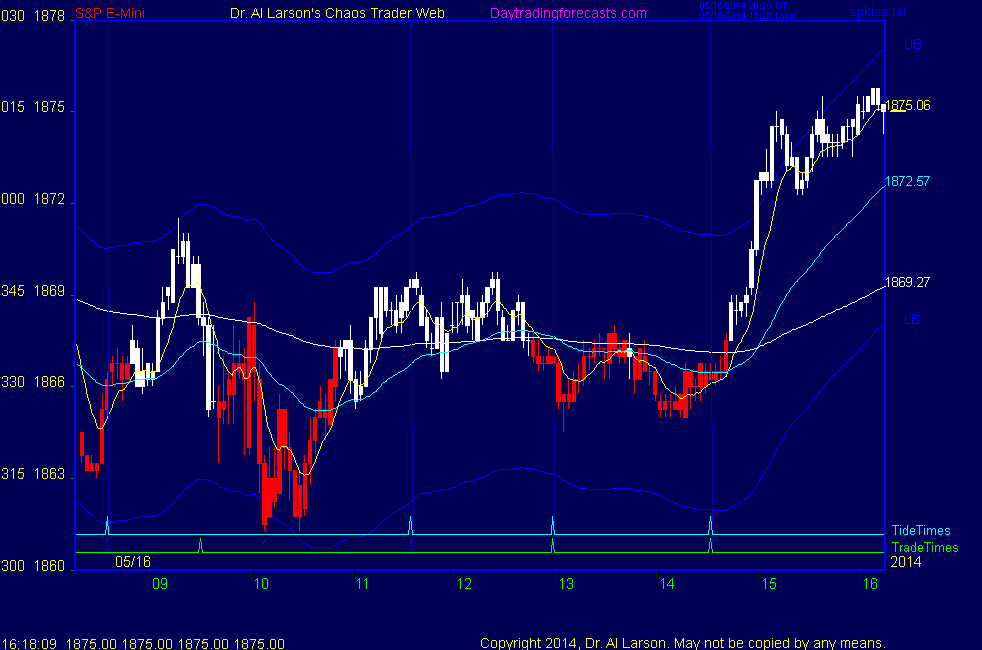 ---
Here are Al's comments
---
1:22 I'm done-not good trading weather-thanks for coming-see you next week-take some courses
1:21 aborted for 0
1:20 gritchy and bitchy
1:03 stop to 69
1:00 selling 66.5 stop 69.5
12:54 getting a 20/110 sell but sitting on 440
12:28 on the Chaos Clinic cahrt we do have a Red Swan coming up in about an hour
12:13 I have placed a Chaos Trading Made Easy chart in the Certified Chaos Trader's Room. That room is open
to graduates of my 4 main courses. See http://moneytide.com -> Courses for details.
eMylar Fractal of Pi overlays help you be patient, since they show you future potential moves.
The best bargain in my courses is to take the Cash In On Chaos and Fractal of Pi courses and
learn to use the FOP overlay. Then take Chaos Trading Made Easy, and finish with Face Of God.
12:06 back - see still pretty congested -both the 110 and 440 EXMA's are flat
11:28 taking a break until near 12:59 trade time
11:03 a horizontal ellipse around the congestion suggests it could end near the last trade time
10:55 on any of the 2 day charts you see a thrust and a congestion; next comes another thrust, but may not be today
10:50 stopped out - some trades are just losses -accept them and move on
10:49 stuck in the mud - not enough action to move my stop
10:29 stop to 1867
10:25 still OK -patience -EXMA's are no longer tangled
10:07 OK, sold 1863.75 stop 1868 for now
9:52 EXMA's are a tangled mess right now-sitting
9:43 putting a sell stop at 1861.5
9:40 440 EXMA is flat-staying out for now
9:37 just watching-not a lot of upside momentum
9:30 trade times are 09:31, 12:59, and 14:32
9:20 today looks like a rebound day ; the question is, "how strong will it be?"
A normal rebound would run 1/3 to 1/2 of the drop, whic was 39.5 points, so about 1873 and 1879
9:19 Good Morning. Welcome to the Chaos Clinic. This site has a lot of charts,
so you may find it useful to have several of them available within your
browser. If you have a tabbed browser, you can open separate charts
in separate tabs by right clicking on any link, and selecting "open in new tab"
from the menu. The main list of site pages is at
http://daytradingforecasts.com/chartlistsec.asp
Recommended pages to watch are SPKISS, MTRainbow, and Chat.
For astro stuff, add SPSunMoonMer, Wheel, and Chaos Clinic.
Chaos clinic comments appear at the bottom of the SPKISS, MTRainbow,
and ChaosClinic pages. Comments in the chat room are announced by a
"duck call" noise. This noise also occurs when the sofware detects a
resonant hex pattern on the Wheel page. Trading tutorials
are on the right side of the ListOfCharts page. One should
read Trading the MoonTide Tutorial and Keep it Simple as a minimum.

---
Besides the comments made by Al, the chat room is has live
comments from other traders who sometimes share their views,
trades and tips. Below are the chat room comments from this clinic
---


5/16/2014 1:37:42 PM MT Sharpe:: Ok, I didn't get in until 70.50 but I got +4 out of this one.
5/16/2014 1:16:31 PM MT Tg:: Have a good weekend everyone.
5/16/2014 1:09:35 PM MT Tg:: Fractal Grid and other CTME tools helped as well.
5/16/2014 1:08:08 PM MT Sharpe:: I was way late on my entry on this trade but I've locked a small profit at least.
5/16/2014 1:01:14 PM MT Tg:: Don't want to jinx it, but that last one was as simple as they get. Bought 66.75 as price started closing above the 110, liked how the 110 exam remained at its lowest point just a hair beyond the tide time.
5/16/2014 12:58:16 PM MT Al****:: I just used my Stargo overlay to find this late rally
5/16/2014 12:50:13 PM MT Al****:: I just use the overlays
5/16/2014 10:19:01 AM MT Sharpe:: Al, do you simply use the eMylar overlay's from your CTME course or do you draw everything by hand like you show in the course? I'm struggling with using the eMylar overlay's from CTME and FOP.
5/16/2014 8:50:34 AM MT jmh:: Nice move down from the 9:31 time area +/-
5/16/2014 8:27:10 AM MT Sharpe:: At the moment, are you going for +9 on this trade Al?
5/16/2014 8:03:21 AM MT Sharpe:: What's the significance of putting your sell stop at 61.50 Al?
5/16/2014 6:10:15 AM MT mm****:: gm all - have a great day

9:00 Eastern-System: No comments

---