Chaos Clinic Recap
---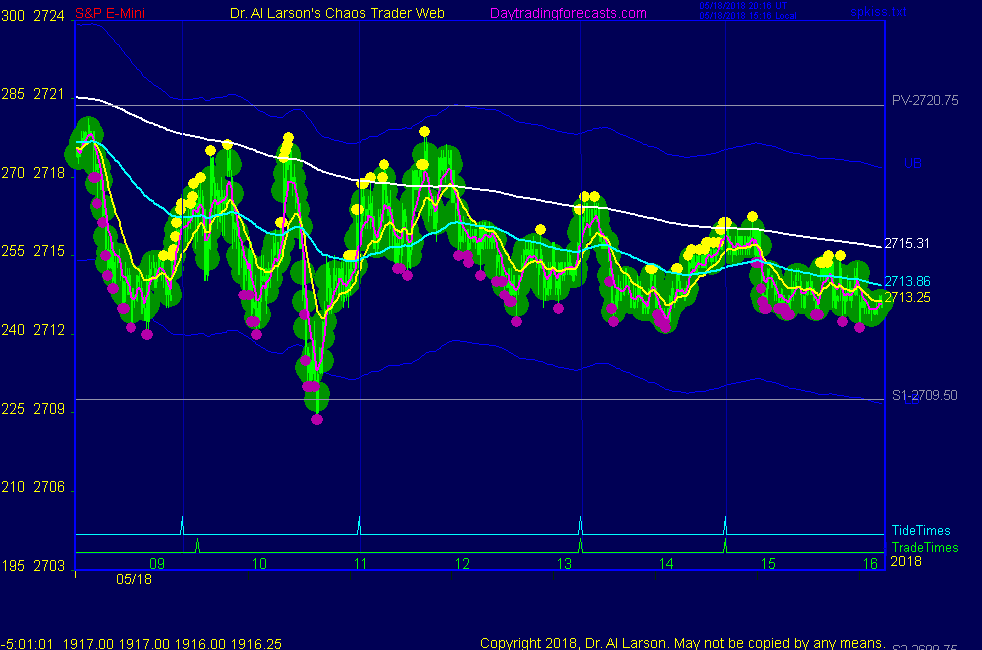 ---
Here are Al's comments
---
1:20 I'm done for the day; too dead; thanks for coming; see you next week; take some courses
1:18 aborting for 0 - not working
1:10 pressure is down
1:03 passed solar noon
12:56 high near 11:40 was above 440, now 220 stopped rally; getting weaker
12:51 minor rally stopped at 220; then got continuation sell
12:35 the EXMAs are curling down
12:29 on my "spiced" two day charts, I see a 1-2-3-4 now in 5 Chaos Clamshell pattern; move 5 is usually biggest
12:26 coming into second trade window; will just carry through
12:15 on the Secrets page, my Daniel chart has a yellow cycle. That cycle is down. I try to trade with that cycle
12:07 such phases can break fast when distribution ends
12:02 what I see is that trade was around 2724 until just after 6:00 Easter, and is now lower, so the trend is down
We seem to be in a "hold it up and distribute" phase
12:00 won't go down, won't go up, this thing is a pup
11:52 trend is weakly down
11:46 stop held
11:37 keep getting selling at the 440 minute EXMA, which is down
11:27 resold at 2716 stop 2720 -my 18 stop was too close; saw that after a short break
11:15 taking a break now-will come back for 13:16 trade
11:13 Out for -2
11:11 stop OK by one tick; a tick is as good as a mile :)
11:06 still OK; choppy
10:55 the 110,220, 1na f 440 EXMAs are steady down
10:48 got buying at s1; lots of chop as the computers jockey for position
10:42 on the Secrets page is my Daniel chart. It shows a magenta star burst near 2722.
These days can be volatile, as today looks to be.
10:40 stop to 2718
10:35 this could turn into a significant break
10:32 looking better
10:26 tested 440 and close-got selling; stop in good place
10:22 up to close again
10:16 treading water
10:05 looking better now-stop to 2720
9:51 still OK
9:43 early Friday trades are hard-need to be patient
9:40 got selling at close price
9:35 sold 2716 stop 2721
9:31 trying to rally to yesterday's close
9:25 The 440 minute EXMA is down, the 20 is up, setting up a possible continuation sell
9:15 the decline followed the green +Tide, bottomed on a Sun electric filed flux line, and is getting
lift from a green Swan
9:10 the market is down. Computers sold the pivot 2720.75 about an hour ago. S1 at 2709.5 is support
9:05 trade times are 9:31, 13:16, and 14:41
9:00 Good Morning. Welcome to the Chaos Clinic. This site has a lot of charts,
so you may find it useful to have several of them available within your
browser. If you have a tabbed browser, you can open separate charts
in separate tabs by right clicking on any link, and selecting "open in new tab"
from the menu. The main list of site pages is at
http://daytradingforecasts.com/chartlistsec.asp
Recommended pages to watch are SPKISS, MTRainbow, and Chat.
For astro stuff, add SPSunMoonMer, Wheel, and Chaos Clinic.
Chaos clinic comments appear at the bottom of the SPKISS, MTRainbow,
and ChaosClinic pages. Comments in the chat room are announced by a
"duck call" noise. This noise also occurs when the sofware detects a
resonant hex pattern on the Wheel page. Trading tutorials
are on the right side of the ListOfCharts page. One should
read Trading the MoonTide Tutorial and Keep it Simple as a minimum.

---
Besides the comments made by Al, the chat room is has live
comments from other traders who sometimes share their views,
trades and tips. Below are the chat room comments from this clinic
---


5/18/2018 12:07:21 PM MT Al****:: my grand daughter just brought me a painting of a rainbow, which looks much like my Daniel chart. She shows the pot of gold down in the right corner
5/18/2018 11:55:42 AM MT TG****:: Options Expiration. Pretty lame market today.
5/18/2018 9:50:21 AM MT djbtrain:: so is Friday a representation of what is offered in the $297 Quarterly SUB
5/18/2018 6:53:59 AM MT Al****:: GM all-good lcuk today

9:00 Eastern-System: No comments

---