---
CHAOS CLINIC RECAP
---
---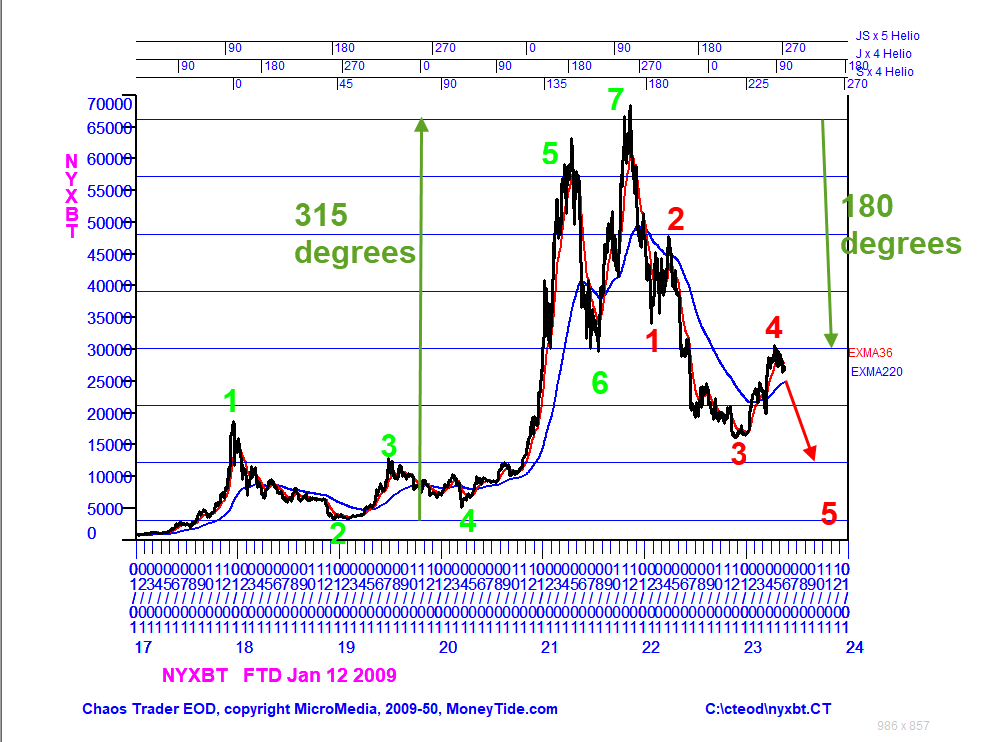 ********************************************************************************
Crypto Resumes It's Fall
Chaos Clinic for 5/19/2023
********************************************************************************

This chart of NYXBT crypto currency shows that it has completed move 4 of 7 in
it's down Chaos Clamshell. This down CC is happening about twice as fast as the
up Chaos Clamshell. The seven swings of this up CC are numbered in green, and
and the down CC in red.

The horizontal lines on the chart are natural vibration levels. They are 45 degrees
apart. The up CC spanned 315 degrees, 7/8 of a circle. From the top, point 4
is down 180 degrees, 1/2 of a circle. Note that point 4 is resistance at
the vibration level near 30000, which was support for point 6 in the up CC.

A move 5 down is likely to go 2 more levels for a 270 degree decline. But how
a move 6 and 7 might develop is not yet clear.

I continue to recommend staying out of crypto currencies for two reasons.
First, crypto has no intrinsic value. It is simply a computed file.
Second, crypto is increasingly an energy hog, driving up pollution,
adding more injury to our already dying planet. See my earlier
Chaos Clinics on crypto for more.

For more on my work and to subscribe to Tomorrow's Market Email Hotline and access to daytradingforecasts.com see
Moneytide.com
Software to plot electric field flux lines in NinjaTrader is available at
energyfieldtrading.com
---

Below is one of the SPKISS charts from daytradingforecasts.com
and the chat room comments from this Chaos Clinic. Most recent comment is on top.
---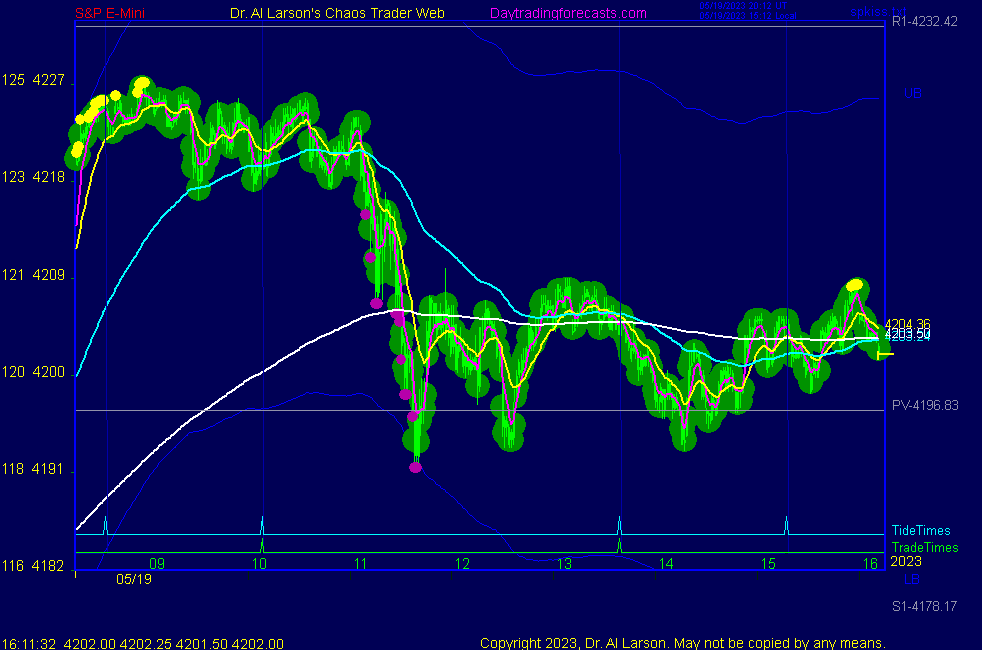 5/19/2023 12:57:02 PM MT Al****:: not going anywhere-I'm done for the day-thanks for coming-take some courses
5/19/2023 12:31:57 PM MT Al****:: it was also stopped by the 110 minute EXMA
5/19/2023 12:29:38 PM MT Al****:: this little bounce was stopped by the white vibe on Secret->esnat72
5/19/2023 11:58:30 AM MT Al****:: 20/110 sell - may catch red swan down
5/19/2023 11:39:58 AM MT Al****:: slow day - 440 down , 220 down at second MoonTide trade time
5/19/2023 10:41:54 AM MT Al****:: regained the +T180
5/19/2023 10:37:11 AM MT Al****:: the -T090 Moon flux ends the day near 4170
5/19/2023 10:33:42 AM MT Al****:: broke that +T180 flux support
5/19/2023 10:30:40 AM MT Al****:: today is a New Moon
during a New Moon the Moon blocks the flow of ions from the Sun
humans feel this as "down energy"
this is why since ancient times military commanders have timed attacks to be on the New Moon
it is dark, your enemy is naturally depressed, so whip up your troops into a wild frenzy and attack!!!
5/19/2023 10:17:20 AM MT Al****:: the 220 minute EXMA turned down on the Moon -T045 electric field flux line
now finding some support on the Moon +T180 flux
5/19/2023 10:14:13 AM MT Al****:: watch chart 3 on SPKISS for the 440 minute EXMA turning solidly down
5/19/2023 10:03:27 AM MT Al****:: since the Node time line was hot, I expect the Moon time line just after solar noon at 13:00 could be hot as well
5/19/2023 9:57:40 AM MT Al****:: paying customers should check out the SP3XGO chart
5/19/2023 9:42:11 AM MT Al****:: note how the 35/220 changed color right at the break
5/19/2023 9:34:39 AM MT Al****:: turned down as the exchange rotated past the Moon's Node followed by Mercury
5/19/2023 8:50:23 AM MT Al****:: this is why some traders say S&P means "Stop And Pee"
5/19/2023 7:59:34 AM MT Al****:: tested that green level ; 35/220 bar coloring still up
5/19/2023 6:52:40 AM MT Al****:: note on Secret->esnat72 the quiet overnight action has based on the green vibration level
a move up to the next green is likely
5/19/2023 6:50:33 AM MT Al****:: you too, oag
5/19/2023 6:41:06 AM MT oag****:: Good morning everyone! Hope everyone has a prosperous day!
5/19/2023 6:00:36 AM MT Al****:: Good Morning visitors. Welcome to the Chaos Clinic. The written Chaos Clinic is on the AUX page.
This site has a lot of charts,
so you may find it useful to have several of them available within your
browser. If you have a tabbed browser, you can open separate charts
in separate tabs by right clicking on any link, and selecting "open in new tab"
from the menu. The main list of site pages is at
http://daytradingforecasts.com/chartlistsec.asp
Recommended pages to watch are SPKISS, MTRainbow, and Chat.
For astro stuff, add SPSunMoon, Wheel, and Chaos Clinic.
A special set of Dr. Al's research charts are on the Secret page.
Comments in the chat room are announced by a
"duck call" noise. This noise also occurs when the software detects a
resonant hex pattern on the Wheel page. MoonTide trading tutorials
are on the right side of the ListOfCharts page. One should
read Trading the MoonTide Tutorial and Keep it Simple as a minimum.
Many subscribers do not strictly trade the MoonTides, but use the charts on this
site as input to their own trading strategies. For example, charts 5 and 6 on the
SPKiss page are a good starting point for swing traders.
Also on this site is the Certified Chaos Trader's Room. That room is open
to graduates of my 4 main courses. See http://moneytide.com -> Courses for details.
9:00 Eastern-System: No comments

---