Chaos Clinic Recap
---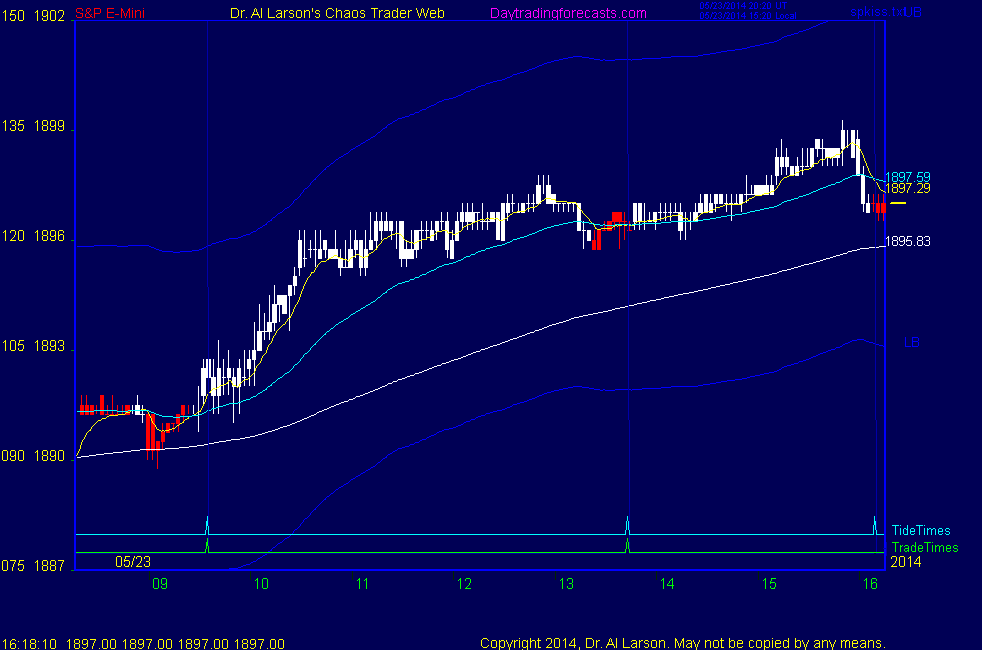 ---
Here are Al's comments
---
10:54 I'm done. It was fun. Got the mun. Thanks for coming. See you next week. Have a great weekend. Take a course.
10:52 don't like this stall-covered for +3.0
10:47 stop to 1894
10:44 Fridays of long weekends often are volatile in the morning and dead in the afternoon.
So if this trade gets me 5, I'll leave the second trade as an exercise for the student
10:36 stop to 1893.25
10:27 stop to 1892.5 ; one tick above break even
10:25 today we have the Moon up and the down flux crossing over. These points are high energy points
10:19 my 5 point cover price is 1897.25; stop to 1892
10:16 stop to 1891
10:15 notice the divergence of the 20,110, and 440 minute EXMAs; this is good
10:09 stop to 1890
10:06 getting some juice as yesterday's highs fall
10:04 looking OK
9:57 now that we have a higher low, a trendline connecting the lows reaches 1897 by the next trade time
9:54 still OK-need to leave stop where it is for now
9:43 support came on the Moon +T045 electric field flux line; next up Moon flux line is near 1899
9:33 continuation buy at 1892.25 stop 1889
9:12 today's trade times are 09:35 and 13:43 -may be a low range day because of the long holiday weekend
9:00 Good Morning. Welcome to the Chaos Clinic. This site has a lot of charts,
so you may find it useful to have several of them available within your
browser. If you have a tabbed browser, you can open separate charts
in separate tabs by right clicking on any link, and selecting "open in new tab"
from the menu. The main list of site pages is at
http://daytradingforecasts.com/chartlistsec.asp
Recommended pages to watch are SPKISS, MTRainbow, and Chat.
For astro stuff, add SPSunMoonMer, Wheel, and Chaos Clinic.
Chaos clinic comments appear at the bottom of the SPKISS, MTRainbow,
and ChaosClinic pages. Comments in the chat room are announced by a
"duck call" noise. This noise also occurs when the sofware detects a
resonant hex pattern on the Wheel page. Trading tutorials
are on the right side of the ListOfCharts page. One should
read Trading the MoonTide Tutorial and Keep it Simple as a minimum.

---
Besides the comments made by Al, the chat room is has live
comments from other traders who sometimes share their views,
trades and tips. Below are the chat room comments from this clinic
---


5/23/2014 6:51:15 AM MT mm****:: gm all - have a great day

9:00 Eastern-System: No comments

---