Chaos Clinic Recap
---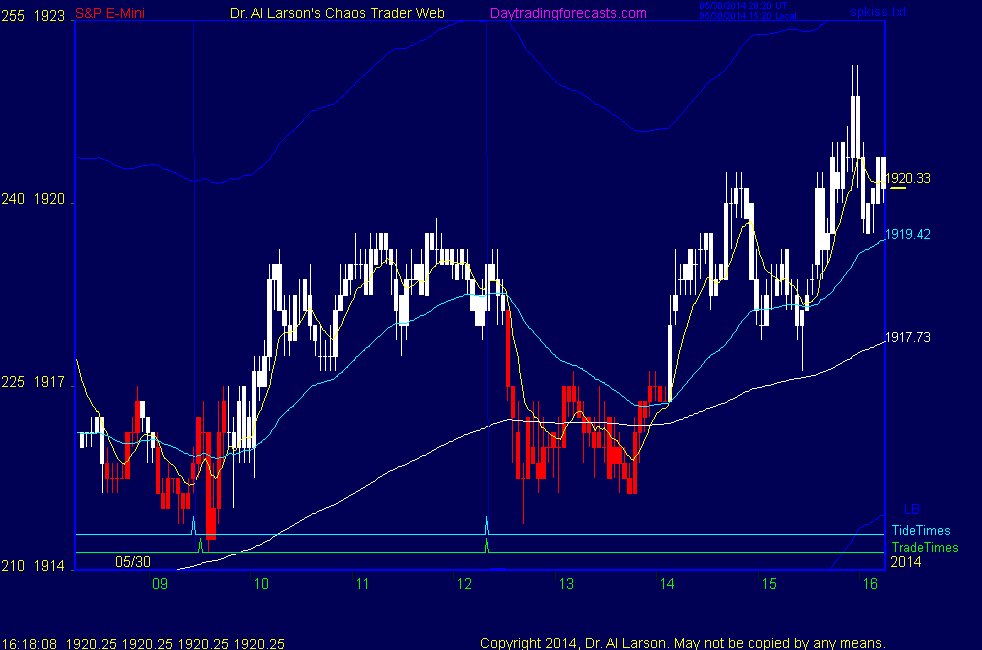 ---
Here are Al's comments
---
11:34 I'm done for the day - thanks for coming ; see you next week ; take some courses
11:32 that was just a red swan tranient - looks like the rest of the day is flat
11:27 looks like the red swan took over
11:26 aborting for +.5
11:23 stop not hit - still OK
11:19 1920.5 will be only a 6 point range - lower than even a dull day
11:18 stop to 1918-cut my potential loss to .5
11:15 if I hit my target, I'm going to pass on the second trade-just not much juice
11:12 geting a drop of juice -Will it make my target?
11:05 stop to 1917.50 - risking one point to make a modest two ; not my favorite risk
to reward ratio but what I think will work
11:00 rode green swan up, now struggling to get past red swan
10:53 back in the money by a tick
10:49 stop held by one tick -so far
10:33 stop to 1917
10:32 that may seem like a conservative target, but if you draw a line throught the las hour of the the 110 minute
EXMA, it only reaches 1920.5 just after the next Tide time
10:26 putting a sell limit at 1920.5 - just going for 2 because of low volatility last two days
10:20 tracking the green +Tide
10:15 stop to 1916.5
10:11 OK, bought 1918.50 stop 1915.50
10:08 testing yesterday's high
9:42 stuck in the trading range -just watching
9:20 the overnight pattern is is a congestion - need a break above 1918.5 or below 1913.5 to
get me interested in trading today
9:03 Today's trade times are 9:31 and 12:20. Volatility has been pathetic the last two days,
so we may not get good trading weather
9:00 Good Morning. Welcome to the Chaos Clinic. This site has a lot of charts,
so you may find it useful to have several of them available within your
browser. If you have a tabbed browser, you can open separate charts
in separate tabs by right clicking on any link, and selecting "open in new tab"
from the menu. The main list of site pages is at
http://daytradingforecasts.com/chartlistsec.asp
Recommended pages to watch are SPKISS, MTRainbow, and Chat.
For astro stuff, add SPSunMoonMer, Wheel, and Chaos Clinic.
Chaos clinic comments appear at the bottom of the SPKISS, MTRainbow,
and ChaosClinic pages. Comments in the chat room are announced by a
"duck call" noise. This noise also occurs when the sofware detects a
resonant hex pattern on the Wheel page. Trading tutorials
are on the right side of the ListOfCharts page. One should
read Trading the MoonTide Tutorial and Keep it Simple as a minimum.

---
Besides the comments made by Al, the chat room is has live
comments from other traders who sometimes share their views,
trades and tips. Below are the chat room comments from this clinic
---


5/30/2014 9:03:40 AM MT Al****:: just watching support and resistance and deciding how many points I wanted to risk to make a modest 2
5/30/2014 8:55:00 AM MT Sharpe****:: How have you been trailing your stop on this current trade Al? When you put it at 1917 what was the thought behind that?
5/30/2014 8:21:03 AM MT Al****:: glad you like it SRJ
5/30/2014 8:15:26 AM MT Sharpe****:: Looks like maybe we are starting to catch a green swan?
5/30/2014 7:07:28 AM MT srj****:: Al the QPFE indicator for Ninja is fantastic.Thanks.
5/30/2014 7:06:42 AM MT srj****:: gm Al, mm.
5/30/2014 6:33:31 AM MT Al****:: GM all-good luck today
5/30/2014 5:45:49 AM MT mm****:: gm all - have a great day

9:00 Eastern-System: No comments

---