---
CHAOS CLINIC RECAP
---
---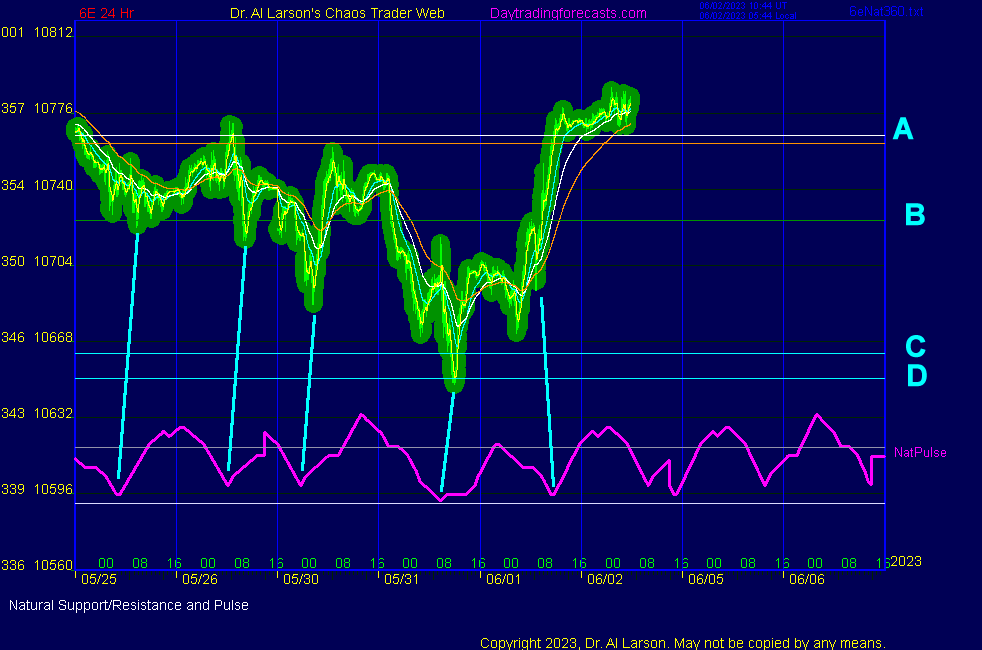 ********************************************************************************
      The Euro Beats On
      Chaos Clinic for 6/2/2023
********************************************************************************

This chart of the Euro 6E futures is from daytradingforecasts.com. It is linked
on the left side of the ListOfCharts page as [ Euro Charts ].

Prices are shown as a plasma chart, which creates a "glow" around prices,
letting one see the detail as well as the larger trend.

In addition to price, there are two other unique features on the chart.

The horizontal lines labeled A, B, C, and D are natural vibration levels.
These tend to be support and resistance levels. The double lines at A
marked the tops in this time frame. while the C D pair marked the low.

The second feature is an energy calculation called natural pulse. It
got its name from the similarity to my EKG chart. While not a perfect
indicator of future prices, it has a good correlation with price.
Lines show the correlation of the lows.

This energy forecast does not use price as an input. It uses only natal
and current planetary information. The formula is for sale for now.

For more on my work and to subscribe to Tomorrow's Market Email Hotline and access to daytradingforecasts.com see
Moneytide.com
Software to plot electric field flux lines in NinjaTrader is available at
energyfieldtrading.com
---

Below is one of the SPKISS charts from daytradingforecasts.com
and the chat room comments from this Chaos Clinic. Most recent comment is on top.
---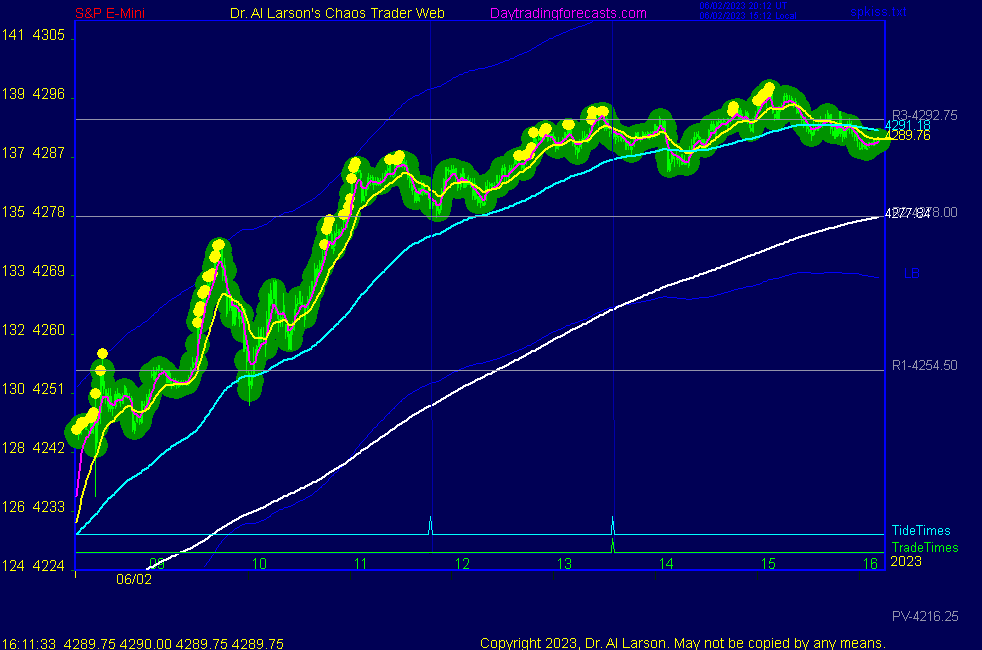 6/2/2023 12:07:19 PM MT Al****:: I'm done-thanks for coming-see you next week-take some courses
6/2/2023 12:06:38 PM MT Al****:: don't like it-aborted for -1
6/2/2023 11:59:15 AM MT Al****:: stop to 4187 - risk now 4 points
6/2/2023 11:57:56 AM MT Al****:: so far trade is just sitting there but 110 held
6/2/2023 11:47:43 AM MT Al****:: testing the 110
6/2/2023 11:29:45 AM MT Al****:: R4 is at 4316 which would be a good cover point
6/2/2023 11:27:33 AM MT Al****:: and stop can now be moved tp 4286
6/2/2023 11:26:44 AM MT Al****:: drawing a line along the 110 exam suggest a price of 4310 so a reasonable risk-reward ratio
6/2/2023 11:10:05 AM MT Al****:: that gives a risk of 9 points
6/2/2023 11:08:45 AM MT Al****:: now, coming into the Moontide trade time, one could buy 4291
6/2/2023 11:04:19 AM MT Al****:: that lets one set a protective stop just below the 110- right now about 4282.0
6/2/2023 11:01:50 AM MT Al****:: here the EXMAs help evaluate the trend - dips have been held by the 110, so it is a strong trend
6/2/2023 10:55:11 AM MT Al****:: making new highs
6/2/2023 10:37:08 AM MT Al****:: today only has one MoonTide trade at 13:35 - it be too late for a good trade if volatility dies off as it does on many Fridays
but the EXMAs can show good trades at other times; for example, near 10:00 chart 3 on SPKISS
page shows a nice 20/110 continuation buy with the 440, 220, and 110 up
I personally took that one for about 15 points
6/2/2023 10:06:42 AM MT Al****:: that chart suggests market holds up along +T090, but volatility will probably decline
6/2/2023 10:03:36 AM MT Al****:: posted a Fractal Of Pi chart in the CCT Room
6/2/2023 9:38:44 AM MT Al****:: on secret->esnat360 have reached the yellow vibe as exchange passed Mercury
6/2/2023 9:28:31 AM MT Al****:: this is the kind of day that the secret->esnat72 chart is most useful
the bars are colored by 36/220 minute EXMA -been white since last night when the Senate passed the bill, got a brief magenta color on the jobs report, then back to white
up one magenta level - could go up two

6/2/2023 9:13:04 AM MT Al****:: just got above Moon +Mh090-may reach +T315
6/2/2023 8:02:16 AM MT Al****:: high set by +Mh090, up 90 degrees from yesterday's low on +Mh000
6/2/2023 7:51:19 AM MT Al****:: note on secret->nat72 jobs report came on vertical magenta line; that added energy;
6/2/2023 7:10:00 AM MT Al****:: yesterday's low came off Moon +T000; jobs low bounced off +T045; +T090 likely today; about 4085 ;all wheel of 1800
6/2/2023 7:04:08 AM MT Al****:: jobs, no default, Nuggets won; things are good
6/2/2023 6:57:26 AM MT Al****:: Good Morning visitors. Welcome to the Chaos Clinic. The written Chaos Clinic is on the AUX page.
This site has a lot of charts,
so you may find it useful to have several of them available within your
browser. If you have a tabbed browser, you can open separate charts
in separate tabs by right clicking on any link, and selecting "open in new tab"
from the menu. The main list of site pages is at
http://daytradingforecasts.com/chartlistsec.asp
Recommended pages to watch are SPKISS, MTRainbow, and Chat.
For astro stuff, add SPSunMoon, Wheel, and Chaos Clinic.
A special set of Dr. Al's research charts are on the Secret page.
Comments in the chat room are announced by a
"duck call" noise. This noise also occurs when the software detects a
resonant hex pattern on the Wheel page. MoonTide trading tutorials
are on the right side of the ListOfCharts page. One should
read Trading the MoonTide Tutorial and Keep it Simple as a minimum.
Many subscribers do not strictly trade the MoonTides, but use the charts on this
site as input to their own trading strategies. For example, charts 5 and 6 on the
SPKiss page are a good starting point for swing traders.
Also on this site is the Certified Chaos Trader's Room. That room is open
to graduates of my 4 main courses. See http://moneytide.com -> Courses for details.

6/2/2023 6:15:31 AM MT oag****:: Good morning everyone! Hope everyone has a prosperous day!
9:00 Eastern-System: No comments

---