Chaos Clinic Recap
---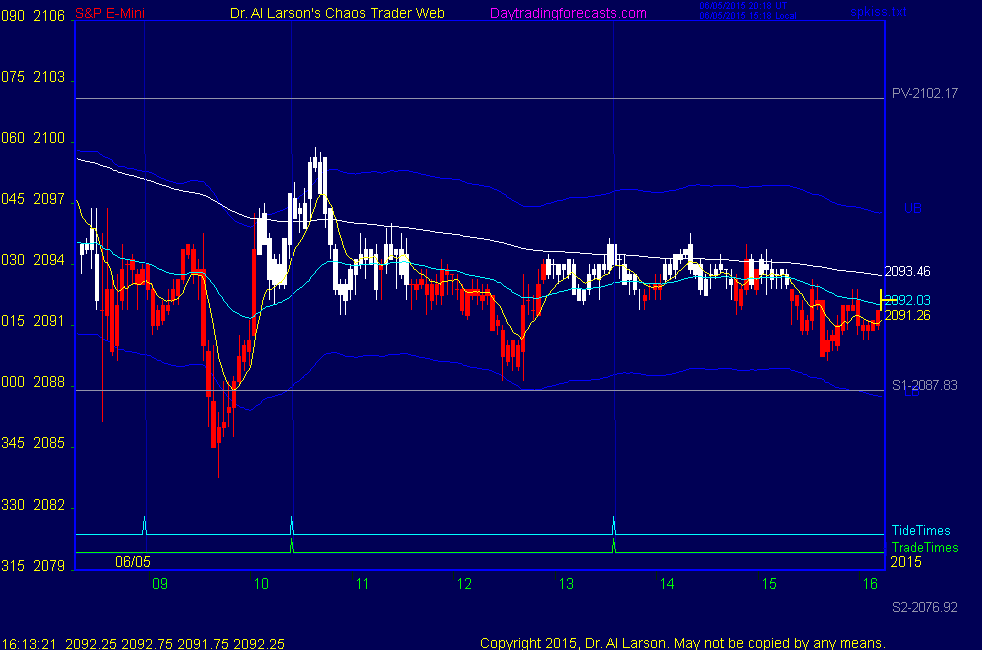 ---
Here are Al's comments
---
2:48 OK, stopped for 0; now really done; thanks for coming; see you next week
2:42 have the Moon T180 timeline near the close; could add energy; minor suppor coming in on the Moon +T090 flux
2:31 after 2:30 many big traders will cover positions; so may see a short covering rally
2:21 now I will just try to hold to close
2:16 stop to 2091.75, break even now that we are up 3
2:12 on any of my time spliced two day charts, you can draw a congestion ellipse around prices from 13:20
yesterday to now- says congestion ending
2:04 the Moon flux pinch set a chaos balance balance price of 2092.5; now the balnce is being broken to the upside
2:01 this stall was produced by a second round of selling 2.5 to 3 hours avter the moning high; market needs to absorb it;
now if hold up, third round of buying can come in lat hour
1:55 had 7 down 3 minute candles, no turning green; still Ok
1:51 still Ok
1:39 updated my Face OF God chart in the CCT Room
1:28 need to get above the 440 minute EXMA to get a good move going
1:20 still Ok; been a tough day but this trade looks OK
1:03 stop to 2091
12:56 stop to 2090.5
12:52 OK, decided not to quit; bought 2091.75 based on strong second round of buying and higher low
12:44 stopped-that was quick; Got chopped again; time to quite; thanks for coming; see you next week
12:40 stop to 2093.5
12:37 morning rally was influenced by Green Swan; this decline being influenced by Green Swan
12:30 sold 2089.5 stop 2094 - downtrend has resumed
12:27 dip passing Mercury time line
12:23 aborted -1 ; did not like that last 3 minute bar
12:19 patience is a virtue; from low have thrust and congestion; another up thrust shluld follow
12:10 this may be it
11:56 watching for that second round of buying
11:43 once the market holds up 2.5 to 3 hours, a second round of buying usually comes in
11:37 trade stuck in mud-FOP says wait
11:17 I have added a Fractal of Pi chart to the CCT Room
11:10 I have placed a Face Of God chart in the Certified Chaos Trader's Room. That room is open
to graduates of my 4 main courses. See http://moneytide.com -> Courses for details.
eMylar Fractal of Pi overlays help you be patient, since they show you future potential moves.
The best bargain in my courses is to take the Cash In On Chaos and Fractal of Pi courses and
learn to use the FOP overlay. Then take Chaos Trading Made Easy, and finish with Face Of God.
11:00 rebought at 2093 stop 2090 based on 50% retrace of up thrust and pullback to Moon flux crossing
10:55 stopped for 0; frustrating, but it is what it is
10:40 stop to 2093, break even
10:26 moving my stop to 2091; green swan caught it; so I'm going to let it run; taking a break
10:23 looking OK; a technique taught in Chaos Trading made easy says rally may reach 2124
10:14 bought 2093 stop 2088 for now
10:10 bounce produced 20/110 buy crossing; waiting a bit
10:07 cranial extraction complete; let myself get whipsawed by that energy pulse
9:55 out again; taking a break to clear my head and pull it out of my ass
9:50 resold 2087 stop 2090
9:46 out -3; entry too late or stop too close
9:41 late, but sold 2085 stop 2088
9:37 testing early low
9:23 looks like following green +Tide
9:15 trade times are 10:25 and 13:35
9:03 on the Chaos Clinic chart, at the bottom, is a magenta XTide line. It shows an energy pulse near 10:00.
All week this pulse has created some early fast moves.
Today we also have a Moon flux crossover near 11:15; this can produce a change in trend.
Finally, the early trading low bounced off a rising green swan. All this says we may see an early rally attempt.
9:02 got a modest reaction to a better than expected jobs report
9:00 Good Morning. Welcome to the Chaos Clinic. This site has a lot of charts,
so you may find it useful to have several of them available within your
browser. If you have a tabbed browser, you can open separate charts
in separate tabs by right clicking on any link, and selecting "open in new tab"
from the menu. The main list of site pages is at
http://daytradingforecasts.com/chartlistsec.asp
Recommended pages to watch are SPKISS, MTRainbow, and Chat.
For astro stuff, add SPSunMoonMer, Wheel, and Chaos Clinic.
Chaos clinic comments appear at the bottom of the SPKISS, MTRainbow,
and ChaosClinic pages. Comments in the chat room are announced by a
"duck call" noise. This noise also occurs when the sofware detects a
resonant hex pattern on the Wheel page. Trading tutorials
are on the right side of the ListOfCharts page. One should
read Trading the MoonTide Tutorial and Keep it Simple as a minimum.

---
Besides the comments made by Al, the chat room is has live
comments from other traders who sometimes share their views,
trades and tips. Below are the chat room comments from this clinic
---


6/5/2015 7:22:50 AM MT mm****:: gm all - have a great day

9:00 Eastern-System: No comments

---