---
CHAOS CLINIC RECAP
---
---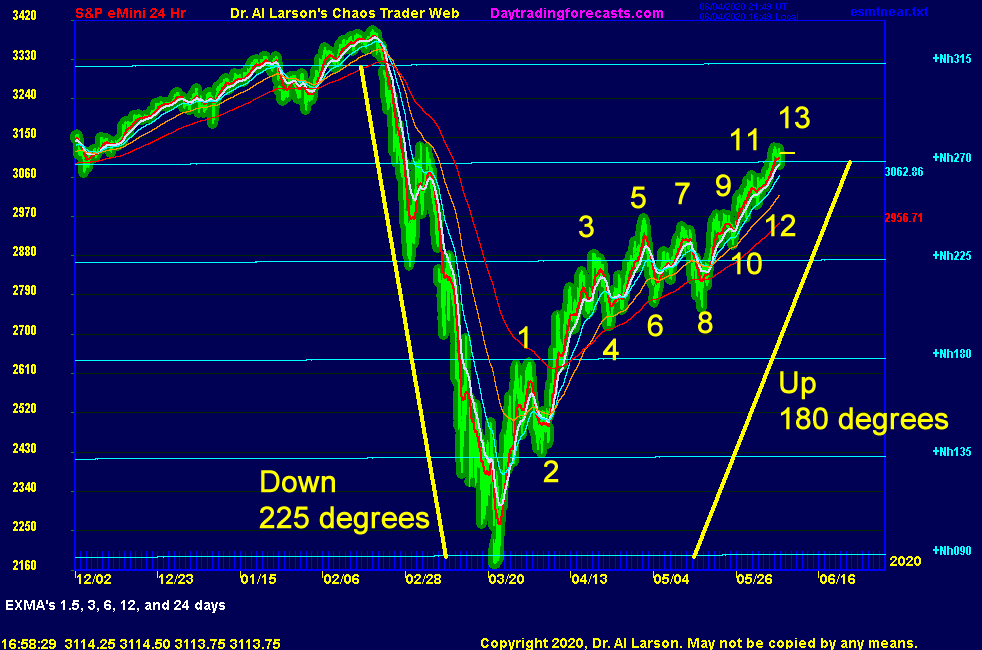 ********************************************************************************
S&P Hits A Major Chord
Chaos Clinic for 6/5/2020
********************************************************************************

This chart shows the S&P futures, overlaid with the heliocentric Neptune
electric field flux lines, plotted every 45 degrees. The Covid-19 drop
went down 5 of these levels, for a 225 degree decline.

The following rally has now gone up 4 levels, or 180 degrees. In music, this
4:5 ratio, between the C and E note, is called the C major chord. It shows
up in markets as well as msic.

This rebound rally has an interesting pattern. Normally there are 7 moves is a
Chaos Clamshell, but some do extend to more. The most common of these is 13 moves.
Using the red 1.5 day EXMA to help define a count, I have labeled a possible 13 moves in this rally.

This suggests a possible downturn ahead. But that needs to confirmed by a downturn is the EXMAs.

For more on my work, see Moneytide.com
---

Below is one of the SPKISS charts from daytradingforecasts.com
and the chat room comments from this Chaos Clinic. Most recent comment is on top.
---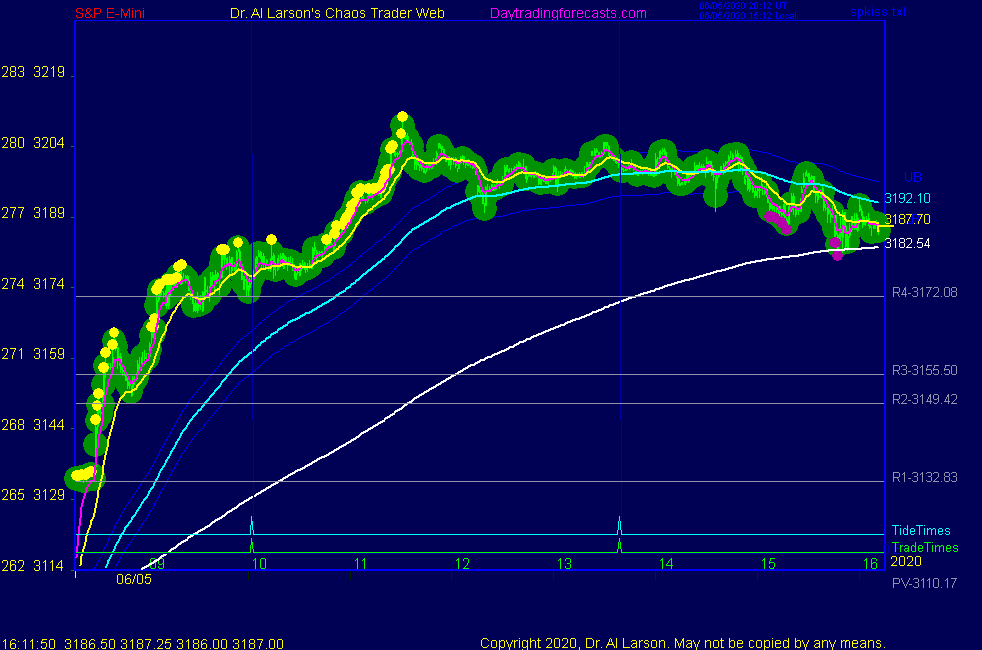 6/5/2020 2:16:39 PM MT TG****:: Have a great weekend everyone
6/5/2020 1:56:38 PM MT jbs****:: Three rejections from the 440 EMA support. Starting to feel the down action is done. We shall see.
6/5/2020 1:46:38 PM MT Al****:: sorry TG, you got eclipsed-been there done that :)
6/5/2020 1:45:38 PM MT Al****:: lunar eclipse: Moon hiding Sun; key word is HIDING
pros saying they don't understand how the jobs numbers are so far off estimates - what is being hidden?
6/5/2020 1:34:00 PM MT TG****:: got stopped for a small loss. Still see this as a flag pattern. taking another stab at a long.
6/5/2020 1:19:22 PM MT Al****:: thanks for noting that BEW - eclipses can mark major turns
6/5/2020 1:04:59 PM MT bew:: eclipse is right now
6/5/2020 12:50:46 PM MT TG****:: I'm talking about days such as this one where there is a large gap up relative to the prior day's afternoon range and a breakout to a multi-week high with 55 and 110 exmas providing support throughout most of the day.
6/5/2020 12:48:17 PM MT TG****:: Only thing I would add Al is that the upside today is a new breakout high and the correction has been only sideways with no clean 20/110 downside break. An afternoon tag of the 220 is often a place one can enter. There is usually at least a decent bounce from that level and a retest of the daily highs if not a break to new highs.
6/5/2020 12:45:48 PM MT jbs****:: Daniel chart shows vertical line about 4 pm. So, maybe the market will sell off a bit in the final minutes of the day.
6/5/2020 12:28:18 PM MT TG****:: Meanwhile I'm buying the little hook and go at the back end of the tide window. On the ES its more of a pinch and go with the crossover only taking place on the 20/55. If you can't beat 'em join 'em
6/5/2020 12:22:47 PM MT Al****:: I'm passing on second MoonTide trade due to low volatility. Done for the day. Have a good weekend, Stay safe!
6/5/2020 11:52:19 AM MT Al****:: love Old Chicago, but they may not survive; AMC says they may not-so many businesses are based on gathering people together
As all of those restructure, things will change
our consumer economy is in trouble when the savings rate is skyrocketing because of the uncertainty
6/5/2020 11:46:32 AM MT Al****:: so many companies worldwide are now looking at possible bankruptcy
6/5/2020 11:43:38 AM MT Al****:: I agree TG - Ray Dalio of Bridgewater has done well using a debt cycle model rather than a business cycle model
growth by borrowing money works , until the companies have trouble servicing their debts. The real problem comes when the banks will no longer loan money.
6/5/2020 11:33:50 AM MT TG****:: I think clearly the Central Banks are buyers at times as they seem fit and their is no limit on their ability to buy. A slippery slope from short term govt debt manipulation to medium term and longer term, currencies, corporate debt and corporate equities.
6/5/2020 11:27:49 AM MT Al****:: This is what I meant by my early comment about the market going flat after the rally ran its course
6/5/2020 10:51:51 AM MT Al****:: Yes, it's been a long time - sort of like a dinosaur reunion :)
Before overnight trading and extended hours, all trades were publicly visible. There was always some manipulation by the big guys. Now with electronic trading and dark pools, what they do overnight is largely invisible except in the futures, where the volume no longer helps you qualify the price movement.
6/5/2020 10:43:42 AM MT Al****:: I have placed a Fireball chart in the Certified Chaos Trader's Room. That room is open
to graduates of my 4 main courses. See http://moneytide.com -> Courses for details.
eMylar Fractal of Pi overlays help you be patient, since they show you future potential moves.
The best bargain in my courses is to take the Cash In On Chaos and Fractal of Pi courses and
learn to use the FOP overlay. Then take Chaos Trading Made Easy, and finish with Face Of God.
6/5/2020 10:13:02 AM MT TG****:: Not sure about your theory Doc. To an extent, I think so. I mean futures are the tail that wags the dog and it's easiest to manipulate them during thin overnight volume. But that's seems to have been taking place for at least 20 years. By the way, how time flies. I think I've been following your work for 17 to 18 years now.
6/5/2020 10:07:14 AM MT TG****:: The NQ futures, which I've traded most often lately had a tricky spliced FG pattern this morning. The ES was actually quite straight forward.
6/5/2020 10:06:29 AM MT Al****:: my theory is that the big firms got caught by the down turn and have been using the dark pools to move prices higher mostly overnight so they can get out at decent prices - biggest disconnect I've ever seen between Wall Street and Main Street
next movement to come back may be the Occupy Wall Street movement
6/5/2020 10:05:52 AM MT TG****:: Yea, just a couple. about 25% of workforce. instead of LOL it's Crying OL.
6/5/2020 10:01:24 AM MT Al****:: Hi TG, good to see you. Know what you mean about grocery shopping
I'm just watching so far-hard to believe we have a big rally when only a couple of million people lost their jobs
6/5/2020 10:00:26 AM MT TG****:: So are markets still free or like "free speech", maybe they're just free within a range.
6/5/2020 9:58:25 AM MT TG****:: So the NDX 100 (NQ futures) are at a new all time high and the Nasdaq Composite is at a double top about to break out as well. Weird. Hard to call that a bear market or start of a depression though unemployment is at ultra depressing rates.
6/5/2020 9:55:24 AM MT TG****:: Thought I'd be home in time for the open or trade time 1. Algos beat me to it though I don't know that I'd of done well with that pattern anyway. Might of been more frustrating going one way then attempting to chase another.
6/5/2020 9:53:27 AM MT TG****:: Good morning everyone. Well, I went grocery shopping early this morning. That used to be a nice errand to run, not so much anymore.
6/5/2020 9:29:18 AM MT jbs****:: Nice "buy low at 11 on gap up".
6/5/2020 8:32:01 AM MT bew:: Al - Any thoughts on the Lunar eclipse this afternoon?
6/5/2020 8:23:53 AM MT Al****:: this kind of early movement screws up the EXMAs used for the MoonTide trades, so the first trade should be a pass
6/5/2020 8:22:15 AM MT Al****:: note on Secret->eswnat72 the report rally went from green to green vibration level
6/5/2020 8:20:47 AM MT Al****:: Employment reports are widely traded by computers. The algos take profits and quit when the price momentum stalls. The rest of the day is often dead
6/5/2020 7:14:02 AM MT Al****:: GM all-good luck today
Chaos Clinic posted on AUX page
Employment report rally has prices overbought
6/5/2020 6:56:09 AM MT jbs****:: Price found support at 3150 which is recent support area and 38.2% Fib retrace.
6/5/2020 6:43:02 AM MT jbs****:: qq, how well does XTides2Plus serve you for option trading?
6/5/2020 6:39:24 AM MT jbs****:: The "gap up, buy low at 11" tendency applies today. Regarding the tendency, "Gap up, buy low at 11", I looked at 10 years of ES price gaps from 1700 to 915. There were 1,362 gaps up and 1,124 gaps down. Of the 1,362 gaps up, buy at 11 and covering at 3 would have resulted in 58% winning trades. For the year 2020 (thru May 21st), there were 52 gaps up and buying at 11 and covering at 3 would have resulted in 62% winning trades. Note that covering at 3 pm was arbitrary just for this analysis.
6/5/2020 6:36:10 AM MT jbs****:: Looks like there was a favorable Non-Farm Employment Change report this morning. Total non-farm payroll employment rose by 2.5 million in May, and the unemployment rate declined to 13.3 percent, the U.S. Bureau of Labor Statistics reported today.
6/5/2020 6:21:14 AM MT qq:: XTides2Plus not working at this time.
9:00 Eastern-System: No comments

---