Chaos Clinic Recap
---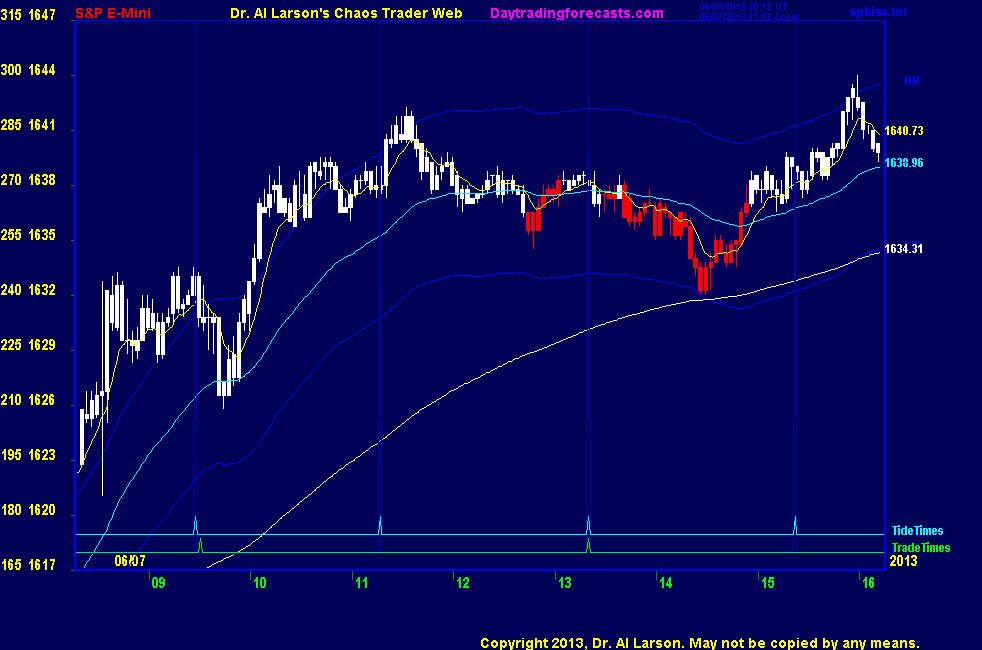 ---
Here are Al's comments
---
11:35 charts still not working right-I'm going to have to cancel the rest of the Chaos Clinic-Sorry
Thanks for coming. See you next week. Take a course.
11:02 back up-charts should be coming up progressively-taking a breakfast break
10:47 I am sorry, but I will have to reboot my server. You may need to log in again after the reboot.
10:42 still working on charts-see them on my server but not in my browser -TECHNOCRAP
10:30 seem to be having a problem with the charts - checking into it
10:14 Friday early trades are tough, so I'm happy to get a decent one
now I can just wait until the next trade time
10:11 out for +5 ; not trying for more because this is an extended move
10:08 stop 1634
10:06 will sell 1638; stop to 1633
10:05 stop 1632
10:04 stop 1631
10:02 continuation buy - bought 1633 stop 1630
9:56 yesterday's spike low came on Mars +R000/Neptune +N090 flux; today's high 36 point higher, 180 degree move
to +R180/+N270
9:48 tradeing between the Moon +T180 and -T090 electric field flux lines - a congestion zone
so I'm sitting on my hands
9:40 high set by Moon, Mars , and Neptune; Moon conjoin Mars square Neptune today; Market AstroPhysics in action
9:36 just watching for now - the sort of momentum we have coming up from yesterday's low at solar noon
usually holds prices up in the morning-so probably no big drop, and most of the rally is probably done
today's trade times are 09:31 and 13:20 ; the first may not be useful due to the over bought conditon from the news report and yesterday's rally.
9:20 Good Morning. Welcome to the Chaos Clinic. This site has a lot of charts,
so you may find it useful to have several of them available within your
browser. If you have a tabbed browser, you can open separate charts
in separate tabs by right clicking on any link, and selecting "open in new tab"
from the menu. The main list of site pages is at
http://daytradingforecasts.com/chartlistsec.asp
Recommended pages to watch are SPKISS, MTRainbow, and Chat.
For astro stuff, add SPSunMoonMer, Wheel, and Chaos Clinic.
Chaos clinic comments appear at the bottom of the SPKISS, MTRainbow,
and ChaosClinic pages. Comments in the chat room are announced by a
"duck call" noise. This noise also occurs when the sofware detects a
resonant hex pattern on the Wheel page. Trading tutorials
are on the right side of the ListOfCharts page. One should
read Trading the MoonTide Tutorial and Keep it Simple as a minimum.

---
Besides the comments made by Al, the chat room is has live
comments from other traders who sometimes share their views,
trades and tips. Below are the chat room comments from this clinic
---


6/7/2013 6:39:16 AM MT Al****:: GM all-good luck today
6/7/2013 5:55:41 AM MT mm****:: gm all - have a great day

9:00 Eastern-System: No comments

---