Chaos Clinic Recap
---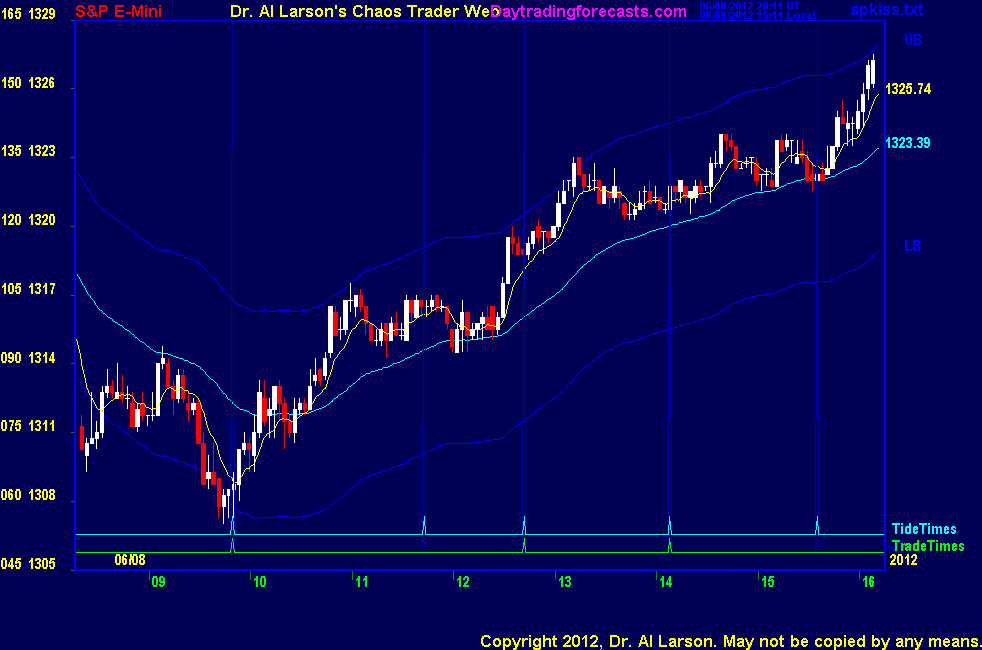 ---
Here are Al's comments
---
2:11 I'm done. See you next week. Thnaks for coming. Take 4 courses.
2:06 Today I had 3 small wins +1,+3, and +1.75, net +5.75 ; 1 contract that is $287.5, 10 is $2875, and 100
contracts is $28750. Size does matter. Independenc from any day job requires you work your way up to trading
10 to 100 contracts consistantly.
2:05 OK, punting and taking +1.75 - may be more but I must go
1:55 I have to leave in about 20 minutes, so if I'm not stopped out I will just cover
1:51 coming into the next trade time -looking like it will hold up and follow green +Tide
1:44 will my stop hold up?
1:33 still OK
1:16 stop to 1320
1:12 stop to 1319.5, locking .5
1:08 I will cover at 1324 if we get there, just because I will have to leave
1:06 stop to 1318.5, at the 55 minute EXMA
1:03 I have placed a Face of God chart in the Certified Chaos Trader's Room. That room is open
to graduates of my 4 main courses. See http://moneytide.com -> Courses for details.
eMylar Fractal of Pi overlays help you be patient, since they show you future potential moves.
The best bargain in my courses is to take the Cash In On Chaos and Fractal of Pi courses and
learn to use the FOP overlay
12:57 stll OK
12:44 OK, bought 1319 stop 1316
12:41 I'm back - see got a 20/110 buy setup -not chasing since I wasn't watching
12:00 taking a breakfast break
11:58 OK, covered on stall for +3
11:54 the 110 EXMA is moving about 2 points per hour, about 2/3 of a good rate means be patient
11:49 stop to 1314, lock 1.5
11:43 so far followed the red -Tide-watching to see if switch to the green +Tide
11:34 stop to 1313.5 - lock 1 point
11:21 just watching and waiting -trend of day is up, I have a no loss position, I can wait
11:01 got above the 440 EXMA on the MTRainbow chart
10:59 stop to 1313 - will try for 9 , which is 1321.5
10:53 the next Tide time is 11:43, so I'm trying to hold until then
10:49 stop to 1312.5 - breakeven
10:47 there is the juice, stop to 1311
10:37 still OK
10:33 20 EXMA up to the 110 - watching for juice
10:28 still OK-trying to be patient
10:19 I am still using the June contract - forgot to rollover; distracted by a medical problem with my wife
nothing serious, but distracting
10:17 so far, OK
10:12 110 EXMA has curled up, which is good
10:07 pressing a bit, bought 1312.5 stop 1309.5 - 20/55 crossing
10:01 maybe after all the energy from a lunar eclipse and a Venus Sun transit, everyone is worn out
10:00 watching for a possible buy setup - would take some juice which seems to be absent today
9:57 looks like rest of day is up to flat
9:54 these early Friday trades make me nervous
9:52 aborting for +1 - bottom wicks on 3 3 minute candles
9:50 at exact Tide time-stop is tight-watching 20 EXMA for any sign of turning up
9:46 stop 1310 - will cover 1305 if get there
9:44 stop 1311
9:41 sold 1309 stop 1312
9:35 early selling with a 110/20 continuation sell - waiting a bit - early Friday head fakes are common
9:31 I expect a narrow range today as the market consolidates after a big up week.
9:26 Today's trade times are 09:50, 12:42, and 14:08 . I have to leave before the last one to pick up my daughter from the airport.
9:17 Good Morning. Welcome to the Chaos Clinic. This site has a lot of charts,
so you may find it useful to have several of them available within your
browser. If you have a tabbed browser, you can open separate charts
in separate tabs by right clicking on any link, and selecting "open in new tab"
from the menu. The main list of site pages is at
http://daytradingforecasts.com/chartlistsec.asp
Recommended pages to watch are SPKISS, MTRainbow, and Chat.
For astro stuff, add SPSunMoonMer, Wheel, and Chaos Clinic.
Chaos clinic comments appear at the bottom of the SPKISS, MTRainbow,
and ChaosClinic pages. Comments in the chat room are announced by a
"duck call" noise. This noise also occurs when the sofware detects a
resonant hex pattern on the Wheel page. Trading tutorials
are on the righty side of the ListOfCharts page. One should
read Trading the MoonTide Tutorial and Keep it Simple as a minimum.
9:00 Good morning from Chaos Manor


---
Besides the comments made by Al, the chat room is has live
comments from other traders who sometimes share their views,
trades and tips. Below are the chat room comments from this clinic
---


6/8/2012 1:43:04 PM MT sdg:: Wife says same thing; why not do both. 1.I have a long commute (60 miles 1-way) and 2. I long for the freedom and independence! Going through a cutback in 2005 really opened my eyes.
6/8/2012 1:38:53 PM MT BBB****:: I too would love to do this full time, but for now I just make my mortgage payment each month and am happy with that. I have a great income in my occupation, and love to learn something new every day. Finding Al has made me love sitting down at my desk every day again.
6/8/2012 1:26:48 PM MT MK:: BBB- small world I live in orange tx. It is nice to see were everyone is from
6/8/2012 1:16:19 PM MT sdg:: BBB - Thanks! Did the CFA and CMT as well. Given Al's descriptions, CTME would likely be the place to start...now to find the extra $$! Trying to commit to consistent profitability, enough to work for myself in the not-to-distanct future.
6/8/2012 1:11:06 PM MT BBB****:: Sdg - it was the Berkley Front. I have done the CFA and I have taught technical analysis at the Universtity level as the Professor during my Masters was all Fundamental and my class portfolio killed it, so he asked me to. I can honestly say that nothing even approaches the courses Al has put together. The information is key and I have been perusing Chaos Trading Made Easy all day today. The Fractal of Pi is an essential tool as well - it is astounding to watch things unfold. I do admit that I am not very good at Face of God and, without saying too much, I do just need to work at it. The info in Cash in on Chaos is essential as well.
6/8/2012 1:09:12 PM MT sdg:: will short 21.25 for a scalp if it comes.
6/8/2012 1:06:43 PM MT sdg:: BBB - how subjective do you find the courses? I understand the art/science aspect. Would imagine, given Al's background, mostly objective though some may be open to interpretation.
6/8/2012 1:01:55 PM MT sdg:: I have been a Friday lurker for over 10 years. Will speak to the wife this weekend about the hotline subscription and take it from there. This is stuff not taught in the CFA or CMT programs.
6/8/2012 1:00:20 PM MT BBB****:: I am out at 22. Nice day everyone. sdg - I live in the Heights north of Downtown. Too bad we can't all do a MoonTide happy hour somewhere once a year!
6/8/2012 12:59:25 PM MT sdg:: Quite a few of those, likely in Greektown. Heading to Houston/Spring to visit friends (Godson's birthday) then maybe Padre for a few days.
6/8/2012 12:58:01 PM MT BBB****:: sdg - I am in Houston Texas. I have client's in Detroit that work for MSFT though. I was up there at the end of last February and they took me to eat and have some beers at some awesome place downtown. Old building and restaurant and the inside looks like it was assembled by dockworkers. Live music on Saturday nights. Can't remember the name...
6/8/2012 12:55:48 PM MT sdg:: Oops, should have guessed Tx based on the previous comments. Heading that way in 3 weeks.
6/8/2012 12:52:07 PM MT sdg:: BBB - you in NYC? I am in metro Detroit.
6/8/2012 12:49:01 PM MT sdg:: Should read bad week. Yesterday mid-day high was 25, may keep a lid on the rest of the day.
6/8/2012 12:47:42 PM MT sdg:: Stop out for a point, was playing it tight...more trades for more days. Bad ticket and traffic ticket this morning messing with my head.
6/8/2012 12:44:13 PM MT sdg:: GOt 21.75 and holding
6/8/2012 12:42:35 PM MT Tg****:: Thanks for the clinic Al. The two bargain courses Al mentioned are great but the clinic and many comments in the past clinics are free and loaded with useful info. Too tired to carry on. Good night.
6/8/2012 12:39:59 PM MT BBB****:: so where do we think this one is going - I bot 1321 for third time and hung on through the chop, but think I am just going to go for 5 on this one.
6/8/2012 12:05:53 PM MT BBB****:: Citi was the death of SB. I had been at Morgan Stanley, and moved to SB in 2004 after MS shut down their Texas Muni tradin desk. When MS bought SB in 2008-2009, I had to get out of there again. My business was cut in half when they started trading Texas bonds out of New York. Big firms can be so asinine it is staggering.
6/8/2012 12:01:14 PM MT Tg****:: I was at Smith Barney from 1996-98. I sort of liked it then but they merged with Sol Bros and I left. Probably different culture post merger. Merrill was the pits in my experience, run by overpaid morons right into the ground. I remember them launching a huge multibillion internet fund a few weeks before the March 2000 tech top.
6/8/2012 11:52:41 AM MT sdg:: Still in the biz, managing investments for an RIA.
6/8/2012 11:51:10 AM MT BBB****:: I was at SB from 2004-2009. Hate that place.
6/8/2012 11:43:42 AM MT Tg****:: I was an equity/fundamentals analyst for 15 years. Stops at Smith Barney, Oppenheimer, Merrill Lynch.
6/8/2012 11:39:36 AM MT BBB****:: I have been a muni bond broker for 12 years. I wish I had found Al back in 2000 when I started. Would be a lot better off today if I had. Not to mention I would have sent everyone I know to his site.
6/8/2012 11:35:53 AM MT Tg****:: I think I started lurking on Friday's back during the 2000 to 2002 bear market. I think I found my way to him via the moneytide.com web pg and his nice Japan stock market call and chart on that site. I probably started subscribing around 2003 or so, I believe. I've switched methodologies a few times. I used to try to take a trade on every moontide timing. Lately I've become a lot more selective.
6/8/2012 11:32:12 AM MT BBB****:: Got out for +5, nice trade Tg.
6/8/2012 11:24:01 AM MT Tg****:: locking 9, have a cover at +12.
6/8/2012 11:20:57 AM MT BBB****:: or methodology - sounds better than "system"
6/8/2012 11:20:39 AM MT BBB****:: Gotcha - how long have you been trading Al's system?
6/8/2012 11:18:26 AM MT Tg****:: Just a temporary work assingment for 2-4 years...not mine, my wife's. I just day trade...I mean night trade. She works for today's bills, I trade for our retirement and the eventual college tuition bills.
6/8/2012 11:11:35 AM MT BBB****:: Can I ask why you moved your family there? I know it is stable financial location, but wondering if that was part of it or had nothing to do with it. We are thinking of moving to Costa Rica in the next few years...
6/8/2012 11:09:40 AM MT Tg****:: Yes, still in and still here. But going back to NJ on 6/25 to the end of July.
6/8/2012 11:08:22 AM MT sdg:: Boat came in on that trade...I was at the airport;-)
6/8/2012 11:02:42 AM MT BBB****:: Nice trade so far Tg - I got out for a small gain - you are in Singapore right?
6/8/2012 10:52:49 AM MT Tg****:: still holding initial position from 5.25.
6/8/2012 10:39:15 AM MT BBB****:: took the continuation buy at 17.75 on old contract, 11.75 on the new one.
6/8/2012 10:36:26 AM MT Tg****:: BBB, Yes to your question. But 4 to 5 transition was tricky. Al says it's crazy Harry, conductor of the S&P train. I like baseball analogies. Trading is like standing at home plate against a pitcher with nasty stuff, he's tossing curves and sliders and knucklers. Have to wait for a good pitch to hit.
6/8/2012 10:03:51 AM MT Tg****:: I don't know, I think the more pressing question is, is this really move 1 off of a completed down fractal yesterday, or is this move 4 of that fractal from yesterday's top. I don't clearly see 7 moves from that top, more like a 1-2-3. Haven't put a FOP overlay on it though or looked at the 24 hour picture.
6/8/2012 9:37:02 AM MT BBB****:: Would you all say this is move 5 of 7 setting up from the bottom?
6/8/2012 9:32:43 AM MT Al****:: TG-yes. I've done that, expecially if I thought it was part of a larger fractal
6/8/2012 9:29:51 AM MT Tg****:: Al, do you ever just say, hay I'm in early on what looks like a move 1 after a completed fractal from prior day. Let me just hold to the close. Many times I thought about it and didn't do it only to see there was a +18-20 there. Everytime I actually did it and passed on the 7-9 area I whished I'd taken the sure thing.
6/8/2012 9:11:47 AM MT Tg****:: I was going to say roughly the same thing Al. I am cognizant of the economic and news releases that send those damn hegefund computers into a frenzy though. Like to watch dust settle first after those sorts of releases, other than that I don't pay attention to much else. But...In the old days of the real bull market I'd swear that the market flew up every time Greenspan gave a speach and started yapping about how productive we all are. Of course any excuse to rally back then.
6/8/2012 9:06:05 AM MT Al****:: the real nuts are anyone who pays any attention to anything except price, time and pattern. Everything else is detrimental distraction
6/8/2012 8:59:42 AM MT BBB****:: Funny story - I was on the phone with a corporate bond trader who always buys puts on SPY right before Obama speaks. I told him I was going long the ES and he said I was nuts. The bet was a steak dinner - and I am going to be hungry.
6/8/2012 8:52:40 AM MT Tg****:: really nice 20/110 seperation wit smooth curvey exmas and bottom right on the tidetime. Straight from the moontide tutorial. That's what we want to see. Bought 5.25 in anticipation based on the 20/55 cross and good initial tiling. Now has to crack the 440.
6/8/2012 8:22:08 AM MT BBB****:: Obama speech means the market falls....
6/8/2012 8:00:29 AM MT Tg****:: I was doing well re: money but personally I just can't put in orders then forget about them. So always looking and hardly sleeping isn't a good lifestyle. Sometimes there are good setups in the 8:15 to 9:29 period on the rainbow chart and I'll take one of those.
6/8/2012 7:56:02 AM MT sdg:: Thanks Tg
6/8/2012 7:50:22 AM MT Tg****:: sdg, last Summer and Autumn, when there were large overnight moves taking place on decent volume the 24 hour moontides worked very well. After volatility started to drop it wasn't worthwhile. However, I can often see late in the day moves that look incomplete and usually will finish the next with a gap open. The problem is, on low volume some of those moves can and often do retrace 120% overnight and still turn out to complete the next day as projected.
6/8/2012 7:46:23 AM MT BBB****:: September contract ESU2
6/8/2012 7:44:10 AM MT Tg****:: FYI Al, the charts are still on the June contract...rollover was yesterday.
6/8/2012 7:28:13 AM MT sdg:: Anyone trade outside of normal NY market hours?
6/8/2012 7:24:28 AM MT BBB****:: Good luck today - lets hope it is not a dud
6/8/2012 6:40:20 AM MT sdg:: Happy Friday!
6/8/2012 5:09:00 AM MT mm****:: gm all - have a great day

9:00 Eastern-System: No comments

---