Chaos Clinic Recap
---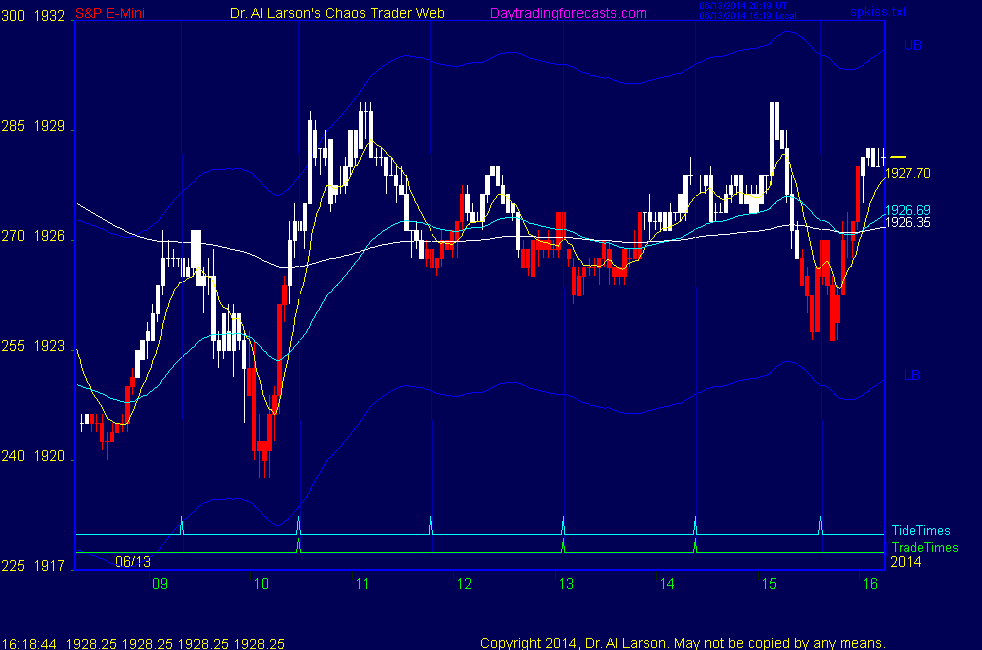 ---
Here are Al's comments
---
12:01 given the nature of the market, my research chart, and the -Tide forecast, I think I'm calling it a day.
Thanks for coming. See you next week. Take a course or two.
11:59 the "hot" SR lines are at 1925.6 and 1926.5 -they could act as attractors this afternoon
11:52 this drop put us back into the original trading range. So it continues to look like a trading range type day.
The MoonTide swings get smaller this afternoon.
11:49 and it got another +3 - in the trade just 27 minutes
11:47 my autotrader sold again - see the AUX page
11:43 that 1929.5 high held was off just one tick - so trading range is now confirmed
11:18 Many Fridays have an initial surge, then get very dull. If we keep following the -Tide,
this could be one of those days
11:13 another name for that pattern is the "wouff hong" - Google that to learn something interesting
11:08 retesting the highs -rally has the shape of a long handled can opener - see AUX page
10:52 I think the range is set for the day
10:45 if you used the hotline rules you may have gotten +3, but you would have to be nimble
10:42 autotrader got its +3, now testing the 1929.5
10:27 may pop up to 1929.5
10:20 I'm just going to watch this; my autotrader bought 1924.25 -it goes for 3 points
10:13 Our hotline trading rules are based on trending markets-this is not a trending market; One of the rules
is stay out if prices are trading both sides of the 110 minute EXMA; that is what is happening here.
10:09 this sort of chop is impossible to trade manually; on the aux page I'm showing an
autotrader that has already made 24 trades in the last 10 hours
10:07 I'm just watching. This looks like a low coming in.
10:03 if break out of the range, support is near 1917.5
10:01 still moving down, near lower end of trading range
9:39 that chart show prices tracking the -Tide
9:35 one of the charts I'm watching is a support/resistance research chart-I'm showing it on the AUX page
9:30 trade time is an hour away, so just watching
9:27 there is 9 point harmonic resistance at 1929.5
9:26 trade times are 10:29, 13:05 and 14:23
9:20 today may be a narrow range day, with an upward bias; 24 hour trading is between about 1920.5 and 1926.5
natural support and resistance levels; 7:00 AM Eastern low will likely hold
9:00 Good Morning. Welcome to the Chaos Clinic. This site has a lot of charts,
so you may find it useful to have several of them available within your
browser. If you have a tabbed browser, you can open separate charts
in separate tabs by right clicking on any link, and selecting "open in new tab"
from the menu. The main list of site pages is at
http://daytradingforecasts.com/chartlistsec.asp
Recommended pages to watch are SPKISS, MTRainbow, and Chat.
For astro stuff, add SPSunMoonMer, Wheel, and Chaos Clinic.
Chaos clinic comments appear at the bottom of the SPKISS, MTRainbow,
and ChaosClinic pages. Comments in the chat room are announced by a
"duck call" noise. This noise also occurs when the sofware detects a
resonant hex pattern on the Wheel page. Trading tutorials
are on the right side of the ListOfCharts page. One should
read Trading the MoonTide Tutorial and Keep it Simple as a minimum.

---
Besides the comments made by Al, the chat room is has live
comments from other traders who sometimes share their views,
trades and tips. Below are the chat room comments from this clinic
---


6/13/2014 5:37:41 AM MT mm****:: gm all - have a great day

9:00 Eastern-System: No comments

---