Chaos Clinic Recap
---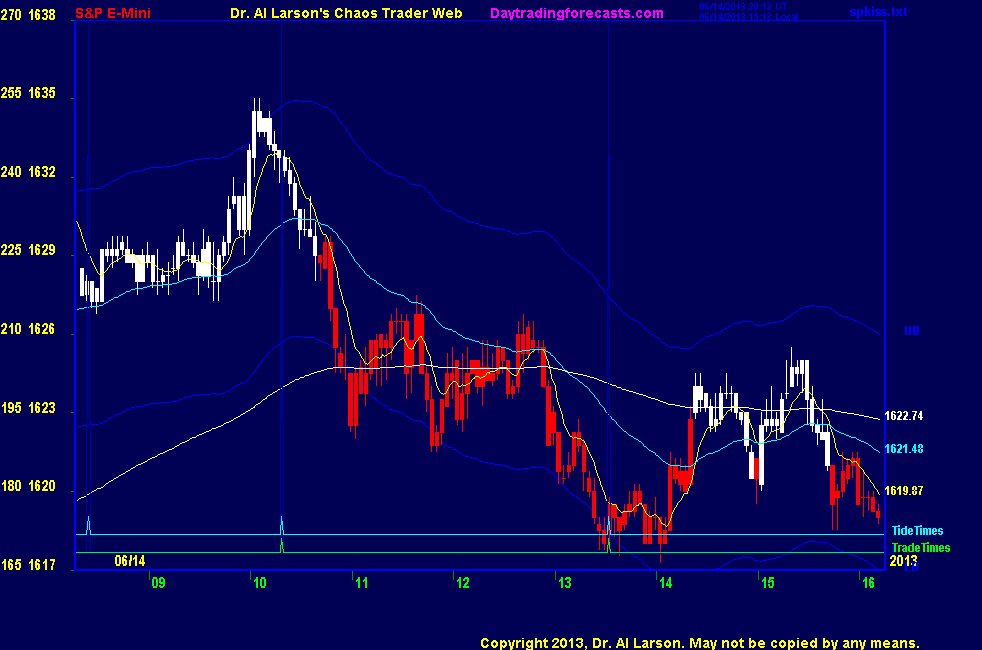 ---
Here are Al's comments
---
1:45 I'm going to pass on this trade-I'm tired and out of phase with the market
Thanks for coming - see you next week - take a course
1:36 at the second trade time; looks like a low -may not get a decent trade here
1:21 probably missed a sell there, but I was losing my focus because my grandson showed up and I had to start a DVD for him
1:09 marginal new low on solar noon
12:58 testing the low
12:39 just watching - market holding up
12:14 looks like rest of the day is flat to up
12:05 covered for +4 on stall
11:55 stop to 26
11:42 resold 27 stop 29
11:40 stop may have been too close, but I'm being cautious today
11:38 stopped for +.5
11:28 still OK - in move 2 of 7 in a down Chaos Clamshell
11:17 I have placed a Face of God chart in the Certified Chaos Trader's Room. That room is open
to graduates of my 4 main courses. See http://moneytide.com -> Courses for details.
eMylar Fractal of Pi overlays help you be patient, since they show you future potential moves.
The best bargain in my courses is to take the Cash In On Chaos and Fractal of Pi courses and
learn to use the FOP overlay. Then take Chaos Trading Made Easy, and finish with Face Of God.
11:00 stop to 1627.50-will let this thing run
10:53 stop to 1628
10:52 stop to 1630
10:47 wait: 20/110 sell, sold 1628 stop 1631
10:44 the next trade time is 13:32 ; I'll stick around for it, but I may not make many comments.
10:38 we are getting into the summer season when it is often better to go camping than trading
10:27 now I expect congestion
10:23 I thought that if we got an early rally that it might fade just from emotional exhaustion after
the last two days. Then this morning the "Buzz" on the 3 minute candles looked bad.
10:20 I'm thankful to get that; I was a bit lucky on that one
10:17 stopped for +1
10:11 my 5 point cover is 35.75
10:08 stop to 31.75
10:05 stop to 1631
10:02 touched 29 but not filled - still in -thin market
9:49 stop to 1629, at the 20 minute EXMA
9:47 elected long, stop 1627
9:46 placing buy stop at 1630.75
9:42 lots of "Buzz"
9:36 there is Moon flux support near 1626.25 and resistance near 1631.75
9:32 very quiet opening
9:10 today's trade times are 10:19 and 13:32 ; not sure there's any volatility left after the last two days
9:00 Good Morning. Welcome to the Chaos Clinic. This site has a lot of charts,
so you may find it useful to have several of them available within your
browser. If you have a tabbed browser, you can open separate charts
in separate tabs by right clicking on any link, and selecting "open in new tab"
from the menu. The main list of site pages is at
http://daytradingforecasts.com/chartlistsec.asp
Recommended pages to watch are SPKISS, MTRainbow, and Chat.
For astro stuff, add SPSunMoonMer, Wheel, and Chaos Clinic.
Chaos clinic comments appear at the bottom of the SPKISS, MTRainbow,
and ChaosClinic pages. Comments in the chat room are announced by a
"duck call" noise. This noise also occurs when the sofware detects a
resonant hex pattern on the Wheel page. Trading tutorials
are on the right side of the ListOfCharts page. One should
read Trading the MoonTide Tutorial and Keep it Simple as a minimum.

---
Besides the comments made by Al, the chat room is has live
comments from other traders who sometimes share their views,
trades and tips. Below are the chat room comments from this clinic
---


6/14/2013 12:13:39 PM MT mm****:: Al - I also "have" an Abbie - prettiest and smartest grandchild on the planet - as ALL grandparents believe. Last winter, when she coughed, her father - talking to himself - said: "Gee, I don't like this caugh." When Abbie caughed the next time, she asked: "Daddy, did you like this caugh better?" - Two years old !
6/14/2013 12:05:50 PM MT mm****:: jab - I believe they are proprietory - perhaps someone else can chime in - Dr. Al's attention is being hijacked by his grandchildren today
6/14/2013 11:43:38 AM MT jab:: hi al, where can i fnd information about your "swan cycles" ? ....thank you....
6/14/2013 5:30:54 AM MT mm****:: gm all - have a great day

9:00 Eastern-System: No comments

---