Chaos Clinic Recap
---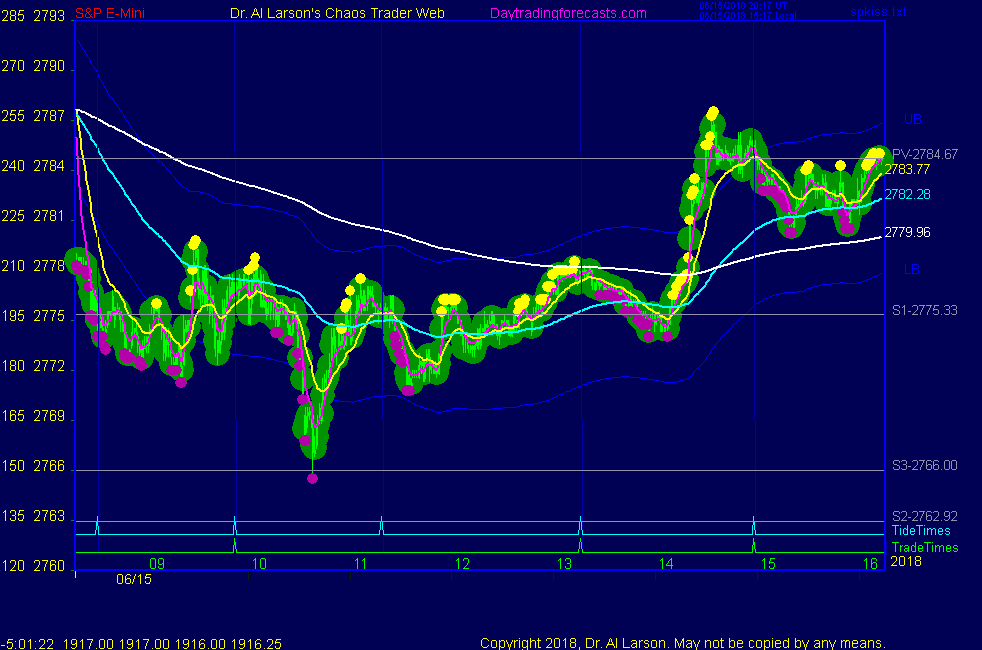 ---
Here are Al's comments
---
12:28 placed a chart on the AUX page showing a congestion ellipse
11:52 took a break and looked at longer term stuff-
I have placed a Fractal of Pi chart in the Certified Chaos Trader's Room. That room is open
to graduates of my 4 main courses. See http://moneytide.com -> Courses for details.
eMylar Fractal of Pi overlays help you be patient, since they show you future potential moves.
The best bargain in my courses is to take the Cash In On Chaos and Fractal of Pi courses and
learn to use the FOP overlay. Then take Chaos Trading Made Easy, and finish with Face Of God.
10:58 stopped -I am done-not doing well-time to walk away
10:53 went from dull to wild
10:38 trend is now clearly down and may run all day; the early bull-bear balance has been broken
10:31 aborted for -4; reversed to short at 2771.25; stop 2775
10:23 higher minor low
10:12 still treading water-need to be patient
9:55 double bottom, then higher low, buying at S1 - suggests rally to the pivot at 2784.5
9:50 S1 is at 2775.33 - getting some computer buying there
9:48 rebought 2776.75 stop 2771 for now
9:45 may rebuy - watching for now
9:42 stopped out for -1.5
9:38 stop OK so far
9:29 I managed to buy at 2775.25 ; stop 2773.75
9:22 minor break, then buying; on Secrets page note three vertical lines on the esNat72 chart-the brown one usually
sets the turn
9:19 double bottom at 2772 - see if it holds
9:10 market is down overnight, probing for a bottom-trade times are 09:53, 13:16, and 14:58
9:00 Good Morning. Welcome to the Chaos Clinic. This site has a lot of charts,
so you may find it useful to have several of them available within your
browser. If you have a tabbed browser, you can open separate charts
in separate tabs by right clicking on any link, and selecting "open in new tab"
from the menu. The main list of site pages is at
http://daytradingforecasts.com/chartlistsec.asp
Recommended pages to watch are SPKISS, MTRainbow, and Chat.
For astro stuff, add SPSunMoonMer, Wheel, and Chaos Clinic.
Chaos clinic comments appear at the bottom of the SPKISS, MTRainbow,
and ChaosClinic pages. Comments in the chat room are announced by a
"duck call" noise. This noise also occurs when the sofware detects a
resonant hex pattern on the Wheel page. Trading tutorials
are on the right side of the ListOfCharts page. One should
read Trading the MoonTide Tutorial and Keep it Simple as a minimum.

---
Besides the comments made by Al, the chat room is has live
comments from other traders who sometimes share their views,
trades and tips. Below are the chat room comments from this clinic
---


6/15/2018 2:00:35 PM MT Al****:: have a good weekend everyone
6/15/2018 1:33:36 PM MT Al****:: yeah, today was tough-lots of chop
6/15/2018 1:14:57 PM MT TG****:: Yesterday I managed to get 8 in the AM and 4 in the PM. Today, there was more to work with but I just didn't see it for what it was and missed out on a good recovery day.
6/15/2018 12:29:25 PM MT Al****:: jumped up to the green swan
6/15/2018 12:28:33 PM MT Al****:: did get long
6/15/2018 12:20:40 PM MT Al****:: -2
6/15/2018 11:56:36 AM MT Al****:: agree on ES 1:16 -stalled at 440; sold 76
6/15/2018 10:48:46 AM MT TG****:: Thinking ES chops up into the 1:16 tide time setting up a decent sell
6/15/2018 10:36:47 AM MT TG****:: Wasn't patient enough. Now of course it's working.
6/15/2018 10:35:23 AM MT TG****:: Bought a CL bounce I hoped would be strong. It just started stalling too much. Made 1 cent.
6/15/2018 10:09:31 AM MT TG****:: Quadruple witching today, so I don't know how much faith I'd put in these moves. The whole week had an odd feel to it with the FOMC and the expirations.
6/15/2018 9:47:03 AM MT TG****:: I haven't taken an ES trade yet. Watching Crude's sharp drop, too. May not take an ES trade until the afternoon trade times.
6/15/2018 9:39:02 AM MT Al****:: TG; hope you took some fast-S3 to S1 and sell again-wild
6/15/2018 9:00:17 AM MT TG****:: Dang, needed to hold my nose and buy the 24 Hr S3 level. Totally wiffed on buying that low.
6/15/2018 8:52:23 AM MT TG****:: GM Dr AL, BBB, everyone.

9:00 Eastern-System: No comments

---