Chaos Clinic Recap
---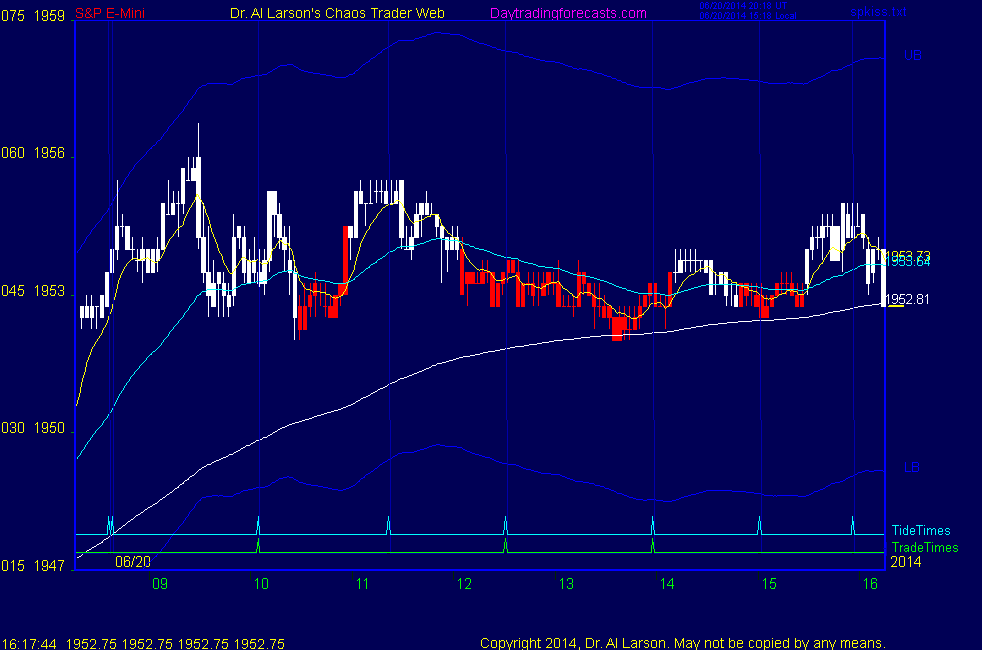 ---
Here are Al's comments
---
12:02 OK, I'm quitting for the day-just no juice; you need juice to make profits;
Thanks for coming; see you next week. Take a course or two.
11:55 but pretty choppy and low energy, so waiting
11:53 in the second trade window; close to getting a 20/110 sell crossing;
11:40 not much energy going up, need to break about 1950 to get any going down
11:32 autotrader covered its long for +.75; still indicating no juice
11:24 stuck on the Moon +T045 electric field flux line
11:19 on my 8 hour charts, the range is a mere 4.75 points-rather pathetic
11:15 my little autotrader on AUX page has had one win out of 7; may be about to get another win
11:09 not a lot of juice
10:57 trying to rally; not in a trade window so just watching
10:49 following -Tide, which says may get another rally -may not be tradable
10:39 getting an audio alert from the hex pattern recognizer-suggests a stable price level;
See Hex Wheels Today and Hex wheels tutorial linked on right side of ListOfCharts page
10:37 not looking like good trading weather
10:14 aborting for -1; don't like it
10:17 placing cover limit order at 1956.5-not going for much
10:13 OK, taking continuation buy at 1954.75 stop 1952.25
10:07 so far this trade is looking like a pass
10:02 then it went long, lost .25, then went short; so it is confused and I'm not jumping in
9:59 the autotrader on the AUX page had sold, but took a 1 point loss and is now flat; indicates a choppy market
9:53 the 20 and 110 minute EXMA's are tangled, so I'm just watching
9:50 in the trade window, but there is not a clear setup
9:49 there are 8 Tide times today, suggesting a lot of chop
9:45 today on the AUX page I'm showing a research chart with an autotrader enabled 2 hours before the
outcry open; it shows that there was major resistance at the high
9:39 We may not get much range today
9:33 24 hr prices made a marginal new high, then pulled back to the old high
9:31 today's trades are 10:05, 12:31, and 13:58
9:00 Good Morning. Welcome to the Chaos Clinic. This site has a lot of charts,
so you may find it useful to have several of them available within your
browser. If you have a tabbed browser, you can open separate charts
in separate tabs by right clicking on any link, and selecting "open in new tab"
from the menu. The main list of site pages is at
http://daytradingforecasts.com/chartlistsec.asp
Recommended pages to watch are SPKISS, MTRainbow, and Chat.
For astro stuff, add SPSunMoonMer, Wheel, and Chaos Clinic.
Chaos clinic comments appear at the bottom of the SPKISS, MTRainbow,
and ChaosClinic pages. Comments in the chat room are announced by a
"duck call" noise. This noise also occurs when the sofware detects a
resonant hex pattern on the Wheel page. Trading tutorials
are on the right side of the ListOfCharts page. One should
read Trading the MoonTide Tutorial and Keep it Simple as a minimum.

---
Besides the comments made by Al, the chat room is has live
comments from other traders who sometimes share their views,
trades and tips. Below are the chat room comments from this clinic
---


6/20/2014 7:30:46 AM MT Al****:: GM all-good luck today
6/20/2014 4:48:39 AM MT mm****:: gm all - have a great day

9:00 Eastern-System: No comments

---