Chaos Clinic Recap
---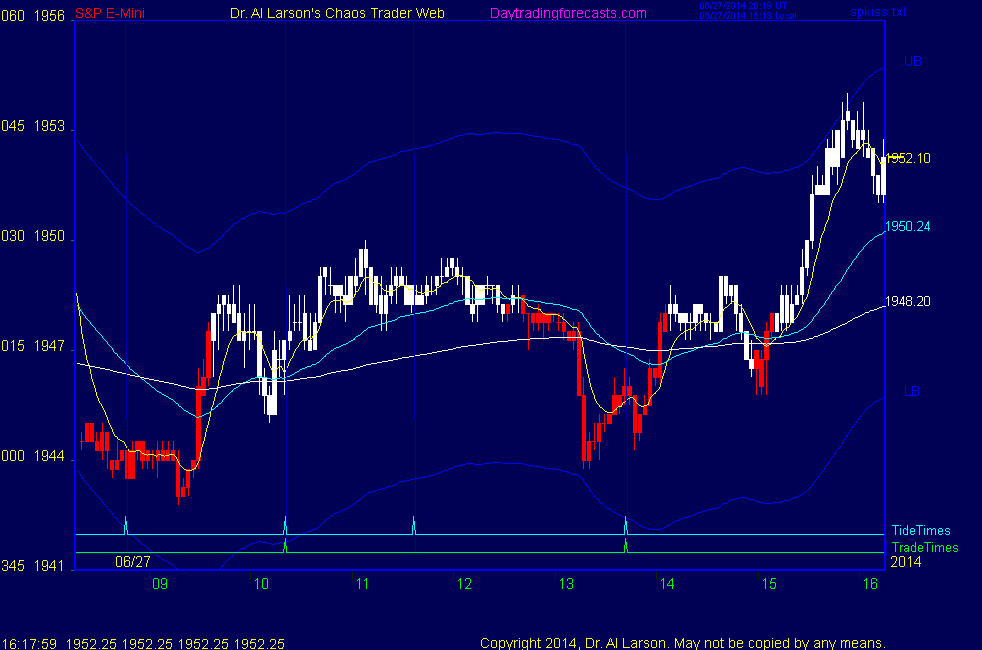 ---
Here are Al's comments
---
12:16 I'm calling it a day; thanks for coming; see you in 2 weeks; have a great 4th; take a course or two
12:13 OK, there is no juice today; there may be some in the last hour
12:11 aborting for +1
12:07 stop to 47.5-needs to move soon
12:03 stop to 47.25
11:58 getting a hex pattern-see Hex Wheels tutorial and page linked on right side of ListOfCharts page
11:53 trade still OK -looks like green +Tide is in effect
11:33 I have placed a Fractal of Pi chart in the Certified Chaos Trader's Room. That room is open
to graduates of my 4 main courses. See http://moneytide.com -> Courses for details.
eMylar Fractal of Pi overlays help you be patient, since they show you future potential moves.
The best bargain in my courses is to take the Cash In On Chaos and Fractal of Pi courses and
learn to use the FOP overlay. Then take Chaos Trading Made Easy, and finish with Face Of God.
11:21 still OK
11:15 dip here suggesting green +Tide is in effect
11:00 moving my cover limit up to 1956 based on Stargo pattern; stop to 47
11:01 if we hold up past the 11:37 Tide time, we good get a +Tide rally ; trying to be patient
10:47 stop to 46 ; putting sell limit at 52.5
10:45 looking OK-I now have a fit for a Stargo pattern, suggesting a decent rally
10:29 later today we encounter a Green Swan, which may provide some lift
10:21 rebought 47.5 stop 44.5
10:12 this looks like a congestion day
10:10 on the MTRainbow chart, the longer term EXMA's are flat
10:05 stuck in a trading range
10:02 not a lot of juice
9:56 stopped for -1.25 ; OK; I did not want to risk much
9:51 on the AUX page I'm running a research chart. Using it to set stops.
9:50 stop to 1947
9:48 OK, buying 1948.25 , stop 1946.25, cover 1952.25
9:42 I'm watching to see if this initial runup fades; Friday opening head fakes are common
9:39 on a 3 day chart, we are trading inside the range
9:36 overnight trading has been between about 1943 and 1949.5, and choppy, so currently congesting
9:32 Today's trades are at 10:21 and 13:42
9:00 Good Morning. Welcome to the Chaos Clinic. This site has a lot of charts,
so you may find it useful to have several of them available within your
browser. If you have a tabbed browser, you can open separate charts
in separate tabs by right clicking on any link, and selecting "open in new tab"
from the menu. The main list of site pages is at
http://daytradingforecasts.com/chartlistsec.asp
Recommended pages to watch are SPKISS, MTRainbow, and Chat.
For astro stuff, add SPSunMoonMer, Wheel, and Chaos Clinic.
Chaos clinic comments appear at the bottom of the SPKISS, MTRainbow,
and ChaosClinic pages. Comments in the chat room are announced by a
"duck call" noise. This noise also occurs when the sofware detects a
resonant hex pattern on the Wheel page. Trading tutorials
are on the right side of the ListOfCharts page. One should
read Trading the MoonTide Tutorial and Keep it Simple as a minimum.

---
Besides the comments made by Al, the chat room is has live
comments from other traders who sometimes share their views,
trades and tips. Below are the chat room comments from this clinic
---


6/27/2014 10:28:24 AM MT Sharpe****:: hmm, I refreshed the chart and I'm still not seeing it. Oh well, I'll hopefully catch it next time.
6/27/2014 10:10:58 AM MT Al****:: refresh your page, the chart is there
6/27/2014 10:04:14 AM MT Sharpe****:: I'm not seeing your fractal of pi chart Al in the CCT chat room.

9:00 Eastern-System: No comments

---