Chaos Clinic Recap
---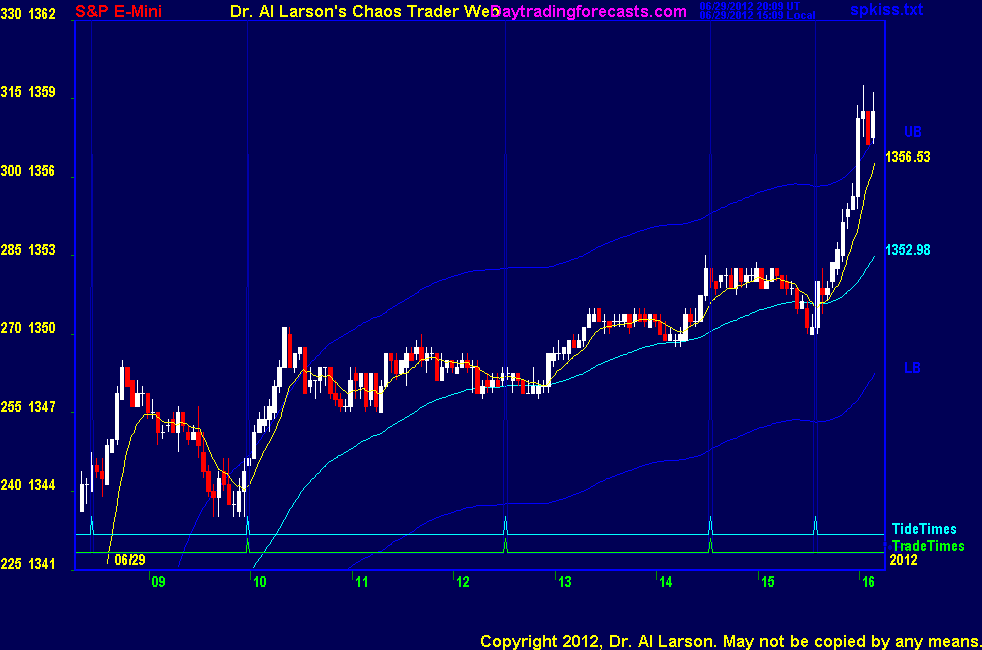 ---
Here are Al's comments
---
1:00 I'm going to call it a day-would have been a good day to go camping
no Clinic next week due to my anniversary, no clinic July 16th due to camping
see you in 3 weeks-take a course
12:55 still no juice
12:52 getting top wicks on 3 minute candles-a bearish indication
12:49 my apologies for the dullness-I don't make the markets, I just trade them
12:43 watching for a sell setup
12:41 FWIW- I have placed a Face of God chart in the Certified Chaos Trader's Room. That room is open
to graduates of my 4 main courses. See http://moneytide.com -> Courses for details.
eMylar Fractal of Pi overlays help you be patient, since they show you future potential moves.
The best bargain in my courses is to take the Cash In On Chaos and Fractal of Pi courses and
learn to use the FOP overlay
12:36 this thing has turned into an "MM stinker"
12:31 at the tide time - no volatility at all
12:20 nead a break to about 1346 for a decent decline
12:14 note how the 110 minute EXMA has slowed, curling down -and finally catching up with price
12:11 I'm back - does not look like I missed anything
11:05 volatility dying down-I'm going to take a break until near the 12:31 trade time
10:55 day's range about 7.5 points - not great daytrading range
10:41 rally stopped at 1350 and pulled back below 8:45 high - upward momentum waning
10:26 1350 is a cardinal 270 degree price so may set a top
10:23 sorry I missed that one, but my head was not clear
10:10 there was a little continuation buy there, but not chasing it
10:00 aborted for -1.5
9:59 dubious about his one
9:56 sold 1343.5 stop 1346.5
9:54 touching but looking flat
9:48 watching the 20 and 55 minute EXMA's for a sell crossing
9:42 I think today we will mostly tread water, not advancing or declining much from here
9:40 we have to be very patient. A big up move will take a while to correct
9:37 that does not mean little guys like us should sell
9:35 the big overnight move came from the news that Euorpean leaders agreed to prop up their banks
late yesterday someone caught wind of the beal and bought the rumor-now they will sell the news
9:08 today's open is so far above yesterday's close that we may not get a good daytrading day
trade times are 09:59, 12:31, and 14:32
9:06 Good Morning. Welcome to the Chaos Clinic. This site has a lot of charts,
so you may find it useful to have several of them available within your
browser. If you have a tabbed browser, you can open separate charts
in separate tabs by right clicking on any link, and selecting "open in new tab"
from the menu. The main list of site pages is at
http://daytradingforecasts.com/chartlistsec.asp
Recommended pages to watch are SPKISS, MTRainbow, and Chat.
For astro stuff, add SPSunMoonMer, Wheel, and Chaos Clinic.
Chaos clinic comments appear at the bottom of the SPKISS, MTRainbow,
and ChaosClinic pages. Comments in the chat room are announced by a
"duck call" noise. This noise also occurs when the sofware detects a
resonant hex pattern on the Wheel page. Trading tutorials
are on the righty side of the ListOfCharts page. One should
read Trading the MoonTide Tutorial and Keep it Simple as a minimum.


---
Besides the comments made by Al, the chat room is has live
comments from other traders who sometimes share their views,
trades and tips. Below are the chat room comments from this clinic
---


6/29/2012 2:15:19 PM MT BBB****:: I was mainly going off my CTME and FOP chart - posted it in CCT room, and was waiting for that 7th move off the low today. THen I noticed the last tide time and took a shot. Ahve a good one.
6/29/2012 2:09:19 PM MT Tg****:: I didn't take a shot at it because statistically, by my reckoning at least, most trades taken after 3:30 don't work out well even when they start out well.
6/29/2012 2:04:23 PM MT Tg****:: Maybe by end of day today. Wished they'd of squeezed the shorts a little earlier.
6/29/2012 2:03:11 PM MT Tg****:: It did go berzerk, just waited to last minute to do so. Probably see 63 Monday morning.
6/29/2012 1:58:24 PM MT BBB****:: Took 3.5 - Glad I did not shut down early!
6/29/2012 1:52:20 PM MT Tg****:: The 5 was there, just had to sit through one more late moon tide...
6/29/2012 1:52:13 PM MT BBB****:: Bought 52 shooting for 56
6/29/2012 1:44:37 PM MT BBB****:: Stuck my chart in CCT room
6/29/2012 1:42:21 PM MT BBB****:: I agree with Tg and took a small shot at it.
6/29/2012 1:33:20 PM MT Tg****:: Price held above 110 to 2nd moon timeline but it was an MM stinker.
6/29/2012 1:31:11 PM MT Tg****:: streak could be up or down, we'll see.
6/29/2012 1:29:49 PM MT Tg****:: Have a good one BBB.
6/29/2012 1:29:25 PM MT Tg****:: I won't attempt to play it but watch for a late resonant streak to match the one near 10am.
6/29/2012 1:27:03 PM MT BBB****:: Have a good weekend everyone and hopefully the shortened week is not too dead. See you all Monday.
6/29/2012 1:24:23 PM MT Tg****:: Oh well, two will have to do. Was a really good month, though.
6/29/2012 1:06:05 PM MT Tg****:: stop to 51.
6/29/2012 12:35:35 PM MT Tg****:: Out goes the moon noon moon likelihood.
6/29/2012 12:29:54 PM MT BBB****:: whoa!
6/29/2012 12:27:14 PM MT Tg****:: Stop to 49.25.
6/29/2012 12:20:07 PM MT Tg****:: If it breaks out to the upside, may be looking for a top right near the 14:51 natural time.
6/29/2012 12:16:39 PM MT BBB****:: 4 moves up off the low? Looking for 5?
6/29/2012 11:55:29 AM MT BBB****:: I am out for a little gain. Waiting on 3rd time.
6/29/2012 11:53:37 AM MT kb1:: Hi Al, don't know if you're still around today or if you read the chats at a later time, but have a great anniversary and enjoy the next few weeks off......Appreciate all the insights, info, and knowledge you've shared over the years....
6/29/2012 11:41:10 AM MT BBB****:: Nice one mm!
6/29/2012 11:39:14 AM MT Tg****:: It might be a stinker but I think 54 is doable. Only risking 1.75 to make 5 so we'll see. It's a two moon day, usually one way or moon noon moon, and the second alternative is looking less likely. Hopefully late sell off comes after second moon timeline.
6/29/2012 11:32:01 AM MT mm****:: As the authority on the issue: I formally declare today an "MM STINKER" - which does NOT mean that we may not get a profit-taking sell-off late - waiting for the news out of Europe astute day trader had a buy stop in during the night and got a nice profit.
6/29/2012 11:23:31 AM MT Tg****:: Maybe not that tight so quickly, stop at 47.50
6/29/2012 11:20:14 AM MT Tg****:: Don't know about berserk, kind of already did. Just looking for a cherry on top. Bought 49 as a continuation buy, now that it made a new high I'll pull stop up tight to 49.
6/29/2012 11:11:40 AM MT BBB****:: This could be one of those rare signals that Al gives on a Friday when he leaves and the market goes berserk.
6/29/2012 10:32:04 AM MT BBB****:: Understood - thank you!
6/29/2012 10:25:26 AM MT mm****:: BBB - I'll look for it when I have time - still flat out emailing with my discussioin group buddies on political issues !!
6/29/2012 10:23:22 AM MT mm****:: Al - the fire news from CO looks frightening - I hope you and your Academy are far away from the problem areas !
6/29/2012 10:14:47 AM MT BBB****:: mm - somehow I never got that email from a few weeks ago - if it is not too much trouble could you resend it? Much appreciated!
6/29/2012 9:51:33 AM MT mm****:: Tg - no, e.g. I often follow Al's 9 pt rule
6/29/2012 8:33:20 AM MT Tg****:: So if price moves below the bottom of the range of your trigger candles (in the case of a low) by more than a few ticks, it isn't an automatic cover for you.
6/29/2012 8:16:38 AM MT mm****:: Tg - I LOVE elaborating! - but yesterday I was side-tracked and could not post. - My tactic has not changed in 10+ years: I follow "my" indicators: MT, S/R levels, SS/H through the BB and watch the three business channels for the reports. I don't place stops but watch the screen with my finger on the mouse.
6/29/2012 8:00:50 AM MT srj****:: Thanks BBB that one is really useful.
6/29/2012 7:47:17 AM MT BBB****:: Found a link to a PDF of the article http://www.google.com/url?sa=t&rct=j&q=&esrc=s&frm=1&source=web&cd=2&ved=0CFIQFjAB&url=http%3A%2F%2Fdobelli.com%2Fwp-content%2Fuploads%2F2010%2F08%2FAvoid_News_Part1_TEXT.pdf&ei=mLHtT7WlK4ac8gTRnvSjAg&usg=AFQjCNHPL5Ra_Iaj7v5IApwZ7iQACEKK-A&sig2=o3wrlrEqGvLv889ubAnI8w
6/29/2012 7:44:19 AM MT Al****:: fine with me
6/29/2012 7:27:58 AM MT BBB****:: Al, I am emailing you an article titled "Avoid News Towards a Healthy News Diet". I am not sure how I could post it so that everyone could read it but it backs up the "don't watch it" outlook that you mentioned the other day. Really good one. Topics such as how news massively increases cognitive errors, news inhibits thinking, news is manipulative, etc. If anyone wants me to forward it to them (small file) i can post my email, if Al is Ok with that.
6/29/2012 7:27:25 AM MT srj****:: Another explanation could be just what was in a cartoon: A Mayan stone mason comes to the chief and says " I ran out of space at Dec 21 2012 on this tablet; the chief chuckles and says " that's going to freak out some people at some time" :-)))
6/29/2012 7:19:42 AM MT BBB****:: Have a good one today - I always figured the Mayan alarmists were wrong as I doubt that Mayans included leap years in their calendar. That being the case I think we have already passed the true December 21st 2012!
6/29/2012 7:05:57 AM MT Al****:: GM all-good luck today
love the comments
6/29/2012 7:05:11 AM MT srj****:: Hi mm, thanks I can send you my email if that works or my address. Saw your conversation with BBB a while back and have been meaning to ask you about your herbal supplement regime ( I am 60 and til now take no prescribed medicines thanks to yoga and meditation ) (I am in and out here)
6/29/2012 7:04:52 AM MT Tg****:: MM, I understand if you don't want to elaborate on this, but did you see a good buy signal/low right on yesterday's last tide time and if so, do you place a stop just underneath a trigger candle or do you give it a bit more room. I've seen a number of times where the pit S/R levels are sticky for up to at least 2 points, and in more volatile markets sometimes need to clear them by over 3 points to consider them truly broken away from.
6/29/2012 6:58:57 AM MT Tg****:: Thanks MM, I looked it up and Yahoo Finance said the agreement was released early Friday. Looks like some folks had an inkling ahead of time.
6/29/2012 6:57:36 AM MT mm****:: which of course was a weird time - since it was 4:50 AM German time !
6/29/2012 6:54:56 AM MT mm****:: Tg: Merkel blinked ! CNBC reports
6/29/2012 6:46:30 AM MT mm****:: srj - in 2009 I asked Al what he thinks of the issue, since it involves planetary aspects. He read FOUR books on the Mayan Calendar on vacation and wrote me a 1 1/2 page report on Sept.1. At that time the "experts" were talking about Dec.21, 2009!, which of course came and went. Al did not find much that made sense in these books. - I had a computer crash in the meantime and cannot forward it any more - but I still have a hard copy.
6/29/2012 6:25:19 AM MT Tg****:: GM everyone. Anyone know what took place at about 10:50 PM EST to send the futures up 19 pts in about 10 minutes.
6/29/2012 6:19:11 AM MT mm****:: gm all - have a great day
6/29/2012 6:07:20 AM MT srj****:: Hold your hats guys, we have been given a reprieve :-) . Destruction not till another 3000 years :-)) They found an older Mayan calendar which goes for 7000 years! http://www.bbc.co.uk/news/science-environment-18018343 (Al, had to post this one about the Mayan calendar after all the comments I see going around these days) cheers
6/29/2012 6:01:55 AM MT srj****:: gm all

9:00 Eastern-System: No comments

---