---
CHAOS CLINIC RECAP
---
---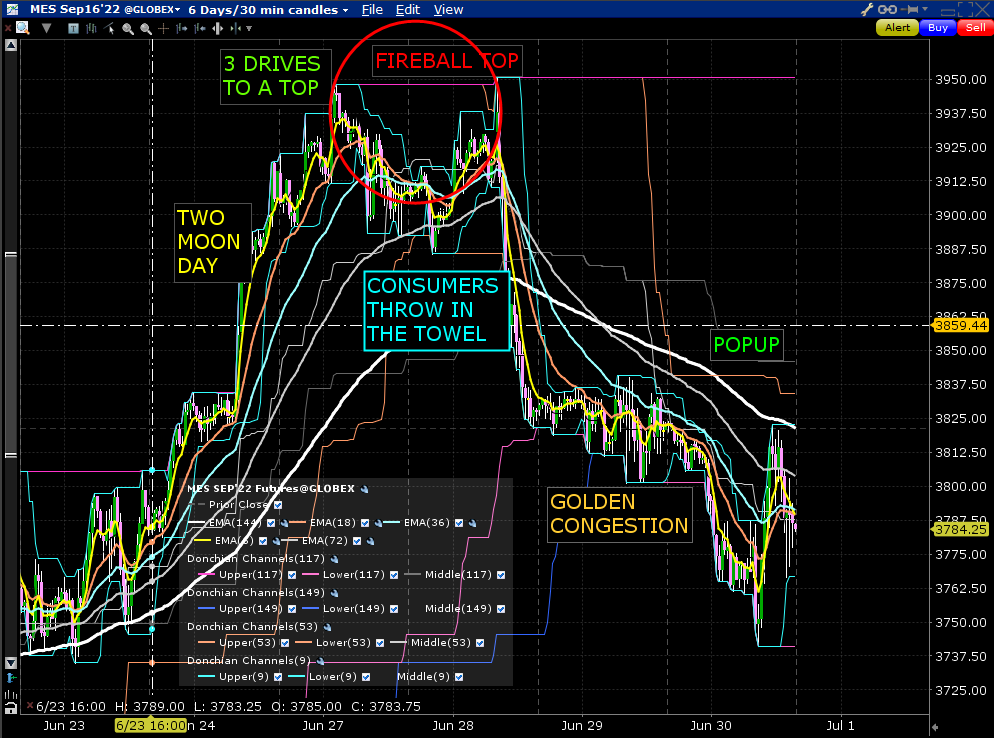 **************************************************************************************
Consumers Top The S&P
Chaos Clinic for 7/1/2022
***************************************************************************************

This is a chart showing the past week of the S&P MES Futures. It has been an interesting
week.

The chart is a 24 hour 30 minute bar chart, with a family of indicators as shown by the
legend.

Last Friday, prices shot up on a "Two Moon Day." The rally carried over the weekend.
In the early hours of Monday, it made higher highs, forming a "Three Drives To a Top"
pattern. I posted this chart on daytradingforecasts.com.

But prices only sagged the rest of Monday, and rallied again early Tuesday. There
they completed a Fireball Top early in the normal session.

Then the Consumer Confidence report was released at 10:00 Eastern. It was the worst
in over a year. The market dropped vertically all day.

Wednesday the market traded in a narrow range, going nowhere. My guess is that the
report had been a surprise, and big firms were liquidating at fixed prices.

This Golden Congestion is usually good for a swing trade, which it was this time.
The market fell in the overnight market into Thursday morning. From the morning
low the market bounced, but ended lower going into the long Fourth of July
weekend.

This is a consumer economy. With rising prices and some firms starting layoffs,
consumers may have called the market quite well. We will know more after the long weekend.

To learn more about Chaos Clamshells, I suggest my Cash In On Chaos course,
available at Moneytide.com
---

Below is one of the SPKISS charts from daytradingforecasts.com
and the chat room comments from this Chaos Clinic. Most recent comment is on top.
---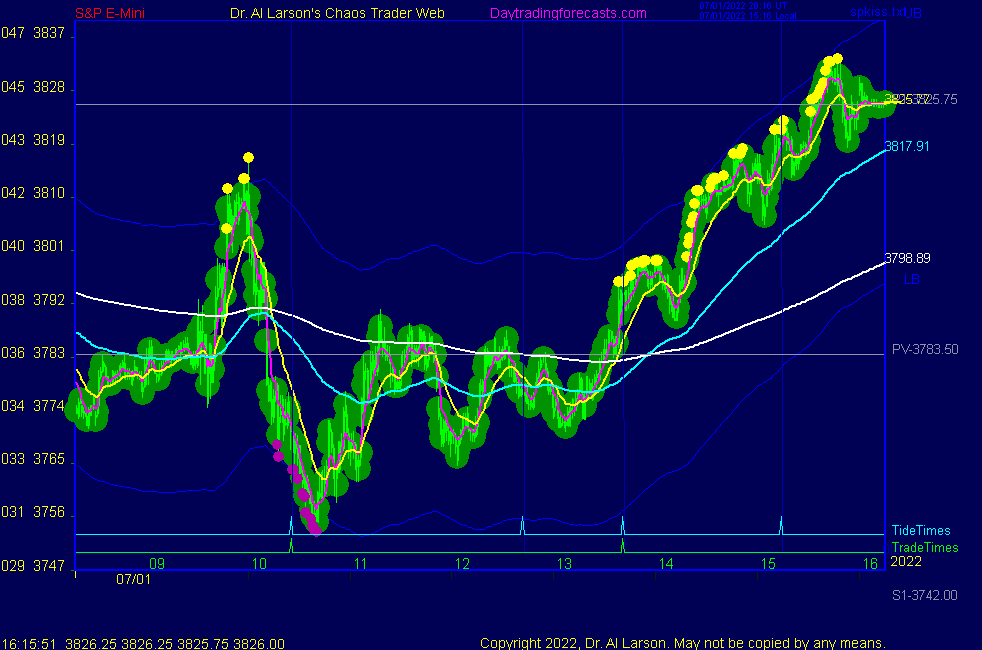 7/1/2022 12:27:28 PM MT Nel****:: whee
7/1/2022 11:33:03 AM MT Nel****:: afternoon rally
7/1/2022 10:28:19 AM MT Al****:: you too
7/1/2022 10:17:05 AM MT pab:: Happy 4th to you too Al---enjoy the long w/e
7/1/2022 10:12:38 AM MT Al****:: did make a higher low, but pretty flat and dull
I think I'm going to wish you all a happy 4th and call it a day
7/1/2022 10:03:59 AM MT Al****:: no boost there - not tradable
7/1/2022 9:48:57 AM MT Al****:: the SPSunMoon charts shows the exchange is about to pass Mercury
7/1/2022 9:41:56 AM MT Al****:: the 36/220 EXMAs have colored the Secret->esnat72 bars white
7/1/2022 9:36:38 AM MT Al****:: usually when the market makes a lows near 11:00 it holds up all day
7/1/2022 9:27:21 AM MT qq:: Thanks Al. It makes sense.
7/1/2022 9:18:38 AM MT Al****:: on the SPKISS page chart 1 that was a red -Tide low
7/1/2022 9:15:38 AM MT Al****:: on secret->esnat360 prices vibrated between the magenta and green levels
suggests market up to flat rest of day
7/1/2022 9:15:09 AM MT qq:: Seems like a drowning person one last time lifting his head above the water.
7/1/2022 9:03:47 AM MT Al****:: just holiday chop -tradin both sides of 440 EXMA
7/1/2022 6:49:53 AM MT Al****:: higher low overnight and higher low today on Secret-esnat72 suggests today could be up
volume may be low because of the holiday weekend
7/1/2022 6:17:04 AM MT Al****:: Good Morning visitors. Welcome to the Chaos Clinic. The written Chaos Clinic is on the AUX page.
This site has a lot of charts,
so you may find it useful to have several of them available within your
browser. If you have a tabbed browser, you can open separate charts
in separate tabs by right clicking on any link, and selecting "open in new tab"
from the menu. The main list of site pages is at
http://daytradingforecasts.com/chartlistsec.asp
Recommended pages to watch are SPKISS, MTRainbow, and Chat.
For astro stuff, add SPSunMoon, Wheel, and Chaos Clinic.
A special set of Dr. Al's research charts are on the Secret page.
Comments in the chat room are announced by a
"duck call" noise. This noise also occurs when the software detects a
resonant hex pattern on the Wheel page. MoonTide trading tutorials
are on the right side of the ListOfCharts page. One should
read Trading the MoonTide Tutorial and Keep it Simple as a minimum.
Many subscribers do not strictly trade the MoonTides, but use the charts on this
site as input to their own trading strategies. For example, charts 5 and 6 on the
SPKiss page are a good starting point for swing traders.
Also on this site is the Certified Chaos Trader's Room. That room is open
to graduates of my 4 main courses. See http://moneytide.com -> Courses for details.
9:00 Eastern-System: No comments

---